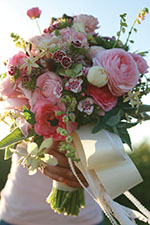 If you sell flowers for weddings, I invite you to be included in a new book to be published by GFM about using local flowers for weddings. The target audience will be prospective brides interested in sustainable flowers and/or DIY flowers. The goal is to encourage the use of local flowers by helping brides understand the seasonality, logistics, and economics of working directly with flower farmers.
The book will be published as an E-book, which provides an opportunity to link readers directly from the book to your website. If you grow flowers and sell to brides, we invite your participation in one of two ways:
1. If you do floral designs, we encourage you to submit a few photos of wedding florals you have done using your own flowers. You must own the rights to any photos you send — either you took them yourself and grant permission for their use, or you can obtain permission from the photographer. Email photos and permissions and put Wedding Flowers in the Subject line of your email. Include your name, farm/business name, location, website and other contact information.
2. If you don't have photos, you can still get listed in a directory of local flower growers. Email us your farm name, location, and website or other contact information.
The deadline for inclusion is June 1, 2013. We will acknowledge all emails, so if you don't get a response within three days, assume we did not receive your email and try again. We regret that we can't accept photos or directory listings unless they are sent by email. — Lynn Byczynski