Growing for Market in partnership with
Johnny's Selected Seeds
has created a library of expert information about growing and selling vegetables and flowers. Links in the article will take you to
johnnyseeds.com
.
Subscribe to Growing for Market for more great ideas about growing and marketing!
For more topics in the series, click on Market Farming Basics in the left column.


A better packing shed
For most crops, what happens after harvest is just as important, or even moreso, than how they are grown. Postharvest handling, packing, cooling, and transportation have a big effect on the quality of your produce when it reaches the consumer. On the farm, good postharvest facilities can dramatically improve speed, efficiency, health, safety, and employee morale. We're not kidding; your packing shed really is important.
The term "packing shed" can encompass a wide range of facilities, from a wash tub and table in the shade of a tree to a dedicated building with an automated packing line. Whatever the size or shape, all have certain features in common:
•Ergonomics
. Workstation heights should suit the workers. According to the Healthy Farmers, Healthy Profits Project at the University of Wisconsin, the most efficient work table height is halfway between wrist and elbow, measured when the arm is held down at the worker's side. For heavier items, it is slightly lower. 


•Work flow
. The most efficient layout for the packing shed avoids extra steps and crossed paths. It also moves produce in the direction of the worker's leading hand (left to right for right-handed people).
The Healthy Farmers project suggests these considerations when designing the work flow: Do all crops need to be washed? Do some need to be sprayed and others to be dunked? Could you run side-by-side task lines into a shared workstation where boxes are packed? Or circular work stations that intersect at the shared workstation. Could you use some sections of roller table?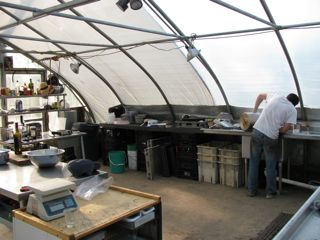 •Water.
Wash water must be potable (safe to drink). The Good Agricultural Practices (GAPs) standards for produce farms recommend dunking produce for one to two minutes in water chlorinated with 50-200 ppm chlorine in order to kill pathogens. So far, that's just a recommendation designed to improve food safety, but growers trying to get GAPs-certified may be required to use disinfectant in wash water. For more information about using chlorine in wash water, see this University of California-Davis publication.
http://ucce.ucdavis.edu/files/filelibrary/5453/4369.pdf
Organic rules also address the issue of wash water, stating that the final rinse water must not have more than 4 ppm residual chlorine, measured downstream of the product wash. This rule seems to conflict with the GAPs recommendation. To clear up the confusion, USDA's National Organic Program office has just released a draft proposal that suggests higher levels of chlorine are acceptable, as long as a final rinse meets the 4 ppm standard. NOP is accepting comments on the proposal until Dec. 13; a final rule will be released later, so certified-organic growers are urged to ask their certification agency once the issue is resolved. See
USDA Agricultural Marketing Service
for more details
Removing water is just as important as getting it to the packing shed. Plan for drainage, however you organize your wash station. Local governments may require that wash water be put through a septic system, but don't make the mistake of hooking it up to your home's septic. The huge amount of water you use in the packing shed will overwhelm your septic system. Most growers just run the water from the packing shed off to a garden area or storage tank where it can be used to water plants.
Read more about packing sheds in Growing for Market.
http://www.growingformarket.com/articles/vegetable-packing-shed 

The Healthy Farmers, Healthy Profits Project at the University of Wisconsin
http://bse.wisc.edu/hfhp/tipveggy.htm
has numerous tip sheets that can help you create a more efficient postharvest workspace.
• Subscribe to Growing for Market for the latest news and ideas.

Reprinted from JSS Advantage November 2010