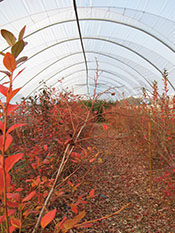 Growing for Market has been promoting the benefits of hoophouse production for more than a decade, since the GFM editors put up four hoophouses on their own farm in Kansas. It's hard to overstate the importance of a hoophouse to a small-scale vegetable and flower farm. The benefits are so significant that we believe a hoophouse should be one of the first things you buy when starting a small farm. You are much more assured of success growing in a hoophouse than outside.
You can trust Growing for Market to keep you informed about developments in hoophouse production. You'll find updates on this website, and you'll read the most cutting-edge practical articles in the regular issues of Growing for Market. If you're not already a subscriber, please join us and subscribe today.

The Hoophouse Handbook is a collection of articles from GFM about hoophouse production. It covers buying, siting and building the best structure for your location, plus articles by growers all over North America about the most valuable crops to grow in a hoophouse. The Hoophouse Handbook is 60 pages, softcover, with color photos. $16, or $12.80 for GFM subscribers.
Buy The Hoophouse Handbook
Now available: Growing for Market focused on hoophouse production in 2010. This 36-page book is a collection of all those articles.
If you missed the 2010 issues of Growing for Market, you can purchase this collection of articles about hoophouse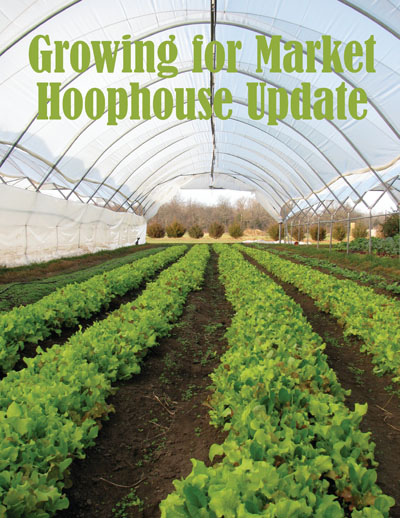 production. Topics include:
The most profitable uses for valuable hoophouse space
Innovations in sidewalls, inexpensive new do-it-yourself ideas
Managing soils, pests, weeds, diseases in the hoophouse
Movable hoophouses: why and how
Common hoophouse problems solved
How to use a hoophouse in a mild climate
How to tighten up a hoophouse for a frigid climate
A quick and easy system for putting row cover on crops inside the hoophouse
Scheduling crops (when to plant) and projecting income
Cold-tolerant vegetables for fall harvest, winter harvest, and overwintering for early spring harvest

Caterpillars: an inexpensive variation
Drop-down (rather than roll-up) sidewall curtains
Click Here
to order
The Hoophouse Handbook and the Hoophouse Update are also availble together at a discount.
Click here
to find out more