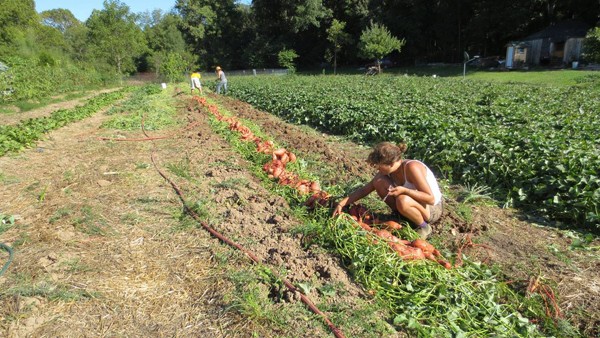 Sycamore Bend Farm is located in the Ozark hills of northwest Arkansas, near Eureka Springs. One acre of permanent vegetable beds, berries, a greenhouse, and a high tunnel are situated on creek bottomland, giving us a couple feet of silty loam with variations of gravel and clay to work with.

My wife Madeleine and I manage the farm and our two young children. We keep a small flock of registered Katahdin sheep on the surrounding acres. The farm provides two full time jobs to us, plus additional hired help during the primary harvest season of May through November. The farm grosses about $80,000 a year from the veggies and berries.

I dedicate about a third of our growing area to sweet potatoes each summer. Ozark Natural Foods- an organic co-op in nearby Fayetteville- buys most of the sweet potatoes, along with the majority of our other produce. We also sell at two farmers markets in Eureka Springs, and a few area restaurants.