Victory Gardens in Paris, Texas, is part of a group of green industry companies that I own. We began in 2002 as a one-man lawn care company. Fast forward to December 2012. The original company had become one of the largest lawn care companies in the area and it was time to expand and diversify. Because the maintenance division used so much ornamental stock, a nursery was always in the back of my mind and a logical progression.

I ordered a greenhouse that I thought would be used for tropicals and overwintering. I ordered a 48-hole hydroponic table as a novelty to the nursery. I chose the name Victory Gardens as we were to be the only nursery in the area to fill the niche of supplying vegetable gardeners as a primary income source and ornamentals as our secondary priority. I had always liked the idea of hydroponics, but it was not my goal.

Making my rounds about town, I would tell anyone who would listen that our nursery would be opening in the spring. Over coffee at our local bakery I was chatting up the owner. I mentioned the hydroponic table. That would become the first step in our path to where we are today.

That one conversation was my first glimpse that there might be something in the water about this hydroponics witchcraft. The bakery owner was very excited and I remember thinking about how quick he was to agree to buy. We take care of a lot of restaurant owners' property in the maintenance division, so I went to talk to them. Reactions were positive and supportive, so much so that in January, just a month after the initial greenhouse order, I decided to order a larger hydroponic system to supply on a trial basis two of the many people who expressed interest. And then I realized I really knew nothing about growing hydroponically.

Luckily that February was Growers Supply's CEA school in South Windsor, Connecticut. I must admit I maybe, ever so slightly, got a little carried away.

I had already caught YouTube syndrome from all of the videos preparing for the trip up North. It did not take much to decide on another expansion. We were building nursery infrastructure, shelving, tables, plus stock was arriving daily—seeds, vermiculture supply, organic soil amendments, fertilizers, ornamental bushes and trees. It was all exciting, seeing our dream of a nursery coming together.

We opened in March 2013 with great success. We had all of our dutch buckets in the greenhouse that was supposed to be for nursery stock. By mid March we began seeing how that original 48-hole "novelty" had become a major attraction, especially to the vegetable gardener target market we were hoping to hit. It was June of that year when we finished the inside grow room. We were already selling tomatoes both to the bakery and at the nursery. Of course it did not take long to realize that selling at full retail price was a great advantage. As soon as herbs were producing we began pairing tomatoes with thyme and basil and retaining higher profits.

And then winter came. No one was visiting the nursery and we went back to selling at wholesale prices to restaurants. It was our first year and we made mistakes, pruned too much or not enough. We sought help from Johnny's Selected Seeds and Growers Supply and honed our craft.

We were stable after our first few months and I was confident in our product, but not happy with the sales decline. I missed selling at retail prices. I had lots of produce and no demand. I had people tell us how much they loved our produce, how happy they were that we were in town, how they wanted to eat better. People were all New Year's resolutions with no follow through.
A year after our first order, we were treading water. I had missed the boat on educating the public that they could still buy from us. There are no other hydroponic growers in the area. Farmers markets were shut down so it was out of sight, out of mind.
Inspiration has a way of finding us when sales are slow, doesn't it?

December of that year my wife and I were taking a paleo diet challenge at a CrossFit gym, with a group of people who consumed many times the USDA's recommended daily allowance of vegetable servings. I had discovered my first fishing hole.
These people were all about vegetables, all about our products, all super supportive, but no follow-through. They were all extremely busy, as I was. Ideally, our market is busy people — middle-aged professionals with discretionary income for perceived added value. Mine specifically is 80-85% female age 34-54. How do I even know that? Testing. Extensive market testing, tweaks, surveys, and notes as to who buys what from where for how much and why they do it.
Below: Some of the authors' salads.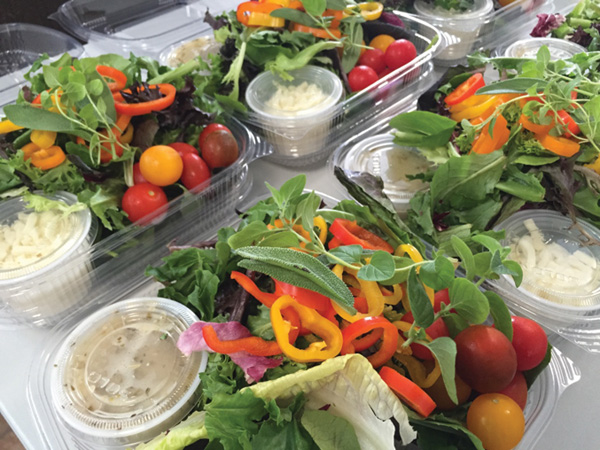 Back to my paleo dilemma. All of these busy people who want, need, and are willing to pay for your produce. They were not coming to me, so I went to them. I met with the gym owner and asked if we could put in a small refrigerator to sell our produce. Without hesitation he gave us the go-ahead. Interestingly, he would not allow me to pay him or offer any compensation. He stated it was an amenity to the gym and he wanted to help. Given the opportunity and not having to compensate for my 4 square feet of real estate within the gym, I wanted to make sure there would be no hassle for the gym owner and staff. But how to collect? I put faith in people to do the right thing. For less than $1,000, I bought a commercial refrigerator with a glass door and a LED light bar. It is 2' square and 5' tall. With no way to collect money, I simply used epoxy to glue a metal lock box with a slit on top to the side of the refrigerator. I use 2 x 3 inch coin envelopes with handwritten prices taped to the container. Customers place cash or checks into the envelopes and deposit them into the lock box. When I stock the refrigerator I make a sales ticket for sales and inventory tracking. When we restock, in the rare event we do not sell out, the ticket is used to keep up with spoilage that we write off. I also have instructions for people to pay via PayPal. In the 12 months this unit has been in operation we have not lost one salad due to someone not paying. The honor system works in the right environment. Subsequent refrigerators have only gone into places where we have a great relationship with the owners, and where our target customers are regulars.

When we are asked to put in a refrigerator we weigh out some factors. Because we buy, maintain, clean, stock, and collect we insist on 100% of the sales. We use what we learned from the gym owner. It is an amenity for the employees or patrons. We also promote the locations in our marketing, driving traffic to them. In offices, the employers are happy because people do not leave for lunch and are eating better. There is less chance of the mid-afternoon burger/fries/soda crash. Because we own the refrigerator I can move it if it is underperforming.
Below: One of the author's refrigerators where the salads are sold.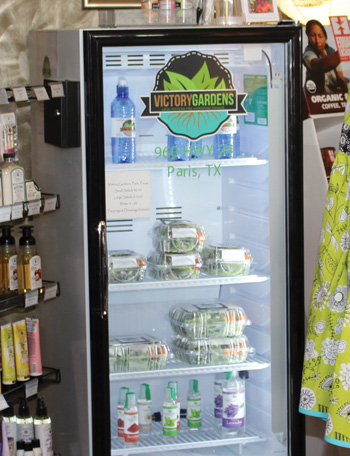 As that first year passed our grow room was tweaked, reworked, and customized many times. When we built the indoor grow room we had 960 holes of hydroponic production with 48 square feet of microgreen production, and a propagation table capable of housing an additional 960 starter plugs. Now, in the same space, using the same amount of lights, the same number of pumps, filters, and reservoirs, we have squeezed 2040 holes of production, 12 square feet of microgreens, and the same 960 plugs in propagation. Our grow room is 24 x 40 x 9' tall. We are now building a room to double our propagation and add more microgreens.

With the additions and the learning curve behind us, we started to have another over-abundance. There was not a line of people beating down the door for mizuna or shungiku. I love Asian greens for their turn time, and because they are beautiful and exotic, delicious, and nutrient dense. With these greens and our staple crop of Breen romaine and Salanova lettuces, a spring mix was a logical progression. But remember we also had dutch buckets loaded with Sun Gold tomatoes. Oh, and the carrots, beets, and radishes in our newly constructed 22'x60' high tunnel we built Spring of 2015. Sounds like a salad to me.
We converted an office space on our farm into a small and efficient commercial kitchen. We then washed, dried, cut, and packaged our first salad kits. By late spring of 2015, 95% or more of the produce we have grown has been used in our pre-made salads. We now have had to supplement from other farms and restaurant supply companies as we make a different themed salad each week. We buy dressings, salad toppings, and produce we either do not or can not grow. We also use the restaurant supply companies for packaging, bags, and utensils.

Saturday at the local farmers market was where we built a strong following. People began to know what we did and we are now known for our salads. People would buy multiple salads to take to work. It was also a great initial point of first contact for people who had not come to the nursery. We also have catered lunches for offices and parties.

That was Saturday, but what about the rest of the week? We set up affiliates that would carry our salads. A coffee shop with a lunch counter for small salads and a butcher who sold large salads. They get a $2 cut, and while we do not retain full retail it is certainly above wholesale. We are paid upon delivery twice a week with standing orders. We can plan out our harvests around these deliveries. It is worth noting that both of these locations are within two blocks of each other on the busiest street in town and a block away from the busiest intersection.

As the title of this article says, I stopped selling produce and began to sell convenience. We took the product to the people who wanted to buy but did not have the time to buy. We took them to the locations where buyers were plentiful and eager to buy. We offered a value-added product in which we had no competition. We are the only business in town growing, harvesting, preparing, packaging, and delivering a farm-to-table final product. We are not only the manufacturer, but the wholesaler and retailer.
We closed the nursery because produce sales were both more profitable and had a bigger community impact. Almost two years from that first greenhouse order we are converting all of that infrastructure and inventory to a bigger farm, expanding our plot sizes and crop varieties. People have told us they want more salads, more produce, and more deliveries. We are growing to meet the market demand that we created.

While I do not relish cutting off a revenue stream, I do like making better profit from less cost. At the end of the day, I just have this huge sense of accomplishment producing first-class produce for my community and delivering it in a new and unique way.
That is what the last 24 months have been like. It is absolutely mind numbing some days to look back on all we have done and, while there is a lot I do not have the space to say here, I will go over the high points of how we did it.

I had great vendors. Growers Supply and Johnny's Selected Seeds have been instrumental in my growth through continuous support. It is nice to have resources you can go to to get any question answered.

I also want to really stress pre- and post-testing your market. We never stop asking questions, sending newsletters, updating social media, giving surveys, and trying new things. Because of that, we are able to give our clients what they want. Because we deliver on those wants and added value we have this price elasticity that allows for premium pricing. When you deliver the right products to the right people through careful cultivation, education and trust, price is not an issue. They simply have to have it. It works in lawn care, salads, or any other consumable that is targeted correctly.

Never be afraid to ask for outside help. Also look for answers outside of your industry and comfort zone. I have hired business coaches to accelerate my learning curve. I knew I could never have figured out all of the details on my own. In asking for help I learned how to track various matrix points, read online traffic analytics, and see where my buyers were hearing about us and who they are. Remember I knew that 80-85% of my clients were female age 34-54. I know that because time and time again through surveys and analytic tracking that demographic is the one that responds to ads and buys. So 80% of our marketing is targeting that audience.

And finally, throughout the entire start to now, I trusted my instinct and did what I thought would work. As you know, some days you will be the only one who believes in what you are doing.


Nick Burton owns Victory Gardens & victorylunchclub.com in Paris Texas, a controlled environment hydroponic & raised bed farm, as well as a property management company. Nick is a regular speaker at Growers Supply's CEA School in South Windsor, Connecticut and has a blog for growers to assist in business & marketing tactics: www.growerscoach.com