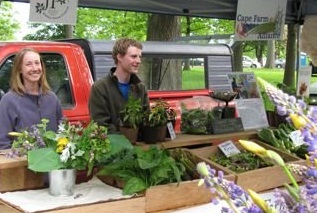 Are you an aspiring market gardener or food entrepreneur? Or a serious gardener thinking you could be making some money from your garden's bounty? There's never been a better time to make your move.
Farmers markets are proliferating and many of them would welcome new vendors. More than 1,000 new farmers markets have opened this year across the country, for a total of 7,175, the U.S. Department of Agriculture announced on August 5. That's a 17% increase in farmers markets from 2010, which saw a 16% increase from 2009. In fact, the number of markets has nearly quadrupled since USDA started counting in 1994.
When Agriculture Deputy Secretary Kathleen Merrigan announced the new numbers, she was quick to point out that one of the benefits of farmers markets is that they are incubators for new businesses; they help new market farmers get established, find new customers and eventually become successful.
Here at Growing for Market, we have met many new farmers who got their start at a farmers market. A typical path to success is to start selling at a small, nearby market — an inexpensive way to learn to schedule your products, present and market them successfully, keep your books, and learn all the little details every businessperson needs to know. Next, you might move into a bigger farmers market with thousands of potential customers passing your table every week. You might meet chefs looking for local suppliers and customers who encourage you to start a Community Supported Agriculture program.
You will certainly meet other growers who can help you with questions that arise — how to deal with a new pest, the best place to buy supplies, and other non-competitive topics. (Most growers are friendly and helpful to one another, though not always. Sometimes if you're in direct competition for customers, they won't be willing to share the kind of information — such as vegetable varieties — that gives them an edge in the market.)
To explore the opportunities in your area, visit USDA's farmers market directory. Type in your zip code, select the number of miles you're willing to drive to market, and the directory will produce a list of all the markets that meet your criteria. You may be surprised at how many farmers markets are operating near you.
For more advice about getting started, download Growing for Market's free special issue Selling at Farmers Markets.