Not so long ago, I wrote an article about lisianthus for Growing for Market (GFM Nov/Dec 2013). Due to follow up questions from readers and continued growth in popularity, I want to revisit the crop and talk about new varieties.

If you are a beginning grower, I would suggest ordering in plugs rather than starting your own seed. They are tough to germinate and take forever to grow, so plugs will give you a jump ahead and don't require heated space. Most growers I know buy in plugs. Although we start some of our own seeds, we still order plugs to supplement what we produce ourselves.
Below is the author with a big bunch of ABC Rose 2, her biggest, best lisianthus last year. All photos courtesy of Gretel Adams.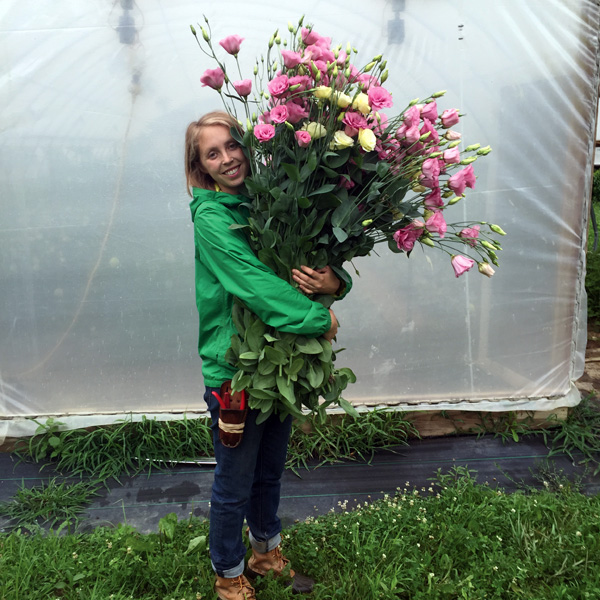 Ordering Plugs
If you are new to buying plugs, let me give you a rundown of how we do it. Find a broker that can source from growers in your area. We use Leo Berbee to buy from Raker, but there are many other brokers out there- Gloeckner, Gro 'n Sell, Harris, etc. Buying plugs from a grower near you will decrease shipping costs, or maybe you can go and pick up. And be sure to give yourself enough time when ordering as they take a 12 week lead time. Or if you are just starting, you can order off their overflow availability list, but there is no guarantee they will have specific colors or varieties you are looking for.

We are attempting to succession plant our lisianthus again this year, so we have three lisianthus plantings scheduled. Part of the reason for this is that we grew a lot of ranunculus and other early spring crops that need to get ripped out before we have the greenhouse space to plant lisis, so we don't have the space to plant all of them at once. Another reason for succession planting them is to try and fill the gap between the first and second flush. Typically our lisianthus bloom here in July, we cut them really hard, and then the second flush isn't ready until September. This means there is a gap in availability in August, which is tough for sales and for use in my wedding work. I want it all the way through the summer. Last year we tried with two shipments, with only two weeks between them but that did not separate them enough. This year we are trying three successions, each two weeks apart, to see if that puts enough of a space between the plantings to change bloom time.

For our first succession of lisianthus (which is our regular timing), plugs come the first week of March (week 9 or 10). We order ours in 288's, and then pot them up into 72 cell flats because 4 x 72= 288, so they should pot up evenly. We grow these on for about 4 weeks in a minimally heated greenhouse where our seeds are started, but they could be in an unheated space as well. Some growers also plant directly from the 288's rather than going through this step. We choose to pot up and grow them on because we like bigger, more established plants going into the beds, but also because we are waiting for greenhouse space to become available. Having bigger plants when they go in allows for easier watering and weed control as well. Just be sure to pot them up upon arrival if that's your plan. You don't want lisianthus getting root bound because it will start to rosette.

Starting Seeds
If you want to take a shot at starting your own seeds, don't let me discourage you. We tried it a couple times before we got it to work for us, and I still feel like our seedlings are not quite as robust as the ones we receive from the plug producers. This year we switched our soil to Vermont Compost's Fort Vee and noticed a difference with healthier plants, but they still grow SO SLOWLY! We use 200 cell flats for snapdragons with our vacuum seeder, so we decided to use that size tray for our lisianthus as well. They also get potted up into 72's when the other plugs arrive. Seeds are super tiny, and have low germination rates, so we double seed the flats just to make sure they are worth the time and space they take up in the heated greenhouse. Seeds were started a few different times to accommodate those three successions. Though week 48 & 50 seed starting dates didn't appear much different when transplanting them out, so they were planted together in the same bed. We will see if there is a difference in bloom time between the different successions.

Below is a bunch of Rosita Blue Picotee.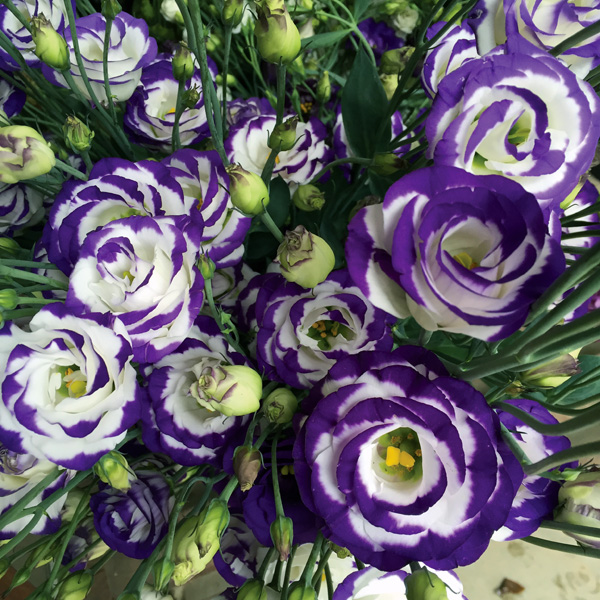 The benefit of starting your own seeds is that you can get some of the fancy new varieties before the plug producers have them available. Last year we trialed some for the ASCFG, and also tried some other new varieties. You can get some of these new varieties from Geoseed, Gloeckner or Harris. Here is a review of the new colors we tried:

Rosanne Brown: The color was a vintage tan-blush color with double flowers. They were a tough sell to consumers and even to florists, but I enjoyed using them in all our blush weddings. We still will grow more this year for our use and in hopes that the florists will catch on. Hard to mix with bold colors though, better with soft and dreamy blush weddings (which I know everyone has again this year).

Rosanne Green: This was a bright lime green which looked almost like a paper flower. This one sold the best out of any of the trials, but still ended up being mostly for my wedding work. It was more easily mixable with other colors. I'm growing this one again because I like it.

Wonderous Brown: A single flowered version of the Rosanne Brown. What I loved most about it was that some of them seemed like they were reverting back to their parents, with a beautiful creamy apricot color. This year we are just growing Arena Apricot instead.

Wonderous Purple: A single flower that is supposed to be an antique purple color. I liked the color, but it was a hard sell, I think because people love the other purple lisianthus around here.



Doublini Blue, White, Pink: I liked these for boutonnieres and for flower crowns, but they didn't sell well to florists. I think we may have to bunch them with more stems and/or sell them cheaper like a grower would with spray roses versus standard roses. We will really just produce enough for our use this year.

Rosita Blue Picotee: A nice medium sized bloom—white flowers with pretty purple edges. People can't seem to get enough of purple lisianthus, so these did sell. We didn't plant any this year because I just realized I never ordered those seeds.

This year we are doing more of our own seed starting, so we are trying some colors in the series Arena, Advantage, and Mariachi. We are also adding Rosanne Black Pearl and Rosanne Deep Brown, so we will report back once those colors are blooming. I believe some plug producers now have some of these new colors available, it may just have to be a group order.
Below is Rosanne Green growing up through Hortonova.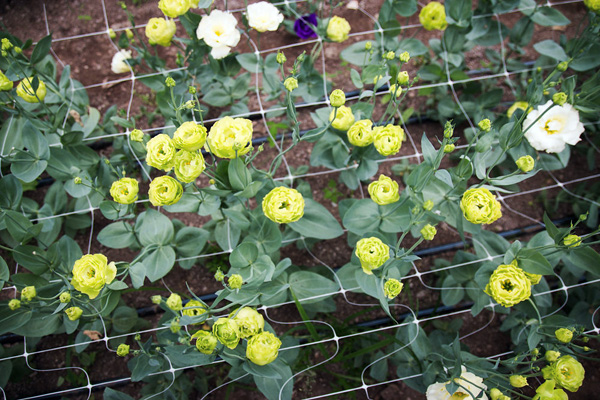 Growing On
All of our lisianthus go into unheated tunnel space when they are planted out, at 6" spacing 6 rows across. Typically we do one per hole in the Hortonova grid, but this year we were so tight on space that we are doing some of them in a 2 per hole crazy checkerboard pattern, at least for the first succession to fit into the space allotted. We have been told by other growers that they plant them two per hole, but this led to them being very difficult to weed with our current hand tools. One of our employees used a bent #9 wire at the end of a hoe handle to weed between 3" spaced plants. Weeding when they are small is essential since the lisianthus are going to be in there all season. We've let the weeds get ahead of us in the past, and then the stems get wiry because of competition for nutrients, light and water.

Since they are in the ground for such a long time, the soil amendments we add before planting are used up before the end of the season. We now fertigate them throughout the season to keep them going. We also foliar feed them to give them another boost. In either case, we fertilize with fish emulsion, kelp and liquid calcium. With the timing described above, here are the steps laid out more clearly:

The 288 plugs come March 1, get potted up into 72 cell flats. They are kept in the greenhouse until April 1, when they are transplanted into a hoophouse at 6"x6" spacing. The first flush blooms July 4, starting usually with the Echo series. Cut the stems long and hard, leaving only two sets of leaves on the plant. A second flush of blooms starts at the end of August/early September.
Below is a hoophouse full of lisianthus on Sunny Meadows Flower Farm.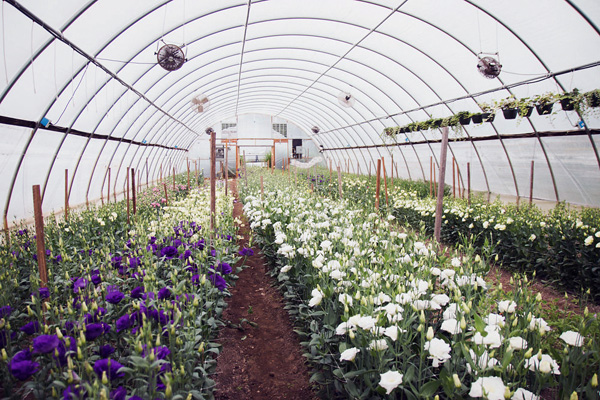 Our successions this year are two and four weeks after the schedule laid out above. Note that some growers do plant lisianthus outside, so don't be totally discouraged if you don't have greenhouse space for planting.

Lisianthus is one of our favorite crops and our top selling item after our mixed bouquets. We increase production every year, and we can always sell as much as we can grow.


Gretel and Steve Adams own Sunny Meadows Flower Farm in Columbus, OH. Contact them directly to schedule their consultation services which can be tailored to fit your business or personal flower farming needs.