By Lynn Byczynski
Editor and Publisher
If you have a hoophouse that does not have electric fans and vents, you know that keeping the structure ventilated is one of your primary management tasks. Growing for Market is holding a contest to find innovative designs for ventilating a hoophouse without electricity.
If you have an effective passive, non-electric hoophouse ventilation system, we invite you to enter your innovation in our Hoophouse Ventilation Contest. We will choose several solutions to feature in a new edition of The Hoophouse Handbook to be published later this year. From those winners, we will pick one lucky farmer who will win a Tillie, the battery-powered cultivator shown below.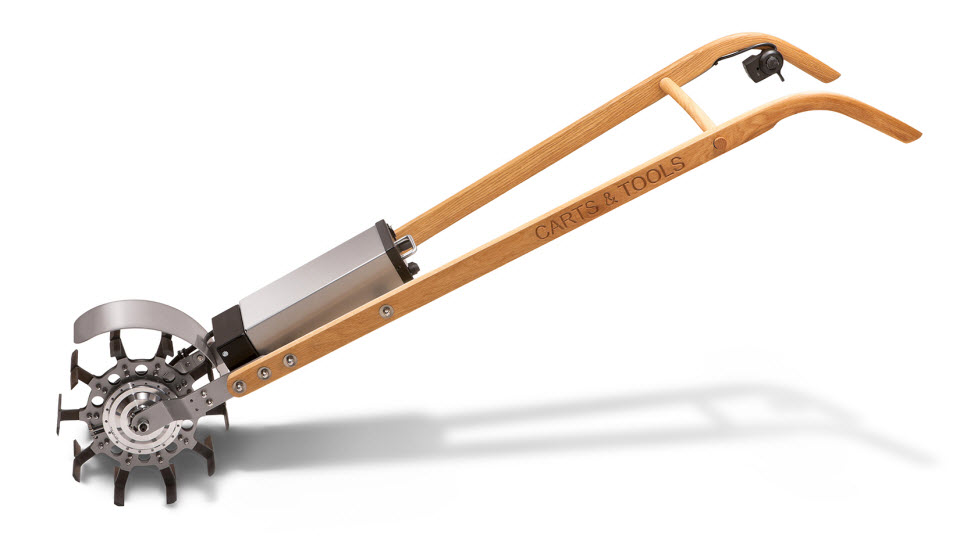 The Tillie was sent to us by the folks at Carts & Tools so that we could test and review it. We're using it in our own hoophouse and having a few other market growers in our area give it a spin. We will publish a review in the May issue, and then we'll pack it away until we choose our contest winner. In other words, this is nearly a brand-new tiller that sells for $795.
Here are the details of our contest:
1. We are looking for non-electric hoophouse ventilation systems that are farmer innovations, not commercial products. They could include sidewalls that are easy to roll up or down; roof vents; chimneys; or other clever, non-electric ways to ventilate the hoophouse. They don't have to be super-sophisticated; even a roll-up sidewall that doesn't sag, catch water or need to be repaired every year could be an improvement for some of us!
Solar-powered solutions will be considered if they aren't expensive or difficult to replicate.
2. You must be a GFM subscriber to win.
3. The system must be on your own hoophouse, or on a hoophouse you built or designed. If the hoophouse is owned by someone else, you have to have their permission to enter the contest.
To enter, email us with photos and a description of your system. Put Hoophouse Contest in the subject line. Please send high-resolution photos — at least 1 MB each — so that they can be printed. (See the January 2014 issue of GFM for advice on taking photos suitable for printing.) You can also send a short video. When you enter, you grant Growing for Market permission to publish your photos and text.
All entrants whose photos are published will receive a free copy of the new edition of The Hoophouse Handbook. From those winners, one Grand Prize winner will be selected to receive the Tillie.
The deadline for submissions is May 1. The winners will be selected by July 1 and announced in the August issue of Growing for Market.