Growing for Market in partnership with Johnny's Selected Seeds has created a library of expert information about growing and selling vegetables and flowers. Links in the article will take you to johnnyseeds.com.
Subscribe to Growing for Market for more great ideas about growing and marketing!
For more topics in the series, click on Market Farming Basics in the left column.



Succession planting in the greenhouse

Succession planting is one of the more challenging aspects of commercial vegetable production because there are no prescriptions or shortcuts. You have to work out your successions to fit your own marketing schedule, climate, and crops. And then you have to refine your plans every year, as you learn how specific varieties perform for you. Good record keeping and analysis are essential to successful succession planting. Here are some general rules to keep in mind for scheduling your greenhouse transplants.

Heat mat space and bench space are two limiting factors for transplant production, so try to plant only what you need. Check the germination rate on the seed packet to determine how many seeds will give you the required number of seedlings. Add 10-20% to account for possible losses. Avoid the temptation to plant far more than you need because, if all goes well, you will be faced with the even bigger temptation to grow more than you wanted just to keep from throwing out healthy seedlings.

Plants grow more slowly in the shorter days and cooler temperatures of late winter, even in a heated greenhouse. It's possible that plants seeded a week or two later will catch up with an earlier planting. Keep careful records about seeding dates to determine if this is the case.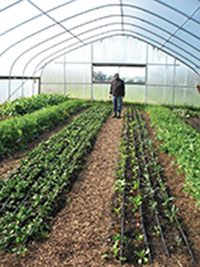 Days to maturity printed in the catalog and on the seed packet can be used as a guideline for scheduling your successions. But it is highly accurate only when optimum temperatures are provided, so pay attention to recommended temperatures. Johnny's catalog includes detailed growing instructions for every crop.
You should know the earliest dates you can plant groups of crops, based on the average last frost date for your area. Count back the average days to maturity of a variety to determine when to seed the first succession. You should also figure out the latest date you can expect to have crops, and count back the days to maturity to determine when to seed your final succession. For example, you may be able to plant cold-tolerant crops such as broccoli in early April, two weeks before final frost. If your summers are extremely hot, you might have to set a date in June as the time when broccoli starts to decline. Count backward from both dates to determine your earliest and latest possible seeding dates.
Choose several varieties of each crop to provide a longer season. Start the season with a cold-tolerant variety, then switch to a heat-tolerant variety for summer harvests, then switch back to the cold-tolerant variety for fall.
With all these variables in mind, create a calendar of seeding dates to keep in the greenhouse. Get yourself in the habit of starting seeds on a specific day of the week. You will have a much better likelihood of sticking to your schedule, and having multiple successions of transplants to keep your crops producing all season.


• Subscribe to Growing for Market for the latest news and ideas.


Reprinted from JSS Advantage February 2010