By Ellen Polishuk
Northern California is beautiful in its own unique way in August, with dried out hills covered in brown grass and widely branched, stately live oaks sprinkled around, and a sparkling clear blue sky. Lennie Larkin, a native Bostonian, has fallen in love with this land. She's spent eight years in the West and she's getting really good at growing plants here. Plus, she's no slouch at being a business woman.
I was lucky enough to hear of Lennie from my connections at the Association of Specialty Cut Flower Growers, where she was well described to me as a super smart, dynamic, quickly up-and-coming flower farmer. She and I met online when we were both taking a farm service provider business class from Julia Shanks this spring.
So, it made sense to visit her while I was staying with an old farming colleague in Sebastopol this past August. It was full-on farming and wedding season in sunny California, and nevertheless, Lennie gave me her Monday morning to show me around her world.

Lennie is 37 years old, tall and full of smiles. I felt completely welcome within seconds of meeting her for the first time in person. B-Side Farm is currently made up of three different parcels of land, all within 20 minutes of each other in what is called the North Coast of California. This is Sonoma County, home of vineyards galore, and plenty of wealthy folks from San Francisco and Silicon Valley – main homes, and vacation homes.
The landscape is pretty dramatic, quite hilly, and there is absolutely zero chance of precipitation between mid-April and mid-October. None. Thus, those dry brown hills. Land here is prohibitively expensive to buy. Therefore, Lennie doesn't own any of her small land plots; they are all rented.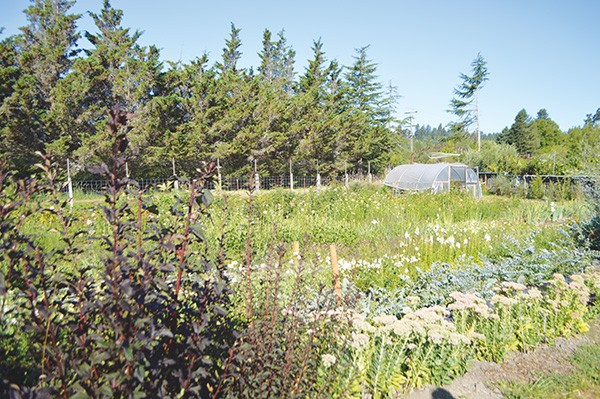 She found them via California Farmlink, and they cost her around $1400/acre per year, which ain't nothing! Luckily, it doesn't take a whole lot of land to grow a very valuable amount of cut flowers. But having her production spread out is not exactly perfect – lots of time on the road, more landlords than any one person should have, multiple irrigation systems, inherent inefficiencies galore.
Lennie's main plot is where she's been the longest, which is a 1/3 acre mixture of annuals and perennials. On my visit, the roses are looking gorgeous, lisianthus is covered with blooms, dahlias are popping, and Lennie's favorite flower, Japanese anemone, is just beginning to be harvestable. She's honed her crop list over the years to include some rare and profitable crops that she didn't see on the local market, and ones she can use in her own design work.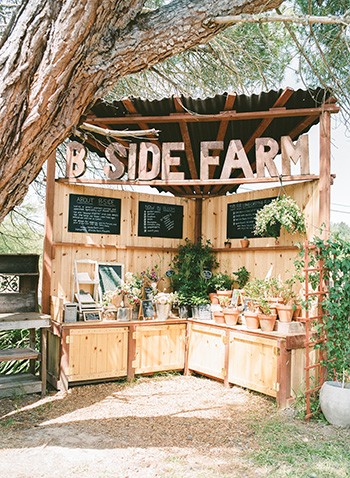 Therefore she's got a few key crops in bulk, and just a few feet of a lot of different species- ornamental grasses, lamb's ears, lady's mantle, and on and on it goes. There are plenty of relatively easy annuals like zinnias, cosmos and celosia, but no "one and done" quick crops like sunflowers. Lennie finds those crops are not labor efficient enough to earn their space.
She grows on permanent beds, mostly using hand tools and sometimes a rented rototiller to prepare the soil. Most beds are now covered with landscape cloth after too many years of battling weeds by hand, and drip irrigated with well water. The place is jammed full of plants. This acreage is precious.
Lennie wanted to go big on one crop – to grow a whole half acre of one thing that she could both wholesale and use for weddings. So, for her second plot, she decided on peonies, a favorite of many designers and brides alike. But mostly, they appealed to Lennie because nobody else is growing many in her locale. Folks told her peonies wouldn't do well as the winters are too warm.

After proving to herself through several successful trials that they in fact do grow well, Lennie found a half acre with a 10-year lease, where should could invest in growing 2,400 peonies. Between the plant material, and all the infrastructure to grow on raw land, Lennie invested $25,000 in her half acre. She planted last fall, just before the record rainy winter.
The land is flat and relatively low, and there was standing water for many weeks, in spite of specially formed raised beds. Yikes, what a worry…so far, it appears that most of the peonies have survived, but the jury is still out on how well they will perform. Lennie just recently learned that the landowners are selling the property, and it's unclear what exactly that will mean for her lease.
Such a risky business this is! Lennie tells me this whole story as we stand and admire her half acre of work. She's incredibly calm about the whole thing, having learned now that she can pretty much accomplish whatever she sets her mind to and that she has learned to expect huge and surprising challenges in this line of work.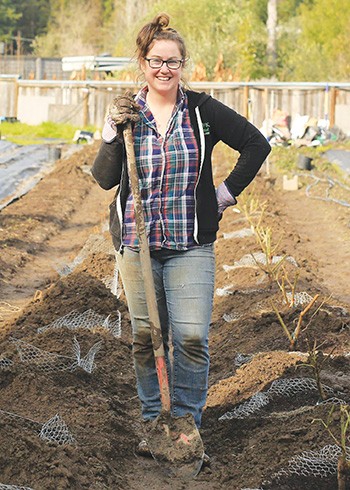 The last growing area is brand new and only just tilled for the first time this summer. It's a ¼ acre patch just across the fence from the house that Lennie and her partner Matt moved into this past December. Lennie will put up three tunnels in September: two whole tunnels just for ranunculus, one of which will be shaded to try for a second succession of this popular yet ephemeral crop.
She will plant a bunch of annuals next year in the open ground. So far, she's hired out the soil prep, and will probably do that for the final bed making. I've personally never seen a farm business with so little equipment! It really begs the assumption that to get started in farming you have to go into debt to obtain land and equipment. B-Side has nothing more than hand tools and wheelbarrows.
Lennie talks about how she really did start this whole business on a shoestring, which is not something she'd necessarily do again or recommend to others. She made it work, but it took that youthful energy that even she, at 37, feels is in the rear view mirror. It's really amazing to me. This low-investment style comes with its costs too — waiting around for tractor work to get done, begging farmers to let her hire them for bed prep during their busy times. But still, it's working.
B-Side Farm currently grows primarily for Lennie's wedding design work. She does have a small new roadside stand for local folks, and a steady few wholesale florists. But weddings are where B-Side has found a profitable niche. Lennie's edge in the market comes because she is a farmer and a designer, not just a florist.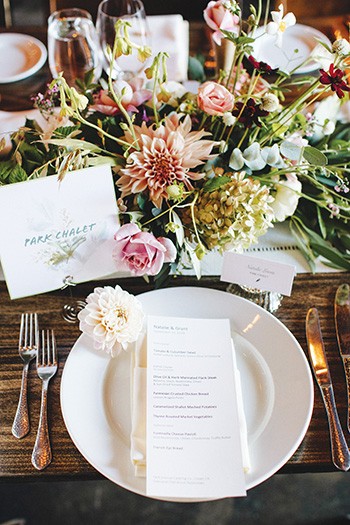 She uses her own organically grown stems, supplemented with some purchased flowers in her work. Brides are attracted to B-Side's philosophy and juxtaposition of farminess and sophistication. Check out her website and Instagram to see the amazing variety and beauty of Lennie's work. She's a top-notch designer.
Just like in market farming with vegetables, it would be easy for Lennie to slide into becoming a peddler, just a florist, as she's seen how much easier it is to buy versus grow. She's a number cruncher, getting more skilled and more data-driven all the time. As of now, Lennie thinks the farming is a little more than break-even, providing a good farming income for one full-time employee and the profit comes from upselling the flowers to brides.
So, why not just do weddings with purchased flowers? Well then, B-Side would just be another florist with no direct connection to a farm. It's the farm part of the story that sets Lennie apart from the rest; that attracts her customers. Oh, and Lennie loves the production part of her business just as much as any other part. Her heart is with the farming. She is a farmer who designs, not the other way around. So, farm she will.
Why not sell for the big retail dollar at vibrant local farmers markets? Lennie worked markets in a previous farming job and got burnt out on that routine years ago. She'd already begun to work with florists in that job, and enjoyed those connections as well as the streamlined sales. That's also where she learned a lot about wedding work. Wholesaling just felt right to her.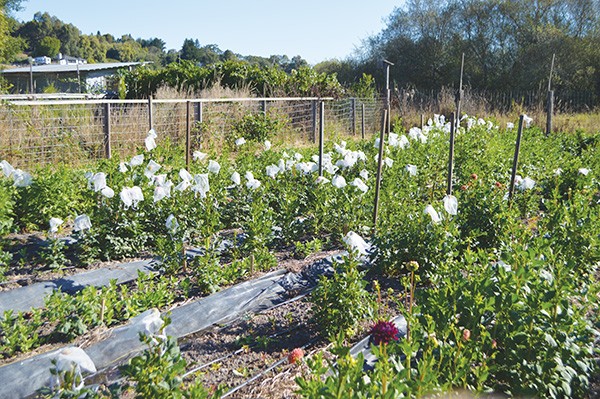 But as we all know, the wholesale market is a different and possibly brutal place. Plus, let's also remember that California is home to the most robust cut flower acreage in the country. So, how does Lennie compete against much larger, more highly mechanized growers? She grows more unusual varieties, she grows them using organic practices, and provides excellent customer service. That's how.
Lennie has been a wedding flower designer for only four years, and has only felt truly successful in the wedding space for two years. She decided to focus on weddings in order to ensure profitability for her business, and made it work by employing these three tactics.
Answer client inquiries ASAP, within hours. They want the ideal of a farmer, not the harried reality of a grimy farmer. She's fully embraced excellent customer service.
Learn about search engine optimization (SEO), have a great website with awesome photos, and make friends with a professional photographer if you don't yet have a body of work to show.
Raise prices and then keep them high. It shows just how good you are, what a valuable service and product you provide.
Using that formula, she's confident that flower farmers can see tremendous growth and success in the wedding world.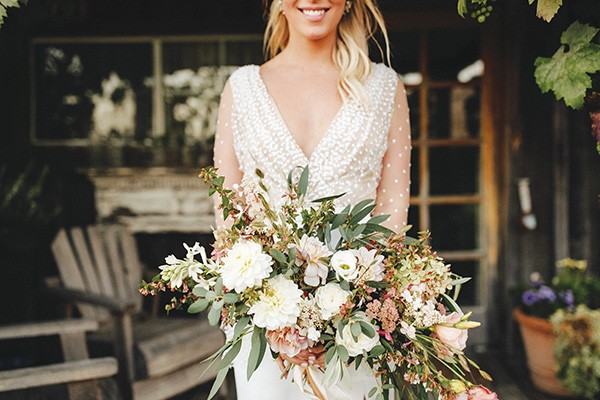 As Lennie looks to the future, she's not 100% sure where her path will lead. She's been incredibly successful so far. She still loves flowers and farming. But she's also very good at learning quickly, internalizing lessons and transferring that knowledge. She's taking classes to hone her business skills so that she can better advise new farmers who were in her shoes just years ago. She's already teaching at Santa Rosa Community College, does a little consulting work with home gardeners on the side, and served a term on the board of the ASCFG early on in her flower farming career. No matter, it's clear to me that Lennie is one sharp, business-minded entrepreneur. She's passionate, energetic, and has the perseverance to get things done. I know that success is in her genes, and can't wait to see what happens at B-Side!

Ellen Polishuk farmed for 30 years at Potomac Vegetable Farms in northern Virginia. She now consults and teaches growers around the country through her business Plant to Profit, and as an associate at Kitchen Table Consultants. For more photos of each farm profiled, go to Planttoprofit.com, and click on farm profiles.