Many flower farmers might shudder at the thought of customers walking along their rows, snipping away at flowers that strike their fancy. Growers wait to cut at certain bud and flower stages, snip at certain stem lengths and make cuts to produce more growth. Yet, Margaret Hall of Curiosity Farm in Concord, North Carolina, is finishing her third year of a You-Cut flower operation that is well-integrated into her other retail and wholesale sales.
I visited one evening in early June. The first two You-Cut customers learned about it from a Facebook friend who'd participated. They were cutting flowers for a high school graduation party. The women each grabbed a 6-inch rimmed metal bucket and sterilized clippers that Margaret had set up. Each paid $25 and could fill the small buckets as densely as they wanted, but were required to bring their own containers to transport the flowers home. Other seasons there's also a small-rimmed mason jar option, and again customers bring their own containers to leave with.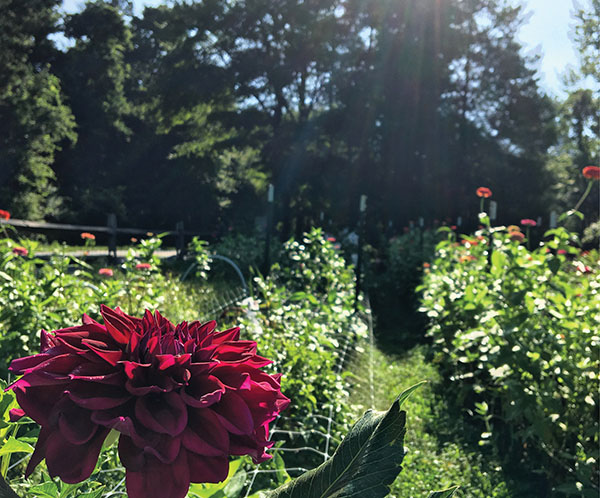 Dahlia and zinnia rows at Curiosity Farm in Concord, North Carolina. Photo courtesy of Margaret Hall.
Margaret initially walked with them and provided detailed coaching to help the women leave with the longest lasting flowers and to keep her plants in the best shape. She told them to cut the stems at about the length of their forearms and cut the flowers at an angle so the stem ends wouldn't sit flat at the bottom of the bucket or vase. "I want them to cut deep into the plant," she said. "People rarely do." She taught them to strip foliage from the stem that will sit in the water. She pointed to the lilies and told them to cut branched stems if one bud is open. "The others will open in the vase," she said. "Larkspur are better when the flowers are open."
"If you have enough, they don't cut the immature ones," Margaret told me. "Sometimes they cut things they shouldn't, but it evens out. You have to relax."
A previous year, she moved yarrow and feverfew out of the public cutting area to private growing areas that you-cut customers can't access because neither will hydrate if the flowers are not fully open. Other flowers and foliage for brides and other customers that are sequestered from you-cut customers include "Café Au Lait" and "Sweet Nathalie" dahlias, Chinese lantern, hypericum and eucalyptus. Sometimes Margaret takes a container of eucalyptus stems from the off-limits beds to the you-pick area for those customers.
Before you-cut customers arrive, Margaret walks the rows and cuts stems for wholesale customers and also deadheads so the mostly amateur harvesters have the best options. After they leave she goes through and clean-up prunes where needed.
To make the you-cut operation manageable — keep in mind she also has three home-schooled children — she limits the you-cut schedule and the number of customers and requires online registration. Last year, she just advertised open times with no sign up and too many people showed up some nights for the limited cutting window. She didn't want to turn them away since many drove 45 minutes or more.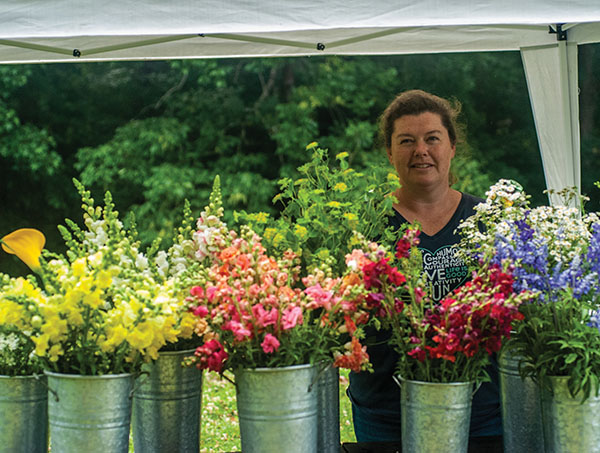 Margaret Hall at Curiosity Farm in Concord, North Carolina, sets up buckets of flowers for a Bouquet Bar where customers come and build their own bouquets and pay by the stem. Photo courtesy of Margaret Hall.
She adjusts the number of slots with the seasons. This spring from March 18 through April 17, she created two to three cutting slots per day, five days a week. "The ranunculus and anemones are really free flowering at their peak, and I did not have time to cut every day," Margaret said. Customers paid $20 to fill a narrow-rim tall mason jar because the value of the flowers is high. In addition to anemones and ranunculus, tulips, quince, daffodils, viburnum, hyacinth, forsythia, hellebores and columbine were in bloom.
The late spring you pick ran from May 15 through June 7 when beds were full of snapdragons, sunflowers, veronica, scabiosa, larkspur, bachelor buttons, lilies, nigella, poppy seed pods, buplureum, Foxgloves, sweet William, rudbeckia, salvia and more. She had slots for up to four people two evenings each week. They could sign up for the metal bucket option at $25 each and add $15 mason jars.

The summer you-pick ran from July 1 through August 7 when there were fewer weddings and an abundance of flowers, including celosia, zinnias, sunflowers, Shasta daisies, dahlias, gladiolus, gomphrena, cosmos, veronica, scabiosa, dahlias and hydrangeas. She planned to open the blocks to as many as seven people and multiple sessions each week. "In the past, almost all sales in July and August have come through you-pick," she said.
Margaret does a late planting of zinnias, sunflowers, cosmos, salvia, Jewels of Opar, scabiosa, celosia (plumed and crested) and daucus for the final fall you-cut, which ran from September 1 through October 9. Metal buckets were $35 each and jars $20 because of the high value flowers, including five rows of dahlias, along with eucalyptus, mahogany red hibiscus, chrysanthemums and solidago. "I can get the flowers sold for weddings and events in the fall, but love for people to come cut their own," she said.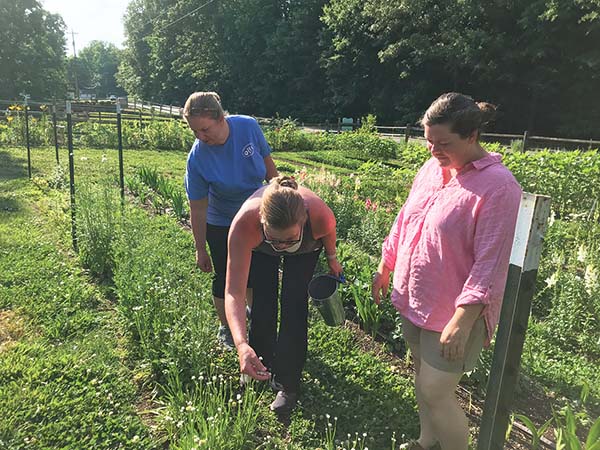 Margaret Hall (right) guides customers as they prepare to cut their own flowers.
As a bookkeeper for her father's certified public accounting firm, she's comfortable with numbers and has carefully calculated the costs of some of the flowers. She figured the initial costs of growing zinnias at 25 cents a stem and that adding the costs of cutting at an optimized stage, storing and selling would wipe out all the profit. So, letting you-cut customers do the harvesting made sense.
To get the cut your own going, Margaret invited a test group to come and cut flowers for free so she could observe and learn how to best run the operation. "I asked a lot of questions and got great feedback," she said. Initially, she was hesitant to allow children, but says they've been a joy and they take the flowers seriously. They have to stay with their parents.
Florists also come by appointment to cut their own flowers.
Last year when the pandemic shut down her spring you cut, the self-serve operation generated just under 20 percent of her sales. By the end of this year, Margaret anticipates it will be up to 40 percent of her flower sales.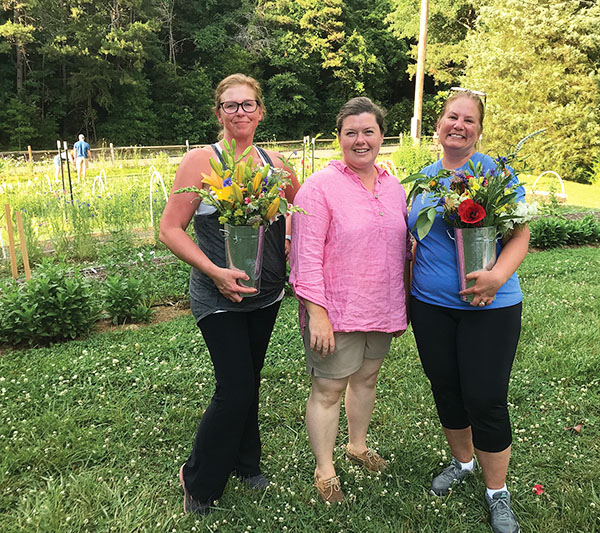 You-Cut flower customers with Curiosity Farm owner Margaret Hall (middle). Photos by the author.
To draw additional customers to her farm who may not want to cut their own but desire fresh, local flowers and a farm experience, Margaret sets up a Bouquet Bar on Memorial Day and July 3rd. She cuts hundreds of flowers and sets them up in buckets on tables. Customers pull out stems to create their own bouquets and pay from 70 cents to $4 per stem, the latter for peonies and large dahlias. They can also fill small glass bottles (Coca-cola or Topo-Chico bottles) for $5. She said it's a popular choice and many people will make four or five bottles instead of a large bouquet.
You cut is only one of her sales outlets, customers can order bouquets online and pick up at the farm or nearby gift shop, and she sells bouquets to a sliding-scale grocery store. Curiosity Farm is a member of the Queen City Flower Cooperative of Charlotte and also sells through STEMZ, a Winston-Salem, North Carolina, distribution network that connects growers and florists and reaches into the Charlotte region market.
Curiosity Farm also links up regularly with neighboring Commonwealth Farms owned by Jane Henderson. Margaret grows a wide variety of chrysanthemums in Commonwealth Farms' high tunnel. She says the best easy-to-grow, popular mum varieties are 'Pink Fleece,' 'Bronze Fleece,' 'Heather James,' 'Honeyglow,' 'Kelvin Mandarin,' 'Coral Charm' and 'Shock'. Other higher maintenance popular ones are 'Seaton's Coffee,' 'Seaton's J'Adore,' 'Savannah Charlton,' 'Piranga,' 'Apricot Alexis' and 'River City.'
Margaret first got started in farming by experimenting with strawberries, blueberries and vegetables on her Concord property in 2013 and started the flower farm in 2015 with no-till practices on half an acre with anemones, ranunculus, snapdragons and Bells of Ireland. She set up a flower booth at spring and fall antique shows and sold at a nearby antique shop. "I love antiques and have found that many other people who love antiques also love flowers," she said. "That's where I started building my list of people to email about cut-your-own flowers and also where I got direct feedback of what people liked and valued."
Her cooler is in an old horse barn on the property. They are a few hens running around along with a black duck, Jack, who hangs out with the family's airedale terrier and acts more like a dog than duck.
Margaret studied microbiology and worked in that field for five years after college. She puts her science background to use with the flowers. "I'm trying to push the limits on what you can grow and what you should grow," she said. She parses the finer details of what can be grown in her hardiness zone (between 7a and 7b). For instance, scabiosa overwinters well only if it's able to stay dry enough with good drainage and must reach a certain stage before the cold temperatures hit. Snapdragons with a woodier stem can tolerate more cold, and she has found the "Rocket" cultivar can withstand more cold than "Chantilly," "Butterfly," or "Potomac."
Curiosity Farm no doubt will continue to expand on its success with Margaret's careful attention to the details, while at the same time loosening her grip by inviting customers armed with clippers into her flower fields.
Jane Tanner grew cut flowers and specialty crops at Windcrest Farm and Commonwealth Farms in North Carolina, and helped manage the biodynamic gardens at Spikenard Farm in Virginia.