Despite record high temperatures that are scorching much of the U.S. this summer, market farmers keep working. They have to harvest, plant, and sell their products, whatever the temperature. Growing for Market recently asked readers to share advice for dealing with heat, and got a great response from people across the country who have figured out strategies for keeping themselves and their crops cool. Here are some suggestions that might help you beat the heat:
Be cool yourself
The first rule of working in heat is to stay well-hydrated. The second rule is to know the symptoms of heat exhaustion and heat stroke. If you experience them, get yourself cooled off immediately and if you suspect heat stroke, seek medical treatment because it can be fatal. Growers in places where afternoon temperatures hit the upper 90s and above generally try to limit vigorous activity to morning, evening, and even night.
"We work a lot in the dark till 11 or midnight," said Sharon Crow of Guinea Hill Farm in Travis County, Texas, where temperatures have been 104-106 for more than 35 days. "We use tractor headlights and some moveable street lamps on poles that we put up around the fields."
Sharon also relies on evaporative cooling. "I wear loose-weave, long-sleeve shirts and long, loose pants, then soak myself from head to toe with the garden hose, about twice an hour. When a breeze hits, I actually get a chill."
Sharon Nagle of Firefly Farm in Canandaigua, New York, advises, "There's nothing better than a bandana soaked in cool water with a few drops of peppermint oil dabbed on the fabric — it smells wonderful and keeps one in good spirits."
Ruth Chantry of Common Good Farm in Raymond, Nebraska, suggests: "Soak your hat in the field under the pump and dump it on your head — it's not a pretty job, is it?!"
And Sue Roseman of Boondock Blooms in Mound City, Missouri, says, "Take a cheap stryrofoam cooler and fill it with ice then a little water. Add a bunch of hand towels. Put this in shade where you're working and change towels every so often, placing them around your neck. This really works." (She adds that the cooler should not be used for food afterward.)
"Solar radiation barriers are the first line of defense on hot summer days," said Aubrey Enoch of Enoch's Berry Farm in Fouke, Arkansas. "But let's be old fashioned and call it shade. Green leaves can provide wonderful shade. The great thing about shade from green leaves is that much of that solar energy is converted to chemical energy and stored in the plant tissues. With inert materials such as canvas and roofing, much of the solar radiation is converted to heat that is added to the local environment. We all know it is much cooler to stand under a tree than it is to stand under a metal roofed shed on a sunny day. But the metal roof sheds water.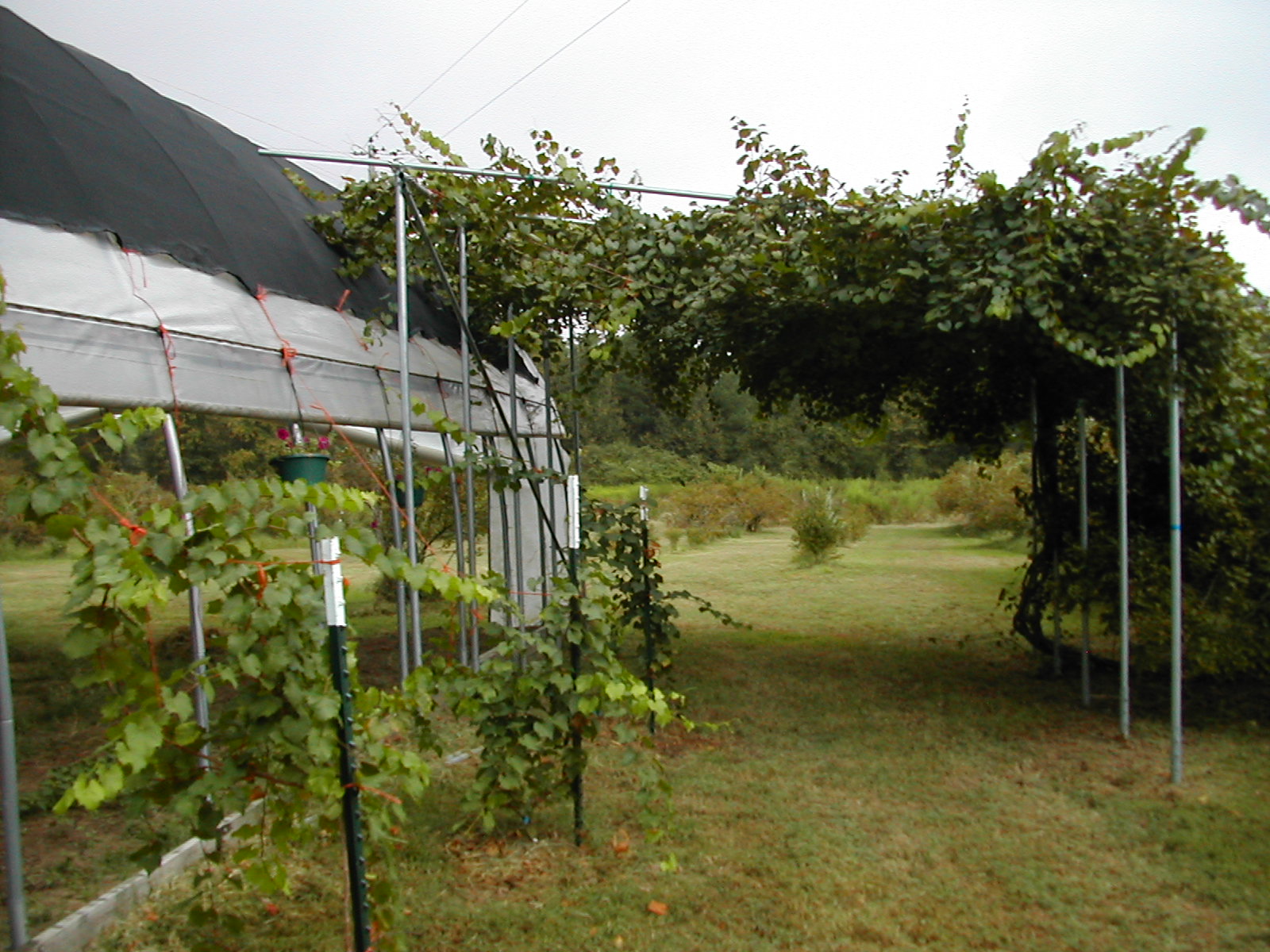 "Grow vines on top of the roof and get the best of both worlds. You can put shade where you want it without having something that will fall on your head in a storm."
At left: Aubrey Enoch creates shade structures by training vines on metal supports.
Help your plants survive
"Generous servings of seaweed (foliar feeding) helps the plants with heat tolerance. Mulch (hay) about a foot high the whole length of the rows, when possible, and keep the soil a little moist. We also protect tomatoes from afternoon sun with shade cloth on the west side of the row," said Sharon Crow in Texas.
Veronica Worthington of Cape Cod, MA, says that this year they've had the hottest temperatures recorded in a century. "My main crop is lettuce so you can imagine!," she says. "Over the years I've learned how to properly schedule certain heat-tolerant lettuce varieties to hottest summer temperatures... I begin seeding heat tolerant varieties exclusively the first week of May. Some of the best I have trialed are Loma, Nevada and Teide. I also use any lettuce with extremely long maturity dates, having observed that this quite often helps prevent bolting. Shade cloth (30 percent shade) and holding back water a bit before extended periods of heat and humidity (on the same idea as hardening off greenhouse plants).This helps prevent rapid and tender growth and helps to prevent excessive rotting of bottom leaves which are laying on the soil with varieties such as Boston. I try to schedule the harvesting of these plants soon after they reach mid-maturity during extended heat and this avoids any bitterness. The proper, season-appropriate lettuce, a little younger than mid-maturity, can withstand bolting no matter how hot it gets, just as it can withstand the other extreme of too cold."
Ben Hartman of Clay Bottom Farm in LaGrange, Indiana, gets his fall crops planted in mid-summer, no matter how hot it is.
"Lettuce is tough to germinate when it's hot, but after several trials we've found a system that works for us," Ben said. "We get nearly perfect germination even when it's hot (90 degrees or more). We also use this system to get an early start on other fall crops like spinach, turnips, and radishes (usually seeds go in at the end of August as soon we have nighttime temps in the low-60s). Here's what we do:
Skim coat beds with 1/4-1/2 inch of fine compost. The small particle size will give you good soil to seed contact and the compost will help hold in moisture.

Seed the beds. We will sometimes refrigerate spinach seeds the night before.

Soak throughly and evenly with water. We use wobbler heads for even coverage. Stick your finger in the ground--it should be wet several inches deep.

Cover with 2 to 3 layers of mid-weight row cover. This helps regulate soil temperature and reflect hot afternoon rays.

Keep soil wet until seeds germinate. We leave the row cover on until we're confident everything has germinated.
At right: Ben Hartman germinates seeds in summer under several layers of row cover.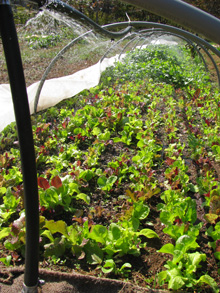 Bo Holland of Screech Owl Farm in Nelson County, Virginia, also grows lettuce and to keep it from bolting, he designed a misting system: He attached half-inch header hose to hoops above the lettuce bed, and added 360-degree misters every 2 feet. He also covers the hoops with row cover to keep the lettuce cool. (Shown at left.)
At farmers markets
There's nothing quite like a parking lot to capture and radiate heat, so farmers market vendors have to work extra hard to keep their products looking good and their spirits up.
"At market, we beat the heat by putting a 5-gallon bucket of water in the walk-in cooler overnight and bringing it to market the next morning," said Mary Ellen Chad of Green Spark Farm in Cape Elizabeth, Maine. "We use cotton sheets (other farmers use untreated burlap) and dunk them in the cold water bucket. The sheets go on our market display table or weave over and into our wooden market bins to create some evaporative action to keep the veggies hydrated and cool."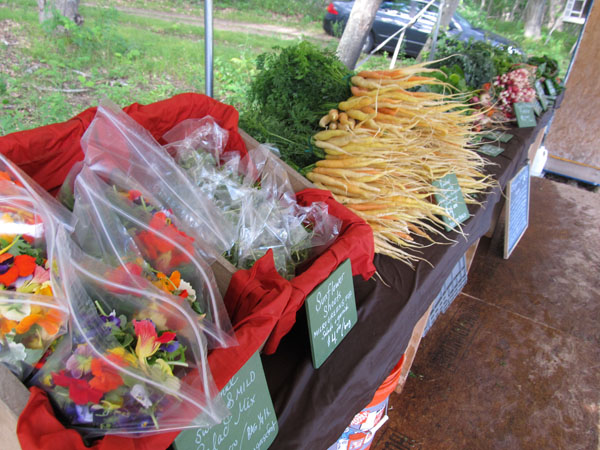 Photo above: Mary Ellen and Austin Chadd cover their tables and line baskets with wet sheets to help keep produce cool at their farmers market.
"As the day heats up the bricks in our market square, we remove the wilted greens on the top of the pile, dunk them in the cold water bucket and into a designated bin. Within a half hour or so, the wilted greens revive and go back on the market table and get sold," she says.
Ruth Chantry in Nebraska said that misting with a water bottle is good for the veggies. "But for general cooling, pour water under the tables at market. Ice blocks under baskets can help, too, with a cloth to protect what needs protecting."
Maggie Mehaffy of Rowley, MA, said: "At the farmers market, we put ice in the bottom of oval tin buckets, cover it with dish cloths, and display our vegetables that need to be kept cool, like lettuce, on top. In the middle of the hottest market last week, as temps neared 100, we put one of the ice and water-filled buckets under the table and put our feet in it as we rang up our sales. Kept us cool!"
If you liked this article, you'll love Growing for Market! You can learn about subscription options here.