Crops and timing to hit the biggest sales days of the year
Timing cut flowers to hit major holidays has been a huge boost to our bottom line here on our flower farm, Moonshot Farm, in New Jersey. On floral holidays, we often sell three to four times more in a single day than we do in a typical month. We prioritize greenhouse space for flowers that will bloom for holidays. We plan our whole year around meeting these one-day flower frenzies.
As most of the floral holidays fall either very early or very late in the growing season, you're going to need minimally heated greenhouse space to have fresh flowers for them all in most growing zones. If you have a propagation greenhouse on your farm, it may be worth firing it up extra early or keeping it going late to grow a few rounds of flowers for holidays. With proper watering and nutrition, most cut flowers can be easily grown in bulb crates, which act as movable raised beds and can add flexibility to your growing spaces.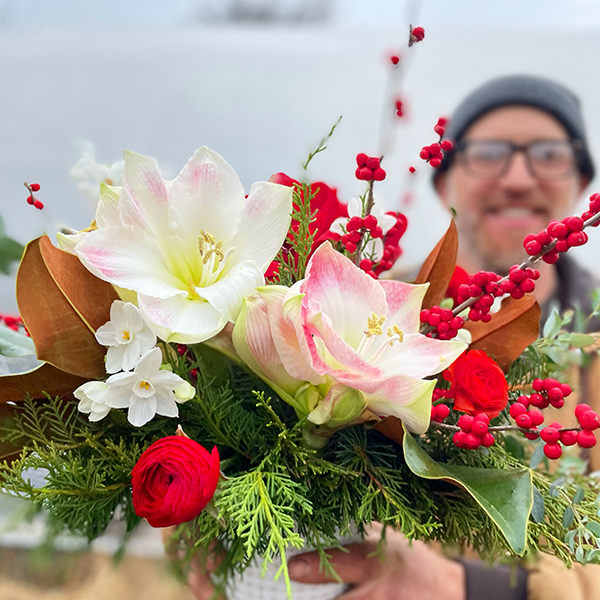 Just one amaryllis stem, loaded with several flowers, transforms this Christmas arrangement, which also has ranunculus, paperwhites, and winterberry.
We find it's much easier to meet holiday demand with "cut and come again" plants that produce multiple stems (like anemones or callas) than with single-stemmed plants (like stock or lilies). As a general rule, we try to add around two extra weeks in growing time than "textbook" cultivation sheets provide. It's better to have flowers come on too early than too late, as it's easier to slow them down than speed them up. If crops are growing too quickly, we can turn the greenhouse temps down or plan to hold flowers in the cooler.
Here is how we're timing production to the top floral holidays on our farm.
Valentine's Day
Valentine's Day is one the biggest flower sales days of the year and a time in the season when customers are hungry for local blooms. Tulips are an incredibly reliable crop for this holiday. We plant them in bulb crates. After providing them with adequate chilling in our cooler, we grow them around five weeks to force in our 50°F greenhouse. Netherland Bulb Company has some excellent forcing guides for tulips and other bulbs. I also highly recommend The Tulip Workshop, an online course focused on forcing tulips, especially if you are trying to grow them in unconventional places like a basement under grow lights.
We also grow anemones and ranunculus for Valentine's Day, pre-sprouting them in the first week of October and planting the sprouted corms in our heated tunnels around 10 days later. While the textbooks say these crops will take 90 days to bloom, in the low light of winter we find they take closer to 100 to 110 days grown at 40°F to 50°F. Our October-planted crops typically start blooming by late January and are in peak bloom just in time for Valentine's Day.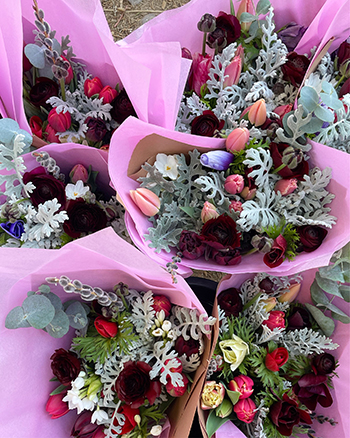 Valentine's Day bouquets featuring tulips, anemones, ranunculus, and dusty miller.
On Valentine's Day and other gift-giving holidays, mixed bouquets are popular and will add additional value to your stems. Our favorite foliage for filling out Valentine's Day bouquets is dusty miller. We plant it the previous summer in a small section of the greenhouse and by February the plants are tall and prolific. About 10 row feet of dusty miller will provide enough foliage for dozens of bouquets. Its cool color tone looks great with winter blooms, and it takes up a lot of space in a bouquet, helping you to stretch product.
Stock and freesia are our two favorite filler flowers for Valentine's bouquets. Both are slow growing and low-yield, but fragrant and popular with customers. By using them in value-added mixed bouquets, we get more profit per stem.
We plant freesia corms the first week of September for February blooms. Freesia's speed hinges on your fall temperatures. It will start actively growing once the temperatures cool. So, if you have a hot fall, it can be delayed. We think it's worth trying to grow for Valentine's.
We aim to start stock every one to two weeks from midsummer through early spring to have consistent blooms all winter and spring. For Valentine's Day, October-sown plants, transplanted five weeks later, bloom for us in February. Sowing multiple successions will help you meet the holiday, as cloudy days will slow it down and sunshine will speed it up. Cut stock stems hold well for us in the cooler up to 10 days. We also pull the whole plants, roots and all, and store them in the cooler for up to a month with about an inch of water.
Easter
Easter flowers are similar to Valentine's Day but easier to grow. Because the date of Easter can vary considerably, check the calendar a year in advance and make your crop plans then. We pre-sprout ranunculus and anemones for Easter about 110 days before the holiday, usually in mid-December. In many zones, you also can grow them in an unheated high tunnel, where they'll sit dormant all winter and then bloom for Easter and or Mother's Day. We find the heated successions more reliable and programmable than plants grown in unheated tunnels.
Cut flower hyacinths are easy to force for Easter and Mother's Day.
By Easter, our customers are starting to get tired of the same varieties of flowers that we've had for several months. To mix it up, we grow cut flower hyacinths for two weeks a year — Easter and Mother's Day. Our customers won't go near potted hyacinths at a price that makes sense for us, and there's a lot of potted plant competition at this time of year. But the cut hyacinths are extremely popular.
We plant hyacinths the previous fall, around 40 to a bulb crate, and store them in the cooler all winter. Three and a half weeks before the holiday, we move them into the greenhouse. We keep them in a shady spot under our benches to encourage long stems. Under ideal conditions, hyacinths will take only around 10 to 14 days to force.
If they're growing too fast, you can always move the crates back into the cooler. When the blooms are starting to color up and are about a third open, we harvest them by pulling the bulbs. To get the longest stems possible, we use a knife to carve the bulb to look like part of the stem. At the bottom of the stem, we leave the top of the roots (AKA the basal plate) intact to achieve a better vase life. Handling hyacinth bulbs can cause an itchy rash, so wear gloves for this process. Some of our favorite varieties to grow for Easter are 'Miss Saigon,' 'Splendid Cornelia,' and 'Pink Surprise.' Choose the largest bulbs you can find to get longer stems for cutting.
Mother's Day
Of all the major floral holidays, Mother's Day is the easiest to meet, and for us, the most lucrative. Mother's Day is always the second Sunday in May, a season when a week can make a big difference in what's blooming.
For us in Zone 6B New Jersey, cool-loving flowers like tulips, ranunculus, and anemones are becoming less reliable staples for Mother's Day as hot temps make them end early. We still plant a crop of ranunculus and anemones the first week of February as it's worth betting on them for this holiday. Depending on the spring, our tulips are typically done blooming by the third week of April. In a pinch, we will dry store them for Mother's Day, although we don't like to store them for more than two weeks.
Everyone has a storage method, but we store ours bulb-off in bunches of 30 wrapped in Kraft paper, three bunches to a crate, horizontally. To rehydrate, we keep them wrapped in Kraft and put the bunches upright in a bucket. Some of our favorite late-blooming tulips for Mother's Day are 'Menton,' 'Fancy Lady,' and 'Dordogne.'
With temperatures trending warmer, lilies have become the Mother's Day staple for us. We don't grow them any earlier in the winter, which makes them fresh and exciting for mid-May. To time lilies for the holiday in our 50°F greenhouse, we plant the bulbs by the second week of January. We only grow Asiatic varieties for Mother's Day, as they're much quicker than Oriental lilies. Asiatic types also have minimal to no scent, which we find is more popular with our customers.
Keep a close eye on your lilies around six to eight weeks out from the holiday. You can always crank the greenhouse heat up if they seem to be behind. A few of our favorite lilies for Mother's Day are 'Lively' (dark pink), 'Menton' (peach), and 'Belvedere' (a new white double Asiatic). Cut in bud stage, lilies hold well for around 10 days in the cooler. They are sensitive to ethylene so be sure that your cooler does not contain any vegetables or decaying plants.
Callas are also an excellent focal flower for Mother's Day. They typically bloom in eight to ten weeks, but we plant them around 12 weeks before the holiday to ensure success as they tend to grow more slowly in the early months of the year. Unlike lilies, which will make just one flower per plant, calla plants will grow multiple stems over several weeks, giving you a lot more leeway in timing. Choose the largest calla bulbs you can find as they will continue to bloom for a longer time. Callas store for two plus weeks in the cooler, so you can stockpile many stems for the holiday. Wrap them in paper to avoid bent stems.
After the scarcity of winter flowers, the possibilities for Mother's Day feel endless. Alliums, planted outside in the fall, are a welcome pop of color and texture. We also have a lot of fall-planted spike flowers blooming in our unheated high tunnels at this time, like lupine, snapdragons, delphiniums, foxgloves, and Bells of Ireland. To fill out bouquets, we rely on woody foliages for Mother's Day, like viburnum greenery and foraged wild cherry branches.
Mother's Day is another gift holiday where spending time to make bouquets will increase your sales and profit. We add tissue and ribbon to our holiday bouquets to up the appeal.
Thanksgiving
Thanksgiving is a big deal in the vegetable world, but can be overlooked as a floral holiday. However, almost everyone in the United States is either hosting on Thanksgiving or attending a meal as a guest (and in need of a host gift). It's also a time of year when fewer farms have fresh flowers, meaning less competition and higher sales.
Chrysanthemums are the star of Thanksgiving for us. We grow both heirloom types and commercial florist types for the holiday. Mums will bloom in most regions from mid-October through mid-November, so you'll want to choose later blooming varieties for Thanksgiving. With their stellar vase life, mums also store very well in the cooler. While we usually cut mums fully open, if we know we are storing them, we cut them around three quarters open. We'll store them for up to three weeks without sacrificing quality.
Mums can be grown in an unheated high tunnel in most zones, but depending on your average first frost date, you might consider growing later varieties in a space that can be heated. Favorite heirloom varieties for Thanksgiving include 'River City,' 'Kelvin Mandarin,' 'King's Delight,' and 'Bronze Fleece.'
Lisianthus is also a surprising success for us for Thanksgiving. While we grow most of our lisianthus in the field or unheated tunnel, we try to plant at least one row in a heated greenhouse to let it continue blooming through the holiday. After our first cut in July, we'll cut it down to two to three sets of leaves. We get a second flush in September and then usually a third in late October to November in the heated tunnel.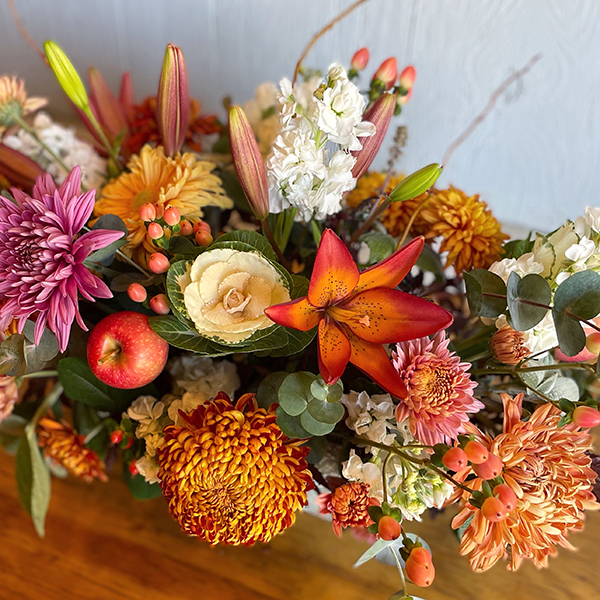 On holidays like Thanksgiving, we maximize profit with higher end arrangements. This centerpiece features mums, lilies, stock, eucalyptus, and cabbage.
Lisianthus, especially in late fall when the temps are cooler, has a very long harvest window. Cut it as early as one bloom open or as late as fully open. The stems can be shorter in late fall, but are excellent for arrangements.
In most areas, eucalyptus (transplanted by June) and cut flower kale (transplanted by July) can be grown in an unheated tunnel for harvest through November. If an early hard frost is predicted, cut and store both for several weeks in the cooler. Our first fall succession of stock — seeded in July and planted out by the end of August — is usually blooming right on time for Thanksgiving bouquets.
For Thanksgiving and Christmas, many people are busy planning activities with friends and family and don't have much time to arrange flowers. We find pre-made centerpieces to be best sellers this time of year. We try to offer all price points, from small mason jars filled with short stems to lush expensive centerpieces. People go wild for fresh flowers this time of year.
Christmas
Before we bought our property, it was used as a Christmas tree farm, and we still have about an acre of overgrown trees. Wreaths are a big business for us in December, but we've also started growing fresh cuts for the holidays. People are surprised and delighted to get locally grown flowers during the cold dark days of December.
Last year we grew a trial of ranunculus and anemones for Christmas and it was an incredible success. We pre-sprouted the corms in early August, then planted them in 50-cell plug trays. We grew them under lights in our cool basement until late September. It's too hot in our greenhouse to have them outside in late summer.
In early October, we then planted the plugs into bulb crates (six ranunculus and eight anemones per crate), taking care to keep them well watered as temperatures sometimes still hit the upper 80s and 90s in the greenhouse. The plants started blooming in late November, even earlier than expected due to the warmer temps. It was so festive to have red ranunculus and white panda anemones throughout December.
In order to have the corms early enough to plant in time, we order them the previous season and save them until August. We ordered our corms for Christmas 2023 in the early spring of 2022. We store them somewhere cool, dark, and dry until it's time to plant.
Lilies and callas are also an option for Christmas. Without supplemental lights, lilies grow slowly leading up to the solstice. We start our Christmas lilies by mid-August. Red and white lilies will work for both Christmas and Thanksgiving arrangements, depending on whether your late successions grow quickly or slowly based on temperatures and weather.
Use caution planting orange lilies, however, as they will only be sellable in November. Once the calendar flips to December, orange is much less popular. This year we're adding supplemental night interruption lights to hasten our late lily successions and will plant our last ones in mid-September.
Amaryllis and paperwhites are our other Christmas favorites. While we grow both as potted offerings, they also make excellent long-lasting cuts and neither need to be cooled before growing. For cut flowers, we plant the bulbs shoulder-to-shoulder shallowly in crates in late October. Paperwhites go into our cool greenhouse and will bloom in about four to five weeks, but amaryllis like hot temps.
We put the crates in our spare bathroom, with a space heater set to around 75°F. For both, we choose the largest bulb size we can source so that they produce multiple stems per bulb. Paperwhites are relatively inexpensive, but jumbo amaryllis bulbs can run $8 to $10 each making two to three stems. For maximum profit from cut amaryllis, we save them for expensive arrangements and bouquets. Just one stem makes a stunning statement mixed with holiday greens. You can also save some paperwhites and amaryllis to plant in early January for Valentine's Day.
We don't grow many dried flowers on our farm as our focus is on year-round fresh cuts. However, one dried flower deserves a mention: lunaria. A biennial, lunaria gets planted in late summer, blooms the following spring, and will make seed pods by the second autumn. It adds a fantastic sparkle to Christmas decorations and will always have a spot in our crop plan.
Like Thanksgiving, Christmas is a great time to make fancier centerpieces. We find folks have large budgets for holiday decor and are happy to spend more.
Rebecca Kutzer-Rice owns Moonshot Farm, a specialty cut flower farm in East Windsor, NJ. She grows flowers year-round including in a geothermal greenhouse, for retail markets in and around NYC.