This article originally appeared in the March 2021 issue of Growing for Market Magazine.
Farms in the southeastern United States like elsewhere are being hit hard by the effects of climate change. At 3 Porch Farm in Comer, Georgia, despite swales and rain gutters outside their tunnels, streams ran down the aisles of their largest tunnel during non-stop heavy rains, soaking the soil and spawning fungal pathogens that killed many flowers. In response, they dug a 50-ton perimeter French drain around the saturated tunnel at the start of 2019 to salvage 60 percent of the flower crop.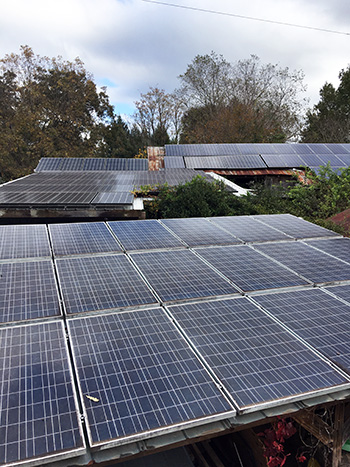 3 Porch Farm's solar panels produce enough energy to power eight average U.S. homes,
much more than the farm needs, so the excess is returned to the grid. Photo courtesy of 3 Porch Farm.
At Black River Organic Farm in Ivanhoe, North Carolina, 55 miles inland from the coast, the force of floodwaters during Hurricane Florence in 2018, which dropped 37 inches of rain in a few days, bent and destroyed the frame of a greenhouse and carried propane gas tanks into a cypress swamp. After summer stretches with temperatures in the 100s repeatedly shut down late tomatoes at Maple Spring Gardens in Cedar Grove, North Carolina, the farm shifted to other crops to offset tomato losses.
Farmers are reporting erratic, severe weather such as longer, hotter dry spells, more intense rainy periods, early warm weather followed by late plunging temperatures and high-speed winds that damage high tunnels and greenhouses. "The extremes are getting more extreme," said Ken Dawson at Maple Spring Gardens. "The 2019-2020 winter was the warmest winter we've had, only one night below 20 degrees. Then, we had a frost in May two weeks after average last frost date." In his 40 years of farming, he recalls only one other mid-May frost.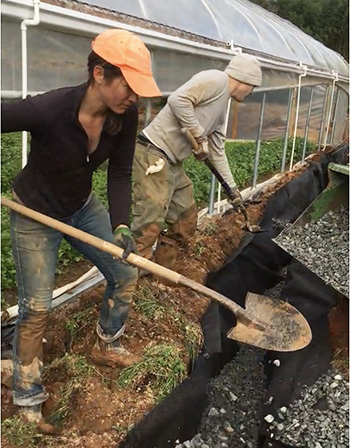 In 2019, Mandy and Steve O'Shea at 3 Porch Farm in Comer, Georgia, built a 50-ton perimeter French drain
around a high tunnel after continuous rains flooded it and produced fungal diseases. Photo courtesy of 3 Porch Farm.
Researchers are finding that regenerative agriculture practices offer the best approach to surviving, and even thriving, in these conditions and report that the overall food system must shift substantially to robust, diverse local and regional production as opposed to industrialized practices producing specialized crops. (See SARE's report "Climate Resilience on Farms and Ranches," by Laura Lengnick.)
Steve O'Shea, who owns and runs 3 Porch along with his wife Mandy, has long dedicated himself to actively addressing climate change. He studied conservation biology and traveled the country promoting renewable fuels. The farm is working toward carbon-neutral operations.

They send excess power from their array of solar panels back to the grid and run the farm's five vehicles on plant-based fuels recycled from restaurants in Athens, Georgia. He documented the process on Instagram, Solar Stories @3porchfarm. "We aimed to be an example of a business that put principles before profit and made it work," he said. "Customers support us as much for our stewardship as for our product."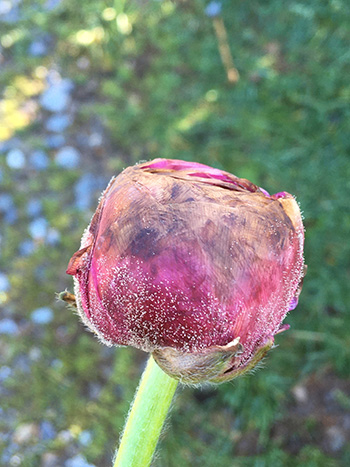 At 3 Porch Farm in Comer, Georgia, wet conditions in a high tunnel produced fungal diseases
that destroyed ranunculus and other flowers. Photo courtesy of 3 Porch Farm.
O'Shea is realistic about the future. "Ag as we know it will change dramatically not too far down the line. It's not a pretty future nor one that can be realistically addressed by changing a few crops or altering our existing approach." He points to massive fires, fiercer, more frequent hurricanes and other natural disasters.
"It's one thing to lose a crop or two due to drought, rain or frost, you can hopefully recover from that. It's another thing entirely to lose all your infrastructure and to have your market and customer base decimated," he said. "It took us almost 10 years to get stable as a farm business. Like many farmers, we built every building, greenhouse, walk-in, etc., by hand. It took a decade of 12 to 18 hour days. I wouldn't have another decade worth of energy to rebuild everything from scratch again if we got hit bad."
At its inception in 2011, the farm was in hardiness zone 7B and now is 8A. While 3 Porch grows spring crops in tunnels to protect them from frost, the warmer winters heat them up and provide environments for fungal pathogens. To combat disease pressure, they started using a large, old steamer that O'Shea had shipped across the country and repaired to hit the tunnel soil with hot vapor. "Steamers were used back before toxic chemicals in the soil became the norm," he said.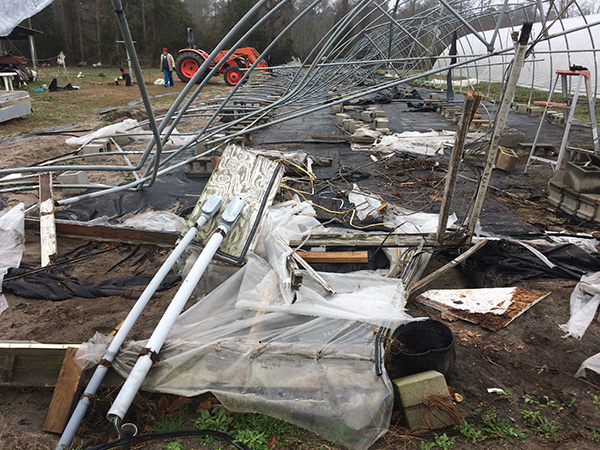 The force of hurricane produced floodwaters in 2018 bent and destroyed a greenhouse
at Black River Organic Farm in North Carolina. Photo by Stefan Hartmann.
The farm received a USDA Conservation Innovation Grant to test approaches to mitigate humidity-driven diseases in greenhouse beds, such as new steamers versus old steamers, greenhouse controls, beneficial insects and ridge vents.
Warmer winters followed by later freezes caused yield losses or complete losses in the farm's blueberry and strawberry crops. Between 2015 and 2019 they lost much of their peach, plum, apple and pear fruit and removed many of the trees. Mid-summer heat has been so extreme, crops are stressed and they organize the schedule so that crews can work in the shade or air conditioning at peak temperatures. In 2019, October temperatures hit the 100s.
At Maple Spring Gardens where Ken Dawson has grown vegetables, flowers and herbs for four decades, he preaches crop diversity to hedge against climate extremes. "We grow stuff year-round in hoop houses, unheated greenhouses and row covers with multiple plantings as early and as late as we can," said Dawson, who has turned the farm over to his daughter Sunshine Dawson.
After several years with unusually hot summer night temperatures that prevented tomato plants from setting fruit, Dawson considered varieties that set fruit in higher temperatures. Yet, he said those Florida varieties are bred for commercial shippers and the farm's customers would not have liked them.
Instead, to offset the challenges of growing tomatoes, they grow leafy greens all summer. They grow heat-tolerant "Muir" lettuce and cut them at half the size of giant cooler-weather spring heads, yet sell them at the same price per head to customers eager for greens in the summer. They're also growing arugula and baby kale under shade cloths in high tunnels during the summer. "We're doing more of that kind of thing and we don't have much competition," Dawson said.
Maple Springs tills it beds, yet during several years recently the ground was too wet or too dry to till before planting cover crops. So, they rented a no-till grain drill from the county Soil and Water Conservation office to plant cover crop seeds, he said.
With more high winds in the spring than in the past, they grow early spring crops in more sheltered fields and use exposed fields in summer. "Weather systems come through harder and faster than they used to," Dawson said.
Alex and Betsy Hitt of Peregrine Farm plan to close their 40-year chapter on farming for the public at the end of this spring season. Alex advises farmers in the Southeast to plan for more intense rains with raised beds, mulching and protective covers. "We always worried about moving excess water off," he said. "If you don't plan, you will lose a crop."
With fall seasons lasting longer, Hitt points to the opportunity to grow into December. He warns it can be aversely affected by hurricane season in some regions and heavier insect pressure overlapping from summer into fall. "It takes more planning because of shorter days and cooler nights, but now is easier with floating row cover," he says, adding that on the flip side, it's hard to get plants in earlier if the last frost isn't earlier. Studies show that longer seasons on both ends increase not only insect pressure, but also weed and disease pressures.
In July 2012, five high tunnels at Peregrine were damaged by winds that took oak trees down. He said some farmers are using lighter, less expensive tunnels that go up quickly, but they need additional bracing and corner posts in concrete if they are exposed to high winds. Since the 2012 wind damage, Peregrine added farm insurance to cover the high tunnels. Some companies won't cover high tunnels, but others do.
"Our best insurance is to be very diversified," Hitt said.
Black River Organic Farm voluntarily gave up its prized organic certification after the raging flood waters of Hurricane Florence (considered a 500-year flood) knocked out one greenhouse, flooded other greenhouses and destroyed crops. Flood waters from the river carried hog waste, dead chickens, fuel from the propane tanks and other debris. The Carolina Farm Stewardship Association, which supports North and South Carolina farms, offers information on handling flooded fields and hurricane preparations. Two years before Florence, Hurricane Matthew drenched the farm with 18 inches of rain dumped in a couple days. Owner Stefan Hartmann learned that FEMA only provides flood assistance once.
The farm still adheres to organic practices and could become re-certified again this year. Hartmann advises farmers to find land that doesn't flood; his farm is not technically in a flood zone. On the other end of the spectrum, he advises investing in irrigation systems for prolonged dry periods. "A drought for two weeks can ruin you," he said.
At one point the farm had half an acre of field tomatoes with heavy investments in plastic, drip tape, fertilizer and time pounding in tomato stakes. But after weather extremes kept hitting them — heat waves and sudden summer tropical storms — Hartmann scaled down and moved all tomatoes into two 30-foot by 150-foot greenhouses. "You can't withstand that, especially organically, you can't withstand fungal diseases and leaf diseases," he said. He has had to cut greenhouse plastic to protect the structures against 100 mile per hour winds.
"It's hard to make a living farming, these disasters put you out of business," said Hartmann, who has farmed the family property for 37 years. "I'm very stubborn and have other income so I'm not completely reliant on the farm income otherwise, I'd be gone."
Jane Tanner grew cut flowers and specialty crops at Windcrest Farm and Commonwealth Farms in North Carolina, and helped manage the biodynamic gardens at Spikenard Farm in Virginia.