Published originally in Growing for Market Magazine
By Carolina Lees

When we started our farm in 2010, the very first thing we sold were seedlings. Since then, we've increased our sales annually and I can't imagine operating our farm without them.

Vegetable and flower starts are a great source of spring revenue and an early draw for customers. They have quick turnaround and low risk, and they fill out sparse beginning-of-season market stands. They are an easy thing to try out and could be a good fit for your farm.

I wrote about adding vegetable starts to your farm in GFM in 2011, but I have picked up lots of new tricks since then so I thought the subject was worth revisiting.

Containers
When growing transplants for my own use, I use mostly plug trays. But for sale, I grow plants in six-pack tray inserts or 3.5" or gallon pots. (Side note: Though commonly referred to as "gallon pots," they don't actually hold a gallon and the accurate term in the industry is #1 containers).

Having every cell full is important for start sales, so I sow my nursery flats hot (extra seeds in each cell), and thin those that particularly benefit from the space. Sometimes I start seeds in plug trays and pot them up, mostly for slower growing plants started on heat.

Which crops go into which container depends on how they grow and how I expect people to use them. I sell solanums, cucurbits, and perennial flowers individually in 3.5" or gallon pots. I use six-packs for lettuces, leafy greens, and most other herbs, vegetables and annual flowers. I grow alliums in 3.5" pots, sowing 20-30 seeds per container and instructing customers to pull them apart and plant them bare root.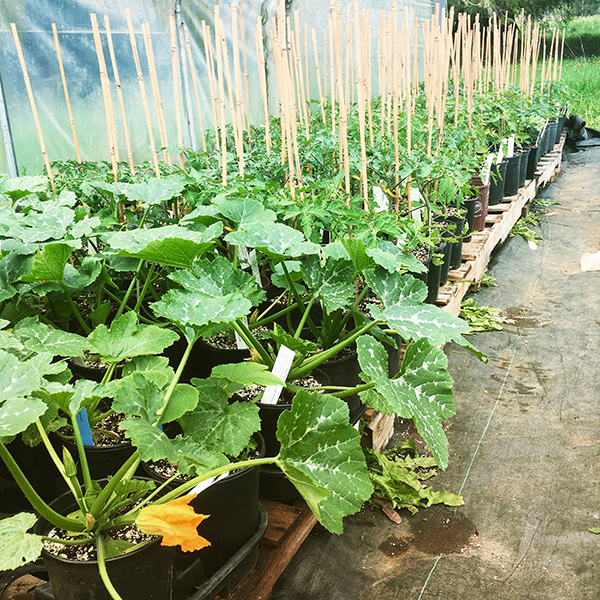 Cell pack tray inserts come in a variety of sizes. Tray inserts are labeled by the number of packs and the number of cells: I use 806 tray inserts, which have 8 six-packs per 1020 flat (the common 10" x 20" size). The large cell size gives a long shelf life for my plants, a quality I've grown to appreciate over the years. I've started experimenting with 1204s (12 four-packs per flat), which have the same cell size but give you more units per flat. Some growers I know use extra deep jumbo packs and charge more for these larger plants.

Gallon pots have become an increasingly important part of my nursery business. Initially, I sold gallons as a way to eke some money out of plants that didn't sell at 3.5" size, but now I plan for them specifically. We sell primarily tomatoes and zucchini in gallons, as well as dahlias, artichokes, cucumbers, and a few others. Customers love the large plants and are willing to pay for them. Often the tomatoes and zucchini have already set fruit, which is a great selling point.

On our farm, gallon annuals are potted up from smaller plants, either 3.5" pots or direct from plug trays. Since the plants are already established, I am able to use a stronger potting mix. I use spent potting soil, composted chicken manure, compost, perlite, and a universal fertilizer mix with mycorrhizal inoculant. This mix is cheap to make and cranks out large, healthy plants. For tomatoes, we put a 2' bamboo stake in each plant, securing the plant with a twist tie around the main stem.



Gallon pots are heavy, and a real game changer was when I discovered shuttle carrier trays. These are roughly the size of a 1020 flat, but with 6 round pockets sized to hold gallon pots. I used to move my gallons around individually by hand, and they were constantly tipping over. Now I can treat them like any other flat (albeit a heavy one), and they are infinitely easier to manage. I also discovered 18-pocket carrier trays for 3.5" pots, which weren't as much of a revelation but are convenient.

I purchase 806 inserts and empty 1020 trays from a local nursery supply company, but I get most of my 3.5" and gallon pots used from customers and a local landscaper. If you are certified organic, used pots may be problematic so check with your certifier.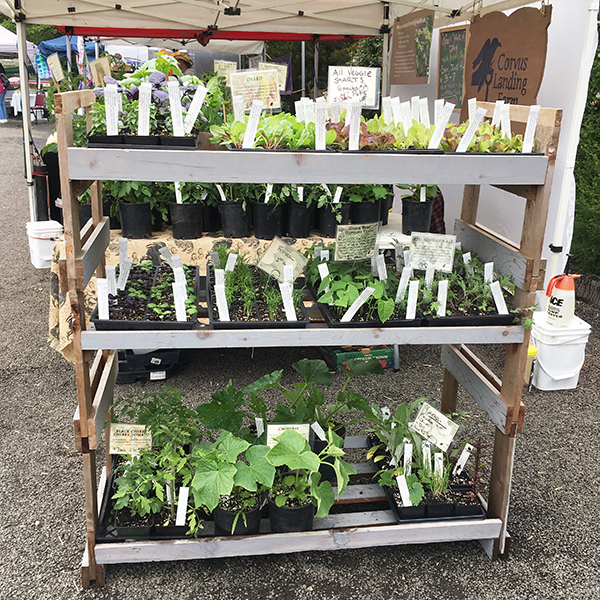 Labeling
A good label makes a big difference, especially if you plan to sell any of your starts through consignment or wholesale. We label every six-pack and pot individually using printable pot sticks from Gardenware.

These are the most economical and versatile labeling product I've found, which is ideal since I grow so many different varieties. They provide a template to format your own labels and print them with a laser printer. I include the crop and variety name, a short description, and recommended spacing. Our labels are text only, but labels with photos would be helpful for flowers and fruiting plants like tomatoes.

We order the label sheets with our logo and contact info preprinted on one side. If you have a cheap printer like I do, save yourself some cursing and plan to only print one side of the label at a time: when the labels are hot from a run through the printer, they don't appreciate a second pass.

For smaller operations, you can hand write labels, but that takes time and looks less professional. But it's a great way to start if you just want to give starts a try and you're mostly selling them at market or directly off your farm. You could also print stickers to put on the containers, just make sure they're waterproof.

For some crops, having the variety labeled isn't essential. But if tomatoes lose their labels, they are basically worthless. Customers love to pick out just the perfect tomato, and most people wouldn't be happy with a red determinate if they want an orange cherry. We are careful to have good labeling systems for tomatoes from start to finish, and every gallon pot gets an individual label as soon as it is potted.

What to grow and when
The best crops and varieties to grow will vary depending on where you live. I specialize in growing plants selected for my cool coastal climate, a niche not served by the large nurseries in our region.

In most places, tomatoes, peppers, basil, zucchini, cucumbers, and lettuce have the widest appeal. My other best sellers include spinach, kale, broccoli, herbs, and peas. We started growing flower starts last year with an especially good response to nasturtiums, sweet peas, cosmos, and poppies. I have pretty much dropped all the "one and done" brassicas, like cauliflower and cabbage, due to slow sales.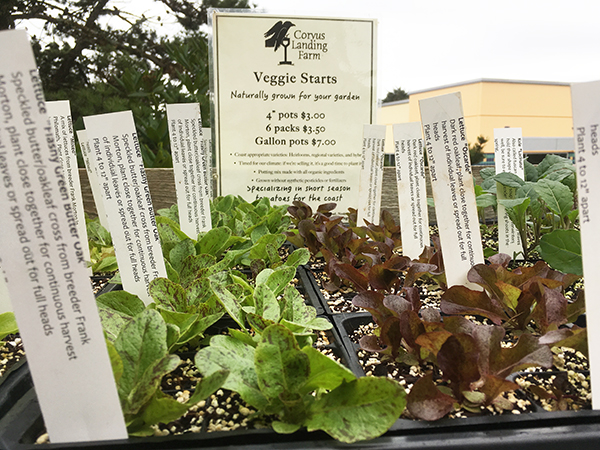 I offer a mix of familiar varieties, like Sungold cherry tomatoes or Raven zucchini, and more specialized and interesting varieties, like Piracicaba broccoli and unusual varieties of lettuce. Since many people grow in containers, I market several varieties that are particularly suited to container growing, like dwarf tomatoes. For colorful crops like lettuces or flowers, mixed variety packs are popular.

I want my offerings to be distinctly different from the mass-produced plants available at large garden centers and box stores, appealing to a different set of customers. Gardeners are often looking for something new and interesting to try, and they love looking over the racks for inspiration.

I try to only sell plants when I think it's appropriate to plant them. I see grocery stores put out pepper and tomato plants as early as March, which is a recipe for failure in our region. People will buy tomato plants as soon as there's a warm day, so I have compromised a bit over the years to avoid losing sales.
But I don't sell tomato or zucchini plants until May, and even then, I recommend that customers wait until the end of the month to buy and plant them. The repeat business from satisfied customers makes up for inappropriate sales to inexperienced gardeners.

I sow flats for sale weekly beginning in early February (week 7) for sales starting around the spring equinox. I start with leafy greens, herbs, alliums, peas, and sweet peas. I gradually increase production and add the popular warm season crops, with the largest sowings from early April to mid-May (week 14-20) for peak sales throughout May and early June. Then I taper off, moving to fall and winter crops, with a final sowing of lettuce, spinach, and kale at the end of June (week 26) for sales through July.

As a farmer, I carefully plan my sowings and plantings, and it took me several years to figure out that most home gardeners don't operate that way. A sunny weekend will see my rack completely cleaned out, while a week of rain will halt sales in their tracks. This can make planning tricky, and there are weeks that I compost several flats because they just didn't move. Fortunately, they don't cost a lot to produce, so I try to keep a consistent supply of fresh starts to maximize those sunny weeks when they happen.
Marketing
My biggest marketing advantage is the quality and vitality of my plants. I'm not certified organic, but I market my plants as grown using sustainable methods with organic potting mixes, appropriate for organic gardens. Since I don't heat my propagation houses or use artificial lights, my plants don't require the kind of hardening off needed for mass produced nursery plants.

Year after year, I have customers coming back to tell me how successful they were with my plants, or how well they did side by side with store bought ones. I make a point of marketing a healthy, high-quality plant acclimatized to our region, and it pays off in customer loyalty.

I put out plants for sale starting around the 3rd true leaf stage, and I leave them as long as they are looking good and will grow successfully in someone's garden. I usually get 2-3 weeks of shelf life, more for some varieties.

Farmers markets
Selling plants at the farmers market is fun but time consuming. People require a lot of coaching, especially when selecting tomato plants. I enjoy talking to people about their gardens and helping them select their new plant friends, but it's hard to sell produce to someone else at the same time. We usually have 2 people at our market stand, and one of us is the designated tomato plant salesperson.

Good signage helps. People spend a lot of time reading our plant labels, saving me a lot of talking. I also have laminated signs for all the tomato varieties that I hang at eye level, making it easier for people to read them.

Plant sales are profitable by themselves, but they also do a lot to engage customers early and often in the season. We don't hit full production on our farm until mid July, and the stand can be sparse until then. Plants keep our stand looking full and give people a reason to connect with the farm and keep coming back.

I have built display racks for my market stand as well as my consignment display. My market rack is built out of cedar with three levels that stack easily for transport, each sized to hold four flats. This makes loading and unloading plants easier, and my display is all ready when I arrive at market. I leave this rack in the truck and use it for delivery to wholesale and consignment locations. At market, I spread gallon pots out on a folding table, grouping tomatoes by type.

There are lots of prefab options out there; for market, consider the weight of the rack both empty and full, and how it will fit in your delivery vehicle. Wheels may be problematic if you can't secure it in some way during transport. Any shelf used for transporting starts should have a way to keep flats from sliding off in transit.

Consignment and wholesale
With consignment, you only get paid for what sells, but the store typically takes a smaller cut of the sales than in wholesale. Success depends on their being consistent about watering and taking care of young plants, and we've been lucky to have several avid gardeners watching our display.

With consignment, I have control over how many plants I bring of what types. I can make the best use of my plant production, and I can pull any plants I think are no longer fit to sell, giving me better control over the quality of my product. The disadvantage is that I take any loss, even if the store doesn't care for them properly. You may have to do some education with staff about how to properly water young transplants.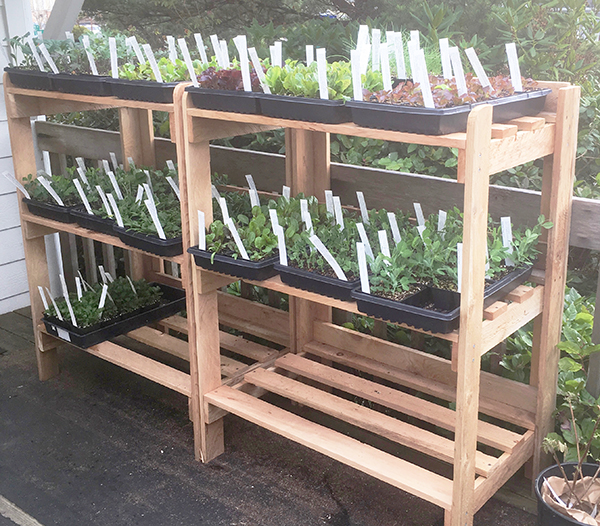 I gain a lot of visibility from having a rack on display outside a popular store. For many people, plants are an impulse buy, and having them right there at the entrance to the grocery store is convenient and enticing. People look at the plants and see our logo, and they often go on to seek us out at market.

My consignment display stays put all season. It's two sturdy cedar racks, each with three shelves sized to hold three flats apiece. I also built a gallon display that is sized to hold two levels of shuttle carriers, displaying up to 24 pots with bamboo stakes. The design of the shuttle carriers keeps the gallon pots from falling over in the wind.
Lots of growers display on steel wire shelves like those commonly used in restaurants, or on metal shelving designed for nursery use. Any display that will be holding plants should allow for drainage, with shelves made of mesh or slats.

I deliver weekly. I keep a tally of what was left on display the previous week, and mark down what's sold. Then I pull any plants that are no longer fit to sell and refill the rack with fresh plants. I create an invoice for what sold and start a new tally sheet for the following week. During particularly busy periods (usually mid to late May) I sometimes do a second trip to restock.

I have limited experience with wholesale but it's a good way to go, especially if you aren't confident that your plants will be well cared for on consignment. This marketing option is the least work, but also gives you the least control over what you are able to sell.

You may be able to wholesale to local nurseries and garden centers or any store with a plant display outside. Most nurseries buy by the flat (or half flat), and I price the plants accordingly. Like with vegetables, I send out weekly availability lists to customers and take orders for regular deliveries. I approach people in spring, bringing a few flats with me to show them my plants and labeling.

Beyond simple annual starts, there are lots of options for nursery sales. Larger containers or hanging pots of flowers, tomatoes, and lettuce fetch a higher price point and are very popular, though they take longer to grow and are heavy to transport.
I divide several perennial ornamentals and herbs from around the farm and pot them up to sell throughout the spring. You could purchase plugs or liners from a large nursery and pot them up. Plants are fun to sell and popular with customers, and can provide income early in the season with low cost and risk.
Carolina Lees started Corvus Landing Farm in 2010 at the Oregon coast. She and her crew farm two acres of vegetables, providing for the small communities surrounding the farm through farmers markets and a 60-member CSA.