This article originally appeared in the March 2021 issue of Growing for Market Magazine.
Selling produce online has become commonplace as a result of the coronavirus pandemic. After all, it limits person-to-person interactions; exposes a host of potential new customers to fresh, healthy and safe food; and it gives farmers a much needed outlet when others — such as farmers markets or restaurant accounts — dry up or shut down. Regardless of the pandemic, operating an online farm market is just a simple, prescient revenue stream to add to your overall marketing plan.
Moose Meadow Farm in Idaho has been operating an online produce market since its inception in 2016. (See the author's article about establishing their market, "Don't have a market? Make one!" in the Nov/Dec 2017 issue of GFM, along other useful articles of hers in the archive). We bring in roughly $75,000 (43 percent of our annual revenue) through online produce sales of one sort or another. Below I'll share some of our online marketing tricks to help you pivot to online sales or hone your online presence for the season ahead and highlight just how simple selling farm products online can be.
We operate our online produce market only in the winter months (October through May, roughly 30 weeks). We started doing this because there is no winter farmers market in our area. The other 22 weeks of the year we operate an 85 member CSA using a web-based CSA management software called Harvie. Harvie is not purely an e-commerce platform, but members still interact with a website to place and customize orders for weekly produce. To round out our revenue, the remaining 57 percent of our sales comes from year-round wholesale to grocery stores and restaurants.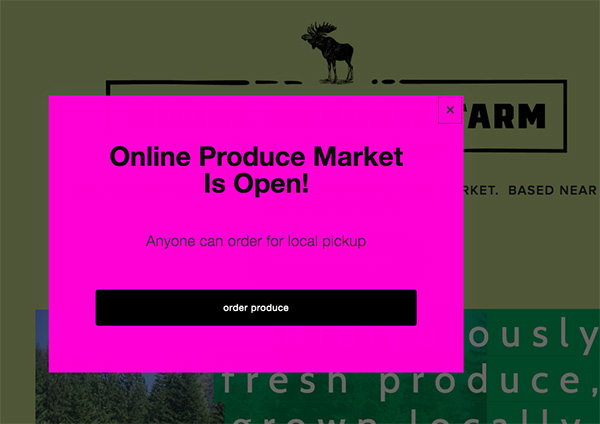 The author's website displays this popup to let customers know when the online store is open for ordering.
Choose your platform
The lingo can be confusing, so let me explain. To sell online, you need a website where people can go to find your farm just as they would find your stall at a farmers market. Then, you need an e-commerce platform linked to your website in which you display all of your goods, much like the display you set up at market.
Assuming you already have a website, the first step in online sales is likely choosing which platform to use. There are myriad options and it is worth looking into them to figure out what might work the best for you. Some platforms you might have heard of are BigCommerce, Shopify, Wix and Magento. There are also a few farm-centered platforms such as Barn2Door and Food4All.
We use Squarespace e-commerce, since it is already integrated into our website at no additional cost (we pay $315 annually for our domain and web hosting by Squarespace). External sites can all be linked to your website, so no need to worry if your Weebly website, for example, doesn't offer e-commerce or you don't like the pricing. The vast majority of e-commerce sites charge flat monthly or annual fees, or a percentage of sales, plus a standard credit card fee of 2.9 percent plus $0.30 per transaction.
Understand online payments
To sell online efficiently, you need a way to take credit or debit card payments. Think of this like the Square or similar card reader that you may take to market so customers can pay with a credit or debit card. With online sales, the platform you use may do its own payment processing, or they may partner with another payment processing company such as PayPal, ApplePay, Square, Stripe, Venmo or a combination.
An e-commerce platform that offers a combination of payment processors is a boon to your customers because they can choose how they are comfortable paying. For example, many customers already have a PayPal account that they trust, so knowing that they can pay that way in your online store will alleviate doubts they might have about the safety of buying from you. Furthermore, if their credit card information is already stored in PayPal, then buying from you is one click away — they don't have to scour the house looking for their wallet and painstakingly enter their credit card info.
Our store offers payment processing through Stipe, PayPal and Apple Pay. The fee we pay for each is 2.9 percent plus $0.30 per transaction. We are also required by the state to charge sales tax on our retail items. We have programmed our store to charge the necessary 6 percent on top of the price of each item. The fee we pay to the payment processor is calculated based on the total sale price, including sales tax. In our case, a sale of $100 would cost the customer $106, and we would pay a fee to the processor of $3.37. Once we remit the $6 tax liability, our take-home pay from that $100 order is $96.63.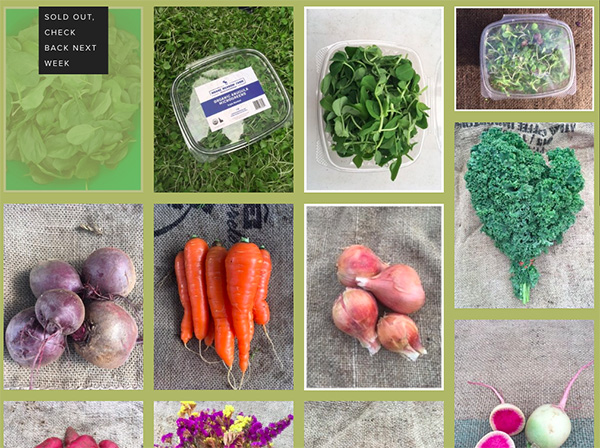 This is what Moose Meadow Farm's online store looks like. The author emphasizes that people buy with their eyes, even online, so good pictures are important.
Points to consider when setting up your online store
We have found that customers shop for produce online with their eyes, just as they do at a farmers market or grocery store. Since you are not there to instantly answer questions about your produce in your online store, the pictures you use to advertise your products are paramount. Written descriptions also go a long way if the platform you use allows you to include them, but the photos are the first way to engage a customer. Choosing an e-commerce platform that allows you to use your own photos, preferably multiple photos per item in a decent size (not tiny thumbnails) may become important to realize online sales.
The ability to sort your inventory into categories, such as dairy, poultry, meat, fruit, vegetables, flowers and pantry items is helpful. So too are the "you might also like" or "customers who bought this also bought" features that you often see when online shopping yourself. Many e-commerce platforms offer these benefits, some do not.
Inventory management is paramount in our system, since we are selling a lot of freshly harvested greens, as well as crops from storage. We carefully estimate how much of each fresh crop we can sell each week and make that amount available so we don't oversell. Inventory management for storage crops or products like frozen cuts of meat may be simpler since you will have a very large, quantifiable amount in storage and it is unlikely you will oversell unless your supply is almost gone.
We never harvest fresh crops before we have orders, so our inventory is truly an estimate, but this way we avoid sinking time into crops that haven't sold. We also have the option of increasing inventory during an ordering cycle if it seems like we have more to offer.
Finally, ease of checkout and reliable customer communication via email are important for retaining online customers. Especially these days, even the staunchest luddite is becoming used to shopping online for necessary items, but they are likely to give up on your site if the checkout process is clunky, sketchy, takes too long, or they get confused about how your system works. Before launching your online store, it is a good idea to run multiple tests of your ordering and checkout process, so you know exactly what your customers see when they are placing orders with you.

How e-commerce works on the ground
To drive customers to your online store, most often you need to advertise. We advertise heavily through our weekly email list and on our website with pop-up messages and prominently placed buttons. By now, in our fifth year of online sales, we have a loyal and steadily growing customer base that shops week after week and help us spread the word. Even so, we strive for crystal clear communication about store hours, the ordering and pick up process, and order troubleshooting so that any newcomer knows exactly what to do.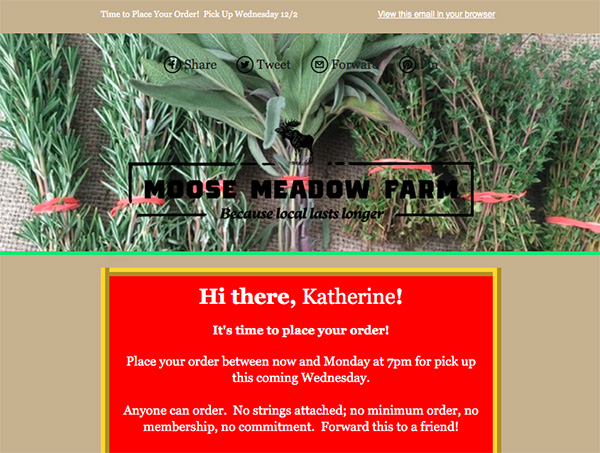 This is the email newsletter the author uses to advertise her online store.
Most often, you will need to set open hours for your online store, unless you are able to take, process and ship or deliver orders continuously. Our online store is only open for ordering from Sunday morning through Monday night each week. We manually update the inventory ahead of time based on what crops we have, and then automate the store opening. This automation is a nice feature; in some systems, you can't schedule opening and closing ahead of time and that makes consistency difficult week to week.
Since some items in our store sell out within minutes of the store opening, our customers rely on consistent store opening hours so that they can better position themselves to order what they want before it sells out. Our email that prompts customers to order goes out at the exact same time as the store opens because it is also sent automatically at the same time each week.
As orders stream in, we can check them periodically on the Squarespace Commerce app on our phones. This is very handy. Although not necessary, if we monitor sales we know when certain items sell out and can catch any ordering questions that come our way. When the ordering cycle is complete, all of the inventory items disappear from view so no one can place an order. One of our online-selling goals is to be as hands-off as possible so we can preserve our free time while still making sales. To this end, automation is indispensable.
Before harvesting, we print a report from our website of the collated orders. We take this to the farm with us and it becomes our harvest sheet. For example, the report may tell us that we sold 75 units of spring mix, 64 bunches of carrots, 32 bunches of kale, 41 units of spinach, et cetera. It also tells us the total dollar value sold.
Before delivery, as a courtesy to our customers, we send out an automated order pickup reminder. The way this works in our platform is we click a button to "fulfill" each order and that triggers an email to go out to the customer. We have customized that email to say, "your produce order is on its way!" and include a reminder about pick up locations and times. For comparison, when you order something from Amazon, you will likely get a shipping notice when it leaves the warehouse, and that is what this email is for our customers. If the platform you use doesn't offer these automated emails, you can manually send pick up reminders to your weekly customers, though it will take more of your time.
On delivery day, we individually pack each order inside our walk-in cooler into a corrugated plastic CropBox labeled with the customer's name. This is time consuming and takes practice to avoid packing errors. We have a 10-foot by 12-foot walk-in cooler which holds most of our storage crops, so it gets tight on packing day. But by packing in the cooler, we maintain the cold chain until delivery.
All of the crops sold in a given week are portioned (bunched, weighed, pinted, bagged, et cetera) and laid out in bins in the walk-in cooler. One person then uses an iPad loaded with all the orders from the Squarespace app and packs them one by one. We generally pack 65 to 75 boxes per week, many for repeat, regular customers and some for brand new customers. We then load up our delivery van and deliver to our designated spots around town. With all deliveries taking place on Wednesdays, all the fresh crops that we've sold (lettuce, spinach, kale, cilantro, and so on) are picked, washed and packed on Tuesday. We portion crops from storage on Wednesday morning.
How do we get paid?
This depends on the payment processor. Stripe deposits our weekly revenue (minus the processing fees) into our connected bank account each week. With PayPal, the money we earn sits in our PayPal account as it comes in until we transfer it to our linked bank account.
For accounting purposes, we enter each week's revenue into Quickbooks as an invoice to "Online Customers" for the weekly amount, and then mark that invoice as paid immediately. We create another journal entry as an expense for the fees and sales tax paid that week. This is similar to how you might record revenue from farmers market sales but is not the only way to go about it.
Selling online during COVID-19
If there's a silver lining to the pandemic, it is the surge in sales for local farms. In April 2020, our online store was selling out of nearly every item we made available every week. Whereas previously, items like beets and shallots would seldom sell out, now they were keeping pace with more popular items like spinach and microgreens as customers were clamoring to get their hands on anything fresh and stay out of grocery stores.
This fall, we have seen the same uptick in sales volume in our online store that we saw last spring. We are still selling out each week, but we're selling out of higher volumes so we're turning fewer people away. The frantic tone that hung in the air from our customers last spring has subsided and been replaced with gratitude, which we very much appreciate.
We only staff one of our three delivery locations, and this fall we moved it outside even though it is dark and cold just to be safe. If needed, we could do drive-up pickups or not staff the location, but we haven't seen demand for that yet. Our sites are well lit and under cover and our customers appreciate the al fresco conditions in light of their own health and safety.
Regardless of how the pandemic plays out over time, we are confident that consumers will continue to demand alternatives to grocery store and even farmers market shopping. The easier we can make that for them, the better our businesses will do and the happier our customers will be.
Katherine and Spencer Nietmann farm one acre of certified organic and Real Organic Project certified vegetables and flowers year round at Moose Meadow Farm in the northern panhandle of Idaho. With three employees, they enjoy almost enough free time to spend with their new baby and explore the outdoors.