By Kara Cusolito and Aaron Munzer
We regularly harvest into a half dozen containers on our farm. Bulb crates, flip-top crates, storage crates, pallet bins, five gallon buckets, and waxed boxes. Our new favorite receptacle, though, is vastly more ergonomic and hands-free, and has changed the way we pick several crops, making it faster and more efficient and enjoyable. Taking a page from friends of ours who pick apples on a nearby orchard, we sought out an apple-picking type basket, reasoning that it would work similarly well in our vining crops.

After searching different products, we decided to try out the Hoss Tools Over-The-Shoulder Harvesting Bucket, and bought three in the pre-season for a trial run. Unlike apple picking baskets, these are much smaller, better for maneuvering through tight high tunnel alleys between rows of tomatoes and cucumbers. They hold 8 quarts of product, which is about 20-25 lbs, just enough to start to weigh on your shoulders before you empty your bin.
The key change is that these kidney-shaped (contoured to your body) picking baskets hang around your waist, supported by adjustable suspender-like shoulder straps, so both of your hands are free for picking! It may not seem like a game changer, but you can essentially pick any crop twice as efficiently by using both of your hands.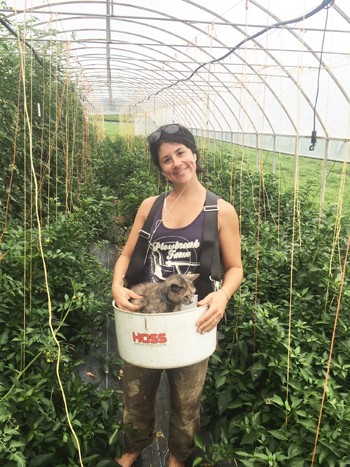 Though they are the perfect size for cats, remember to keep your harvest buckets away from animals and wash them out
if critters have been in them. All photos courtesy of the authors.
Instead of bending (the worst) to place produce in a crate on the ground, or holding a crate against your hip, you've got it well supported by your shoulders in a healthier way, and you're moving more ergonomically. You can also crouch wearing the picking baskets, useful for early season vining crops.

When tomato season whipped in like a red, ripe Nor'Easter, we immediately saw how helpful these picking buckets were. When one of us was the only person forced to pick into a normal crate, we immediately called the company and ordered two more so we'd never run short again.

So far, we find them best for tomatoes of all sizes, from cherries to the biggest, juiciest heirlooms. Once you've filled a bin, you can either carefully hand unload into larger storage crates, to prevent damage, or gently "spill" the crop into the larger bin, in the case of less ripe cherry tomatoes or Romas. We used to spend an hour picking a 30x96 greenhouse with 450 double leadered cherry tomato plants with 4-5 people, and now we do it in 45 minutes with 3 people.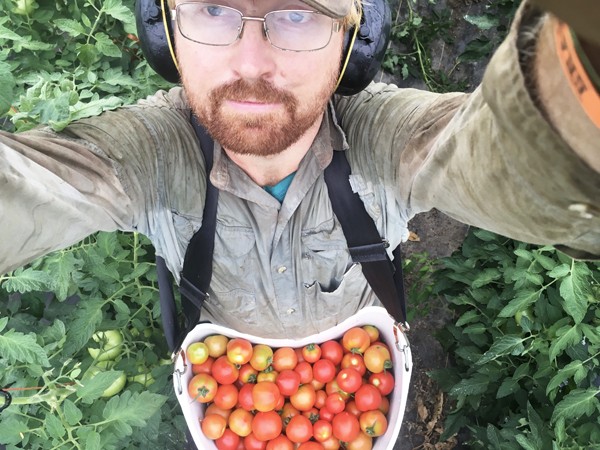 Other crops that are easier to pick with the picking bucket: trellised greenhouse cucumbers, sweet peppers, shishito peppers, hot peppers, smaller eggplant, smaller winter squash, field zucchini and cucumbers.

We've also found that the picking baskets are useful when trellising and clipping/unclipping tomato plants; they hold the clips right where you need them, and when unclipping they can be dropped into a conveniently located bin. When we're wild foraging mushrooms or other crops, we also strap them on as a convenient way to walk and pick.
I'm sure there are hundreds of other crops or uses you could think up. At $44.99, if you grow tomatoes or cucumbers in a high tunnel it is a worthwhile purchase. We won't pick without one anymore!
Aaron Munzer and his wife Kara Cusolito own and operate Plowbreak Farm, a six-acre diversified vegetable farm focusing on field and high tunnel production of high-quality produce to local restaurants and a CSA in Hector, NY.