Growing for Market in partnership with Johnny's Selected Seeds has created a library of expert information about growing and selling vegetables and flowers. Links in the article will take you to johnnyseeds.com.
Subscribe to Growing for Market for more great ideas about growing and marketing!
For more topics in the series, click on Market Farming Basics in the left column.


Concentrate on Current Food Trends
The benefits of a diet rich in fruit and vegetables are well-established by research and certainly well publicized. Yet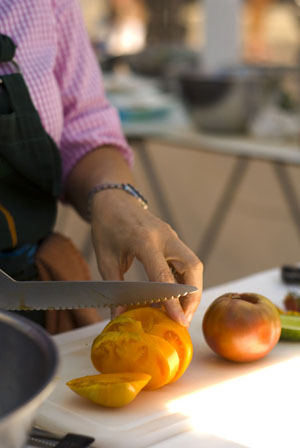 Americans have been slow to adopt the advice to eat five servings of produce a day. In fact, the percentage of people who eat that much didn't change a bit from 2000 to 2009 despite all the good publicity for produce, according to a study by the Centers for Disease Control.
http://www.cdc.gov/mmwr/preview/mmwrhtml/mm5935a1.htm
So when the federal government announced new healthy eating guidelines last month, it got more forceful in its recommendation: "Make half your plate fruits and vegetables."
http://www.mypyramid.gov/guidelines/SelectedMessages.pdf
Will these new government dietary guidelines get people to buy and eat more fresh produce? We hope so, especially if it means more income for local growers! We'll tell you about several ways you can help encourage people to buy and eat more produce.
What foods are trendy?
One of the most beneficial long-term food trends in recent memory has been the gradual expansion of the types of vegetables people eat. Items that were once very minor crops have grown to be important for some farms. (Think arugula and basil.) Some that were once big sellers (for example, full-size lettuce) have lost market share to trendy newcomers (salad mix). It all depends on your market. A high-income, urban or suburban customer base is likely to buy produce items they've seen featured in magazines or on restaurant menus. A growing ethnic population may increase the demand for international varieties. In other markets, basic items and value are the best sellers. Overall, here are some of the produce items we see increasing in popularity: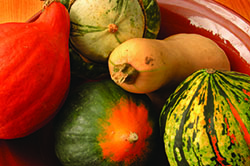 Winter squash and pumpkins
. Butternut squash is frequently used in soups, risotta, and pasta dishes. Smaller winter squashes are used as single-serving baked vegetables. USDA statistics lump ornamental, processing, and table pumpkins into one category. Production jumped 20% in 2004 and has been edging upward since then. USDA does not track winter squash separately from summer squash.
Sweet potatoes
. Used everywhere from gourmet restaurants to burger bars, sweet potatoes are winning fans for their high nutritional content as well as their flavor. Sweet potato fries are becoming as common as french fries, even in the frozen food section of supermarkets.
Root crops
. Beets, celeriac, turnips, and parsnips are no longer just soup ingredients; these earthy crops are found in the most upscale menus.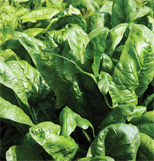 Fresh spinach
. Four times more is sold today than in 1980. Much of the increase is due to the convenience of pre-washed baby spinach.





Sell to chefs
Thanks to the popularity of local food, many restaurants are eager to buy directly from farmers. That's been true with high-end restaurants for many years, but now all kinds of restaurants want to brag about their local food connections. Here's some advice about selling to chefs.
In restaurants with static menus, you may be able to suggest places where your produce could substitute for the wholesaler's. Be aware, though, that some items are used in such large volume that the restaurant needs to buy from the cheapest source to contain costs. If you don't want to be the cheapest source, you might try to supply a lower-volume specialty item.
Restaurants with seasonal menus are a better choice for many growers because those chefs can find a good use for just about anything you grow. The more creative the chef, the more likely he or she is to buy local.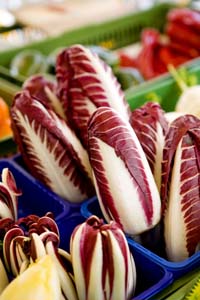 If possible, meet with the chef before you plant to determine varieties and quantities. Take your seed catalogs along to show the possibilities. Most chefs won't commit to buying a specific item, but will provide guidance that will help you determine if you want to grow something special.
Price your food fairly from the start. Base your prices on your costs of production and on market prices. Don't offer it too cheaply in the hope you can raise prices later; it's always hard to raise prices, but easy to lower them. So ask for what you think your produce is worth, which may be significantly higher than the wholesaler. Point out the advantages of buying from you, such as longer shelf life and less waste, so the chef can justify paying more.
Work out a payment agreement in advance. Some restaurants write you a check when you deliver, and others pay 30 days later. Ask what the arrangement will be and, if it's acceptable to you, write it on every invoice.
Expect to be part of the restaurant's marketing efforts. You may be asked to provide photos, a copy of your logo, and information about your farm. So be prepared with your best marketing materials, because you may end up being featured prominently.
Mini-head lettuce
Small heads of lettuce are increasingly popular with chefs, high-end supermarkets, and urban farmers markets. They are tender and flavorful with no bitterness. They are much easier to harvest and pack than salad mix. And they have a long shelf life when properly refrigerated.
Mini-heads are grown on close spacing, about 6" apart, and harvested at 5-7" across. By growing several colors and types, growers can create attractive "confetti" boxes for chefs, who can use them to make their own signature salads. At the farmers market, some growers offer two heads, a red and a green, in a bag, making the perfect portion for a couple or single. Some growers pull the heads and leave the roots intact, washed and trimmed.
Johnny's
has a list of varieties that we have found are excellent choices for mini-head lettuce.
Up-and-coming culinary herbs
As consumers develop more adventurous palates, they are more likely to try new culinary herbs as well as new vegetables. The basic herbs, which will continue to be popular, are basil, chives, cilantro, parsley, rosemary, sage and thyme. Here are some of the lesser-known herbs that are gaining new fans among chefs and home cooks.
Thai and citrus basils are important ingredients in Asian food. Purple basils are a gorgeous garnish. And several basil varieties are great in micromix, harvested at the two-leaf stage; we recommend Italian Large Leaf, Cinnamon, Thai Magic, Dark Opal and Red Rubin.
Chervil is an important component of fines herbes, the French combination of delicate herbs used to flavor many Mediterranean dishes. The other ingredients in fines herbes are parsley, chives, and tarragon.
Cutting celery has the flavor of celery but is much easier to grow. Both leaves and stalks can be used in place of celery. If you want to convince chefs to buy your cutting celery, direct them to the Environmental Working Group's list of The Dirty Dozen, conventional produce most often contaminated by pesticides. Conventional celery is at the top of the list.
http://www.foodnews.org/methodology.php
Lovage leaves also can be used as a celery replacement.
Dill is new again, thanks to increasing interest in pickle making.
Lavender is showing up in all kinds of recipes, from roast chicken to shortbread cookies.
Mints are popular in many cuisines, and trendy in cocktails.
Salad burnet tastes like cucumber and can be used as a salad ingredient or chopped for cooking. Leaves have to be harvested young, as they tend toward bitterness when mature.
• Subscribe to Growing for Market for the latest news and ideas.

Reprinted from JSS Advantage March 2011