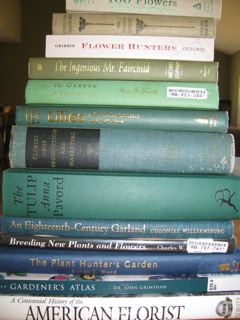 Growing for Market editor

Lynn Byczynski presented a keynote speech to the Association of Specialty Cut Flower Growers in November 2010. Here is a bibliography of books she used as reference.
"A Passion for Flowers" by Lynn Byczynski to the ASCFG National Conference
Tulsa, OK, November 2010
Works Cited
Betts, Edwin Morris., and Hazlehurst Bolton. Perkins. Thomas Jefferson's Flower Garden at Monticello. Charlottesville - Va: University of Virginia, 1971. Print.
A Centennial History of the American Florist. Topeka, KS: Florists' Review Enterprises, 1997. Print.
Crozier, William, and Peter Henderson. How the Farm Pays: The Experiences of Forty Years of Successful Farming and Gardening. New York: P. Henderson &, 1884. Print.
Gregory, Philippa. Earthly Joys. New York: St. Martin's, 1998. Print.
Gregory, Philippa. Virgin Earth. New York: Simon & Schuster, 2006. Print.
Grimshaw, John, and Bobby J. Ward. The Gardener's Atlas: the Origins, Discovery, and Cultivation of the World's Most Popular Garden Plants. London: Little, Brown, 2001. Print.
Henderson, Peter. Gardening for Profit;. New York: Orange Judd, 1867. Print.
Henderson, Peter. Practical Floriculture. Orange Judd, 1874. Print.
Leapman, Michael. The Ingenious Mr. Fairchild: the Forgotten Father of the Flower Garden. New York: St. Martin's, 2001. Print.
McRae, Edward A. Lilies: a Guide for Growers and Collectors. Portland, Or.: Timber, 1998. Print.
Pavord, Anna. The Tulip. New York: Bloomsbury, 1999. Print.
Smith, Jane S. The Garden of Invention: Luther Burbank and the Business of Breeding Plants. New York: Penguin, 2009. Print.
Stewart, Amy. Flower Confidential. Chapel Hill: Algonquin, 2007. Print.
Ward, Bobby J. The Plant Hunter's Garden: the New Explorers and Their Discoveries. Portland: Timber, 2004. Print.
Wells, Diana. 100 Flowers and How They Got Their Names. Chapel Hill, NC: Algonquin of Chapel Hill, 1997. Print.
Wulf, Andrea. The Brother Gardeners: Botany, Empire, and the Birth of an Obsession. New York: Alfred A. Knopf, 2009. Print.