Growing for Market in partnership with Johnny's Selected Seeds has created a library of expert information about growing and selling vegetables and flowers. Links in the article will take you to johnnyseeds.com.
Subscribe to Growing for Market for more great ideas about growing and marketing!
For more topics in the series, click on Market Farming Basics in the left column.




Plan for next year's holidays
In this season of gift-giving, you'll find the stores are stocked with food baskets, herbal gifts and other products from the garden. If you're like most gardeners, you'll think, "I could have made that!" And you know your friends and family would much rather have homegrown, homemade gifts than something mass-produced in a factory far away. So make a resolution to plan for next year's gift giving. Now is the time to survey the stores for product ideas that you can incorporate into your 2010 growing plans. Pick one or two specific products, and decide what you will need for ingredients and containers. Remember that presentation is important with food gifts, so keep your eyes open for attractive bottles, baskets, or other containers. With a little planning, and perhaps a little extra planting, you can have everything you need to create memorable, personal gifts. Here are a few ideas to get you thinking about gifts to grow next year:

A winter vegetable basket. Set aside onions, garlic, carrots, sweet potatoes, winter squash as you harvest them, and assemble mixtures into brand-new baskets. Tuck in a few of your favorite recipes for inspiration.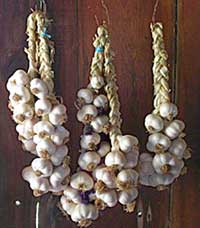 Garlic braids. Grow more than enough garlic for your markets and be sure to cure the bulbs sufficiently to provide the best shelf life. Softneck varieties are easiest to braid. Weave in some bunches of fresh herbs, and tie on a raffia bow.

Herbal vinegars are pretty as well as useful. Here's a detailed instruction sheet on making herb vinegars. http://www.johnnyseeds.com/Assets/products/102641618427761.pdf.

Hot pepper jellies require time at the stove, but their jewel-like colors make them perfect gifts. Attach a tag suggesting an easy appetizer of cream cheese smothered with hot pepper jelly, served with thin slices of bread or crackers.

Herb mixes. Dry culinary herbs thoroughly, then crush them with a rolling pin between sheets of wax paper. Mixtures of herbs can be used in all kinds of products. You can put them in small cellophane or plastic bags (check in the candy-making section of hobby stores for supplies) and staple them closed with a tag suggesting the herbs as a rub for chicken or fish, a dip mix, or to sprinkle over roasting vegetables. Add them to dried beans for a soup mix. Or mix up the dry ingredients for biscuits, attach a recipe for herb biscuits, and decorate the package with a biscuit cutter.

Herb salts and sugars. Wash fresh herbs such as sage, thyme, rosemary, and basil, and dry completely on a towel. Put a 1-inch layer of kosher salt or sea salt in an airtight container, then make several layers of salts and herbs. The salt will absorb the flavors of the herbs, and can be packaged into small, decorative jars for gift-giving. Sugar can be used the same way, though you might want to use herbs such as lavender, mint, and lemon balm, and attach a scone or sugar cookie recipe.

Winter study
As your outside work winds down, you may want to spend some time learning about a new growing practice, investigating a new crop, or just catching up on what's new in the world of market gardening. We invite you to visit Johnny's website and explore the videos, articles, and technical sheets that are waiting for you. Go to www.johnnyseeds.com and follow the links to the video library for short videos of the tools and techniques we use at the JSS research farm. For technical information sheets, go to a catalog detail and click on the "More Product Information" tab for a list of related resources.

Food safety issues are heating up
Market growers may soon be affected by federal food safety legislation and regulation. Some wholesale buyers are already requiring food safety certification for vendors. These are issues that could change the way you farm and market your produce. Growing for Market, the magazine for market farmers, is following food safety issues closely and publishing regular updates on its website. You can read about it at Growing for Market

• Subscribe to Growing for Market for the latest news and ideas.


Reprinted from JSS Advantage December 2009