How the agricultural guestworker program has worked on our farm.
H-2A is a guestworker program of the US government that allows farmers to hire workers from other countries on temporary work permits. This is our fourth year using the program, and I wanted to share our successes with the program in case other farmers would find it useful for their labor force. We initially used the program because we were looking for seasonal workers who return each year.
We have some winter work hours for staff members, but even with our tuber dividing and heated greenhouse space, there isn't enough winter work for all our employees. Each winter we go down to fewer team members and fewer hours per person. It is a challenge when you ask folks to do that since they have to get another job during the winter. As a result, we've had a mostly younger workforce (20-somethings) who could work in the restaurant and service industry in the winter.
With the farm being a place of transition while younger workers figured out whether or not they wanted to farm, there were a lot of growing pains and drama. We also were growing as leaders and did a lot of consulting with other farmers to help guide us. Through that we recognized we needed diversity in our workforce to change the farm culture.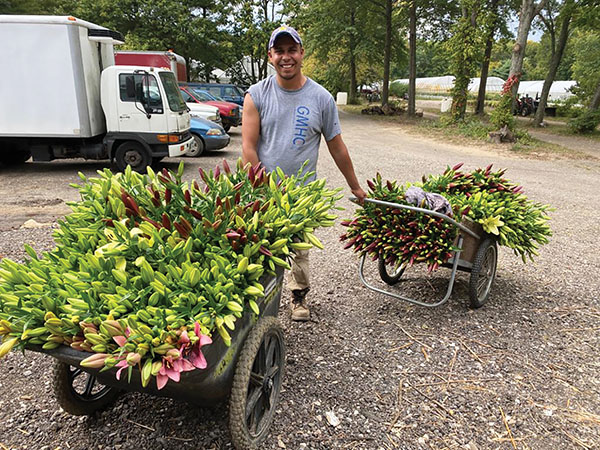 Beto bringing in a large lily harvest.
Other farmers who had used the H-2A program told us some workers return to their farm every year for 15 years or more. So, we knew we wanted to move forward with it. We recognized that it meant a lot of government paperwork and wanted to be sure that we completed all the steps flawlessly, so we hired an agency called USA Works to help us. There are many agencies you can hire to help with this step. While you are paying legal fees for them to put it all together, it is worth the peace of mind knowing it is being done correctly. Some agencies charge more because they also recruit for you. So, verify the level of service that you need before hiring someone.
We got our first approval for two visas for the 2018 farm season, and a farmer friend helped find our first recruit. We spoke no Spanish and Beto knew nothing about our farm when he contacted us, just that his uncle said there was a work visa for him in Ohio.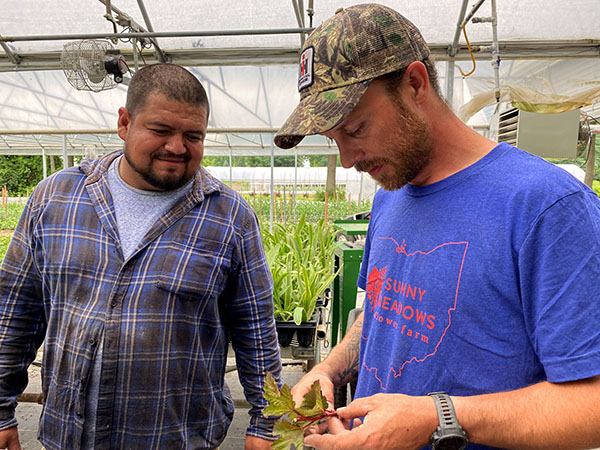 Juan learning from Steve about propagating ninebark.
In his community in Guanajuato, Mexico, we were told there is a lineup of people when a farm needs another worker, so Beto also brought Ezequiel with him. In Guanajuato, most available work is in car factories at the equivalent of about $80 a week. We had an amazing relationship with our first two workers. We were grateful to have them, and they were grateful to be here. We all grew together.
The first year went so well, Beto and Ez each brought a family member the following year, adding Bobe and Juan for a total of four visas. They each brought work skills from previous jobs on farms or something mechanical, but mostly they were ready to work hard and had good intuition and ideas about efficiency.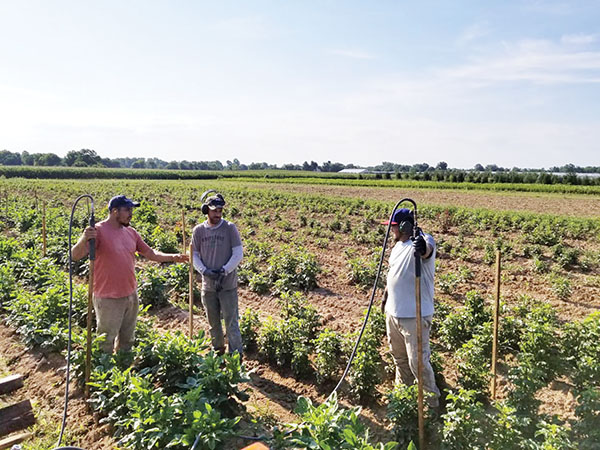 Steve, Juan, and Beto figuring out the best plan of attack to stake all these dahlias with our new pneumatic post pounder.
We have learned some Spanish and they have learned some English, so the farm operates in a Spanglish culture we developed. Since we started using the program, we've had at least one person on the farm who knows more Spanish who has been a liaison for specific HR conversations, and we paid to have our employee and safety manuals translated into Spanish.
Since so much is learning by doing, by example, and good decision-making once you understand the crops and the systems, the language barrier typically isn't an issue. Sure, we have some misunderstandings, but that also happens when everyone speaks the same language. Thus, we see misunderstandings more as reflections on us as managers and unclear instructions or failure to check-in during tasks.
In 2019, we brought in a Spanish instructor from a local community college to teach us and our team. This was a great way to learn farm vocabulary, specifically about harvest and other farm tasks and work on giving instructions and asking questions. Hanging out with them outside of work and having a couple drinks always helps everyone lower their guard and spark more conversations, even if Google Translate is needed.
We get tacos every Friday from a local authentic Mexican restaurant and get together on weekends or holidays. They've really become our family and now I can't imagine the farm without them. I highly encourage any farm that is able and ready to try out this program.
There are a lot of details that go into getting you application through and here are some of the steps:
You must provide worker housing. We do not have on-farm housing, so we rented an apartment down the street. You have to submit the address along with a signed lease. If you rent housing, you must sign a checklist of housing requirements, including access to running water and electricity (no off-grid campers), beds, clean bathroom facilities, a nearby kitchen and more. Some of the items surprised me, but I'm sure the checklist is to protect workers and some employers may not treat them properly.
If you own the house where they will live, it must pass a state Department of Labor inspection. They check for fire alarms and extinguishers, window and door screens, GFI outlets in the kitchen and bathroom, a fire escape on the second floor, and much more. Since we have rented an apartment for them so far, we haven't had to go through this step. Every state's inspection process is different. We'll find out about this soon as we just bought a house adjacent to the farm for our H-2A workers.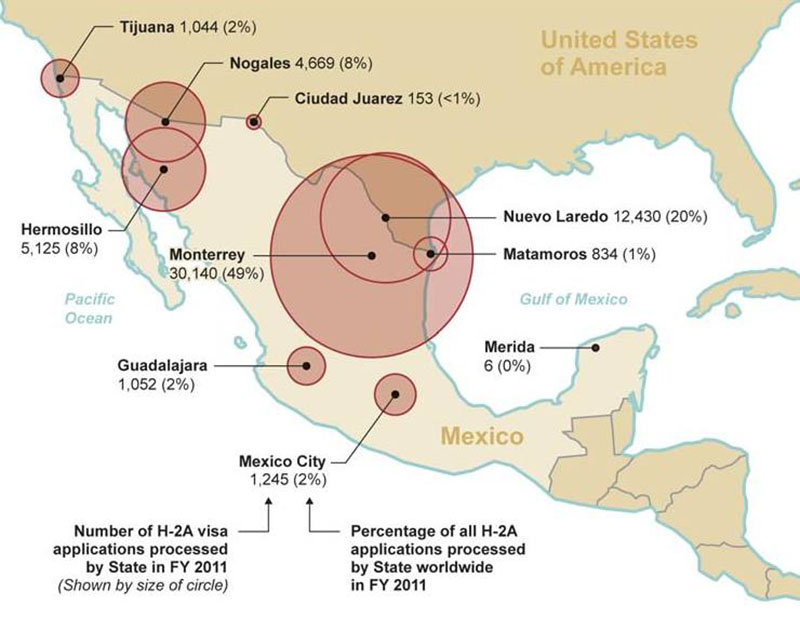 Percent of Worldwide H-2A visa applications processed by posts in Mexico. Our workers' visas are processed in Monterrey, where it looks like 49% of visas that year were processed. All images courtesy of the author.
You must provide transportation to and from the farm, as well as transportation to cash checks, go to the grocery store, and other needs. In year two, Beto got his driver's license, so we bought him a van to transport himself and the other workers around. This really helped them feel independent of us and allowed them to go to the mall or thrift store to shop for their kids, pickup food and such on their own.
Any worker can get a U.S. license if they have a valid license in their home country, a current visa, a letter from the employer stating they are here to work, and some other form of identification with their address and name on it. We've used a fishing license for this purpose. Then, they have to pass both the written test (in Ohio there is a version in Spanish) and the driving test.
Their license is only valid while their visa is valid, so it must be reinstated yearly. They don't have to retake the tests, just present the copy of the previous year's license and this year's visa, their valid Mexican ID, and a letter from the employer.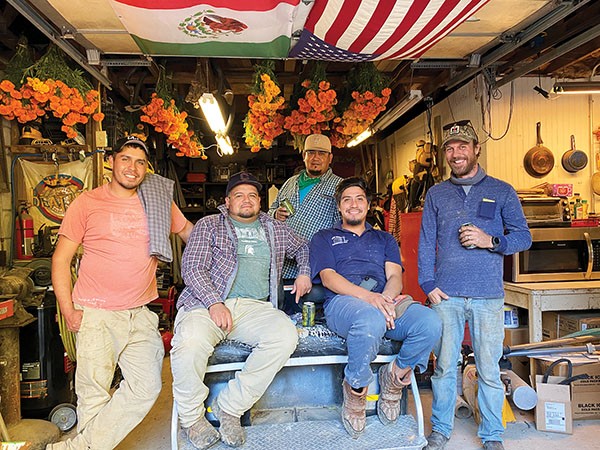 Steve with our farm family hanging after work in our shop/dried flower shed. The Mexican flag is hung with the US flag to represent our solidarity as a team.
Sometimes it is a challenge to explain to the Bureau of Motor Vehicle folks that they don't have a Social Security Number because they are temporary workers. So, be sure to check your state's requirements and send an advocate to these appointments if needed. I think the racism that they experience is because people assume they are here illegally, so my social work background comes in handy when we are in the community and they need an advocate.
You must show that you have advertised locally for their position and not received any referrals. This requires posting in the local newspapers with a lot of specific rules, so this is something the agency we hire does for us so that the proper paperwork is submitted for approval.
You must pay them for at least three-quarters of the hours you offered them. This is no problem for us because they are full time and work most Saturdays they are here. Their goal is to make as much money as they can for their families at home, so they like the extra hours. However, if you promised full time and worry your farm will run out of hours for them, this is something to consider.
Each state is different, but in Ohio we are required to include them on our Worker's Compensation insurance. Their paychecks do not get processed through our payroll service because no taxes are taken out. They do not have SSNs, so they could never collect any benefits from the government, therefore they are not required to pay into Social Security or Medicare.
You must pay for their travel to and from their home country. Mexico is one of many countries on the list of approved places where your workers can reside originally. Check out the USCIS website for the complete list of around 80 countries.
You must pay them the wage set forth by each state Department of Labor. The labor rate tends to go up about $1 a year in our experience. No employee doing the same job can earn less than the H-2A workers. This year in Ohio that is $15.31 an hour. They send home most of the money so their families can live a better life, so we support a fair wage.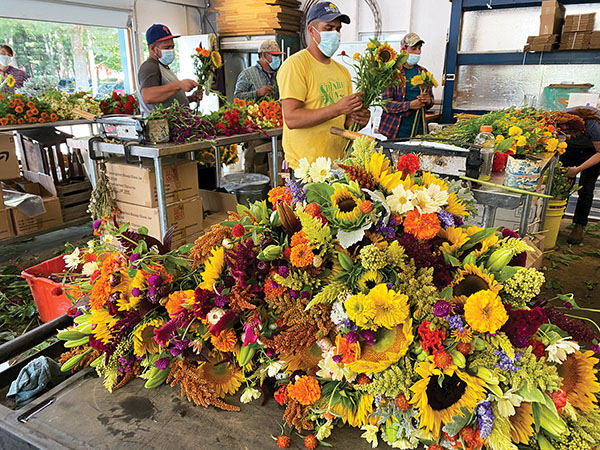 Our H-2A workers work on the barn crew as well with processing and bouquet making when needed.
Please don't let all these steps intimidate you from trying out this program. We have a line on Quickbooks in our Personnel section called H-2A support that includes their rent and the fees, so it is included in our personnel to income ratio at 39 percent. The fees last year totaled around $8,000 for four workers. Your rental fee will be based on your area or maybe you are lucky enough to own a house for them to live in and won't have that additional cost.
The fees and extra administration are all worth it to know you are helping their families have better opportunities. It is such a humbling experience, and we are honored to have these guys as a part of our team.
We have recently hired a lawyer to work toward getting them green cards. It is a huge sacrifice to be away from their families, and with cartel violence increasing in their region, we want to do all we can to help their families remain safe and their children to have more opportunities. We were told if we can make it happen, it will be a three-year process and another year before their families could come. We're willing to try. For now, they remain on the H-2A visa and will be here as seasonal employees (for a maximum of 10 months a year). These guys have become family and we look forward to having them be a part of the farm as we all grow old together.
Steve and Gretel Adams own Sunny Meadows Flower Farm in Columbus, Ohio. They sell cut flowers locally and have also expanded their market beyond Ohio and are now offering shipping of their flowers nationwide to both florists and retail customers.