This article originally appeared in the January 2021 issue of Growing For Market Magazine.
Wow, 2020 was a challenging one. Of the 30 years that Growing for Market has been published, and the 14 years we've been farming, I'm sure last year was unlike any other in that timeframe. I hope everyone has been staying safe and healthy during these COVID times. Being farmers, we learn to be adaptable, but last year the decision-making was made even more complicated, navigating through these challenges, keeping in mind team safety and having no references for business owners to aid in that process.
I read a quote: "Humans have an astonishing capacity for resilience, but most of us are never challenged to probe for it." Thanks, Albert Grimm, for that reminder, something that folks in agriculture who deal with the weather have to tap into more regularly than most.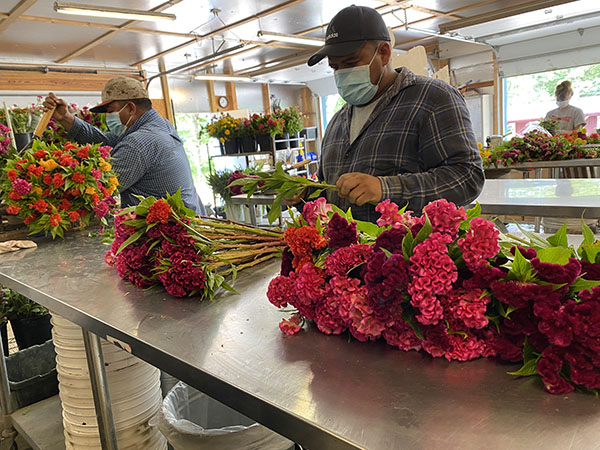 This past season, it felt like we would make decisions and then have to make them all over again the following day. That was so exhausting. Yet, we are so grateful that the business pivots we chose to make worked and that our customer base was responsive to the changes. With me still healing from Lyme disease and others having at-risk folks in their immediate family, we knew we had to keep our bubble pretty tight in order to keep everyone safe.
So much has happened since last March, it took some groupthink to recollect exactly how it all went down last year.
Flowers started to bloom in March, and we actually attended one farmers market that was regular-style before the virus started to shut things down. We then had the farmstand open for two weeks after the market closed, but decided to shut that down as well to limit the number of folks coming to the farm for team safety.
With the initial stay-at-home order in Ohio, we had just Steve and me, the H-2A crew, and some remote office help starting on March 23rd. Our initial thought was, "What about all 45,000 tulips we have in the ground, or the greenhouses of ranunculus and other spring flowers we've been heating all winter?!" We stayed operating with those few folks under the "minimum basic operations" clause of the shutdown to "maintain the business' inventory," in other words, to keep the plants alive for future sales.
It took talking to multiple attorneys, the Department of Agriculture, and the Department of Labor to figure out how these restrictions applied to our H-2A workers who are contracted for a certain number of hours a week and cannot tap into the unemployment benefits system. The answer was that they helped us run this farm during that time. With our 17 greenhouses full of flowers for Easter and Mother's Day, there was no way Steve and I could have done it by ourselves, let alone harvesting all those tulips. This group was working seven days a week to keep everything afloat.
When we shut down the farmstand and market, we reached out to our grocery store accounts, but they weren't ready for flowers as their receiving departments were focused on getting essentials in the door. It took a few weeks before Giant Eagle Market District said they were ready and directed us to go in through the front instead of through receiving. They weren't getting flowers imported from anywhere else, so it was a dually beneficial relationship. We got flowers out to our local customers, and they had flowers.
Throughout the season, our grocery store outlets are what sustained the business when florists and wholesalers were closed. They continued to be a huge, essential part of our sales outlet. Heinen's is a grocery chain in Cleveland that we have sold to for years. They along with Market District helped us make it through 2020. We were able to create a mixed foliage bouquet and a deluxe bouquet item in the fall that used dinner-plate dahlias, hydrangeas, and eucalyptus — all items that would typically be used in events or sold to our florists. Without the grocers being open to new items last year, we would have had no outlet for these crops. We are so grateful.
When the farmers market closed, so did florists, wholesalers, and all events (florists are typically our biggest sales outlet, especially for our early spring flowers). We weren't sure what the future held, so we started offering retail shipping to continue to get our blooms out into the world. We made them grower's choice boxes, just three bunches of assorted blooms in a box. We knew we didn't have time to make bouquets or place individual orders.

We continued this sales outlet through 2020, developing new items as the seasons progressed. And, we will continue it into the future, a COVID-19 change that Sunny Meadows Flower Farm will keep. We are lucky and so grateful that we were already setup with an online sales platform and shipping to florists that we could quickly pivot to include retail folks. What we didn't realize was the admin it was going to take to create the items, correspond with the customers, create all the shipping labels, et cetera. That's when I called in help from our office staff working remotely; we could not do everything ourselves handling the whole farm and all the office work.
With all the extra admin and with FedEx not honoring their money back guarantee due to higher shipping volumes, there was definitely some money lost in the shipping process, but it was still worth it to get our flowers out into the world. I consider it education tuition whenever you are creating a new system, money that will hopefully be recouped once you figure it out.
Starting in April, the farmers market was deemed essential, so we were able to participate in a drive-thru style market where preorders were placed on our website and volunteers loaded our orders into vehicles. This was another thing added to our online shopping platform setup, thus creating and managing more items and orders. When the stay-at-home order lifted April 6, we brought a few more team members back to the farm to help us manage everything, just in time to help us get Easter flowers out the door.
Some of our florists who had been closed during the stay-at-home order came back on board for contactless deliveries for the holiday. The wholesalers either weren't open or didn't have much in stock, which worked to our advantage as the florists' designs were primarily from our flowers.
We had spent all of 2019 building our online florist Shopify, but with my struggles with Lyme disease, I didn't have it in me last year to implement such a new large system. COVID left us no choice, and ready or not, the shop was launched in the hopes of more frictionless sales, allowing folks to shop anytime and not need an email response to know what was in stock. We offered free shipping to florists for Easter because we were trying anything to get folks in the door.
There were definitely a lot of growing pains implementing this new system: figuring out how to manage inventory, adding items or shipping onto orders, manually capturing payments, and so on. We knew last year that our normal tracking in Quickbooks of sales by product and sales by customer would be thrown off by Shopify, but decided we didn't have time to figure all that out when the focus was just selling flowers. But through it all, we gained new customers that have become some of our best florists who we otherwise wouldn't have had access to.
When team members returned in April, we were masked all day, sanitizing daily, and still unsure of what the season would hold. This is where we still are, doing all the sanitization practices, masked, and unsure of what next season will hold.
In late March, we turned off the heat in the greenhouses to decrease costs. We threw out a ton of plugs we didn't have time or mental capacity to plant. We cut back seeding schedules due to time constraints but also because we didn't want to overplant if we didn't know what the future would hold. We told a few folks who we had planned to hire in April that we weren't sure if there would even be a position available. We were concerned about all the tubers we had to plant, and dahlia cuttings we had done. Our plan was to go from 25,000 to 45,000 dahlias in 2020 and we questioned that decision, along with all other decisions.
That's what was so exhausting about last year — we would make a decision and then stew over everything that went into it, losing sleep, anxious about whether or not this business pivot would work. Even though we had confidence that team safety was our top priority, we worried about being able to afford payroll, and our debt obligations would be an issue if we made the wrong decision.
Meanwhile, we still had team members who hadn't come back yet. Typically, we would be at full staff by Mother's Day. So, the fact that we made it through with five fewer people than planned was amazing to us. With our retail shipping, some florist sales, our drive-thru farmers market, and grocery store sales, we were still able to sell everything we could cut. That was another huge accomplishment that felt like we were headed in the right direction during such an uncertain year. Luckily, we received Paycheck Protection Program funds in May, and we were able to bring back the rest of our team, more secure about paying folks, but still uncertain what sales would hold post-floral holidays.
We did the farmers market drive-thru preorder model until they switched back to a more standard farmers market style in June. The farmers market is where we started 14 years ago, and these folks have supported us from the beginning and watched our business grow. So, it was a really difficult decision to say we weren't coming to market. We decided in order to maintain our tight bubble, a cash exchange with all the customers was not something that we could ask of our employees.
Then, we had a late May freeze that killed all our peonies, which was a big hit to our sales in June. That combined with our decisions to cut plantings, made it a little less floriferous in that month, but that gave us time to catch up with everything we had put off while we were in survival mode the past few months. We flipped greenhouse beds for summer plantings, got dahlia tubers and lots of plugs into the ground, and caught up on seeding. We decided not to cut anything else in case there were other crop failures and because we realized we still didn't know what the summer would hold.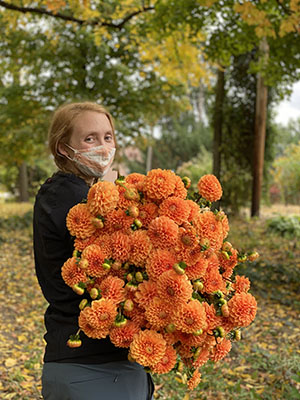 All of our scheduled wedding design events were either being cancelled, postponed until next year, or turned into very tiny events. We returned our typically non-refundable deposit to a few brides because we understood these were unprecedented times. I'm grateful that we had other sales outlets and money coming in elsewhere so that we could give them their deposits back. I feel for the designers who only do events; I can't imagine how hard 2020 was for them.
Small events started happening again, and we made a few bouquets for backyard events. This also meant that some of our event florists were back in business, even if events were small. July is typically our slowest month because people go on vacations, but last year was different. We didn't do a regular florist route until July last year when more of our shop florists were back in the full swing of things. Also, folks were sad we weren't at market and we wanted a retail outlet locally, so we started doing a pre-order pickup on the farm.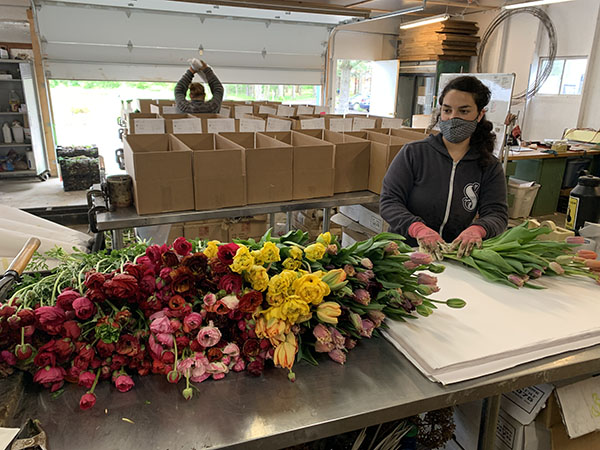 Initially it was going to be a drive-thru where we loaded flowers into their cars, but it wasn't as popular as we thought it would be. Instead, we put flowers on the farmstand porch for folks to pickup themselves. Not being at market last year meant that Fridays we weren't spending all day prepping. Fridays became the barn crew's day to work in the field or greenhouse, another change that felt very weird but was also nice. Overall, we were able to make up the farmers market income with the other sales options that we figured out. Although we will miss it, we aren't sure if we'll return to market this year now that we've seen what is possible without it.
The unfortunate aspect of 2020 was that our sales to wholesalers never recovered. After the shutdown, they reopened, but did not prioritize our flowers in their offerings to the florists. We felt this the most with our lisianthus and dahlia sales, so we pivoted again and offered those crops to our grocery accounts instead. It felt so different last year having tons of dahlias for grocers and bouquets when we would typically be scrounging for every last white and burgundy dahlia to fulfill wholesale orders. We changed our strategy with the dahlia harvest and only picked what we needed instead of picking everything we could each day.
We wonder what our future will hold with our wholesalers since we made it through last year without them and that is where we get the lowest price. We'll see what 2021 brings us.
Assistance we received included a U.S. Small Business Administration 30-year Economic Injury Disaster Loan at 3 percent. We are using this money to help make the new systems more efficient along with boxes with branding on them for retail shipping, adding onto the barn for more processing space, and investing in more perennial plants because we see more value now in crops that you don't have to plant every year like summer annuals. (See GFM's perennials for flower farmers series in the archives.)
Later in the fall, we also received the USDA Coronavirus Food Assistance Program 2 grant, which was a percentage of our 2019 sales. I hope that you applied for and received some of these relief packages as they also were essential to us making it through the 2020 season.
We learned that even when times are tough and money is tight, flowers continue to bring joy to people's lives and are still important. Especially if folks are going to be at home, they need something to brighten their space. Or if they can't see someone, they can use flowers to share their love. One of our florists is third generation, and his grandfather found that even during the Great Depression florists sustained their businesses as folks needed flowers in their lives. That gave us hope when times were stressful and we were trying to problem-solve over and over again; we remembered why we do what we do: people NEED flowers.
We learned a lot about people's lives as we handwrote the card messages that went with the flowers. Flowers are there for them in good times and bad, to share joy and love, and to share condolences and sympathy, all of which we are honored to be a part of, knowing what our flowers mean to someone in those moments.
What a rollercoaster 2020 was! Another Albert Grimm quote I found inspiring: "Some of our best opportunities grow from adversity and we cannot take advantage of them unless we develop the tenacity to succeed in times of crisis." We definitely had the chance to tap into that tenacity last year, and that along with gratitude is what has helped us make it through. All members of our team busted their butts to make everything happen last year; we are so grateful for the people we have surrounding us, both our team and the customer community we've built. We hope that other farmers have received the same support and reinforcement from their communities so that the industry can stay strong and continue providing more local flowers when people need them the most.
Gretel & Steve Adams own Sunny Meadows Flower Farm in Columbus, Ohio. Follow on Instagram for more color and variety details: @sunnymeadowsflowerfarm, @flowerfarmette, and @flowerfarmer.