By Lynn Byczynski
On the evening of May 28, Karen and John Pendleton were finishing up another busy day at their market farm near Lawrence, Kansas. John had gone to the field to fertilize the cabbage after returning from CSA delivery. Karen was in the farm store closing up.
Then the tornado sirens went off. John heard them out in the field and phoned Karen to warn her. Karen grabbed her laptop, CSA records, and the bridal book, which contains details of all the wedding flowers she is scheduled to do in the next 18 months. She ran across the parking lot to their house and turned on the TV. John collected flashlights and extra batteries from the shop and headed to the house.
A meteorologist announced there was a tornado on the ground just south of Lawrence. Karen texted their son, who lives in that area, to be sure he was okay. "We're in the basement and our ears are popping," he texted back.
"We knew the tornado was 12 miles away, so being the good Kansans that we are, we ran outside to look at it," Karen recalled.
What they couldn't know at that moment was that they were looking at the biggest tornado to ever hit their county — and it was heading straight for them. Later assessments classified it as an EF-4 tornado with 170 mile-per-hour winds. It was a mile wide, and it was on the ground for 31 miles. It destroyed 13 homes and damaged more than 80 other properties, including a 10-acre greenhouse complex near Kansas City, and numerous small farms. No one was killed, probably because its path was entirely in rural areas; 17 people were injured, including 12 who were in two "tornado tourism" vans that were overturned by the storm they were chasing.
As the storm approached, Karen and John ran down to the basement; within 30 seconds the power went out, the house shook, and dust rained down around them.
"It was not loud," Karen said. "It did not sound like a train. We could hear things hitting the house. It lasted a minute, no more."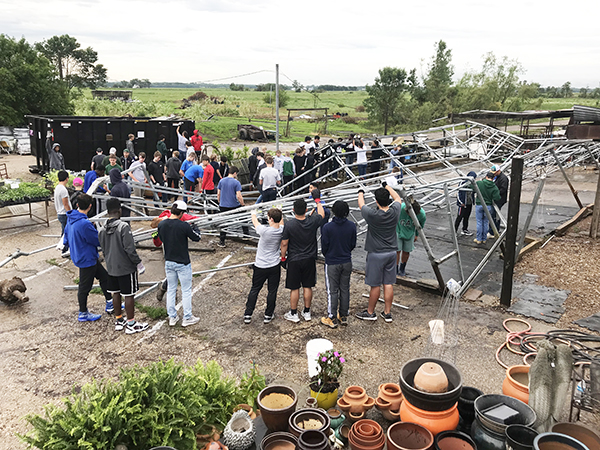 John picks up the story: "For some reason I thought 'It's time to go upstairs.' We opened the basement door and you could hear the rain, a loud drumming thunderstorm. There was glass on the floor and things were thrown around and my first thought was 'doggone it, we lost a window.' I go to the next room and there's water and glass everywhere and I thought we lost another window."
Karen: "We went outside and realized the garage door is missing; no, the whole wall is missing."
And so it went as they emerged from their battered, century-old home and walked toward the farm buildings. Trees lay splintered in the yard. Windows of every vehicle were smashed. Shredded plastic flapped from greenhouses, twisted purlins lay on plants and debris was strewn as far as they could see. The machine shed roof had collapsed into a jumble of wood and metal. Virtually every structure sustained damage ranging from significant to catastrophic.
As the storm moved off, neighbors and friends began to arrive. To the first person who asked "What can I do?" Karen replied, "Take charge of the food." Then she phoned the rental company for a portable toilet.
"When you have a disaster, it's like throwing a party. You have to take care of all the people who want to help," Karen said.
The Pendletons joke that they know how to do a disaster. In 1983, they had a major house fire. In 1993, the Kansas River flooded the farm, claiming 20 acres of ground, and coming perilously close to their home. In 2006, a microburst hit the farm and knocked down two grain silos and did $250,000 damage to their buildings. And now a tornado.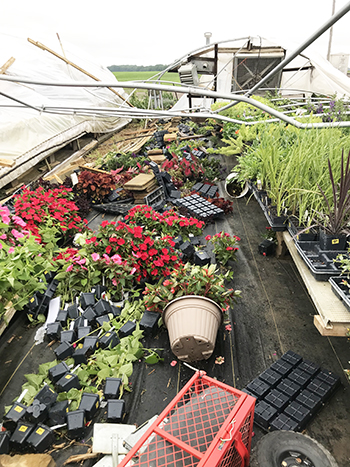 The community responds
Each disaster the Pendletons have endured has been met with an outpouring of help from the community. More than 150 people showed up the day after the tornado to pick up trash, salvage plants and harvest greenhouse tomatoes. Building contractors and farmers brought heavy equipment to clear trees and remove heavy debris.
A man who worked for the Pendletons 35 years ago started a GoFundMe to restore uninsured greenhouses, and raised $25,000. Downtown restaurants put green tomatoes on the menu and insisted on paying retail prices for almost 1,000 pounds of the "tor-matoes" that had survived the storm. The high school football team spent a day dismantling twisted hoophouses. Kansas City chefs who buy Pendleton's produce held a fundraiser. Corporate restaurant chains sent over meals.
"With the microburst we fed everybody twice a day for two weeks," Karen said. "This time it was for two months."
Although the immediate aftermath of the storm is a blur for Karen and John, they have been trying to keep track of everyone who helped -- the list is now at 700 people, and Karen hopes to send them all thank-you notes.
What is it about the Pendletons that caused so many people to rush out to the farm and spend days in the heat picking up debris? Why did so many business owners jump in unasked with food, equipment, and supplies? How did this couple develop such a strong network of supporters?
"People think of this as 'their' farm," Karen said. "All the kids in town know Farmer John and they consider him 'their' Farmer John."
As a destination farm, they host thousands of children every year who come for the butterfly house, pumpkin patch, and U-Pick events. But beyond the agritourism aspect of Pendleton's, there are much deeper connections in the community. Karen and John have served on countless agriculture and government committees; given countless workshops at farm conferences; donated countless hours to their three kids' activities including 4-H and high school band. Every activity they have pursued in their 40 years of farming has made their network stronger and wider.
"It's what my parents and Karen's parents did," John said. "You give back to the community."
They also believe that carrying on with farming during the recovery ensured customer support. But it also helped them psychologically "Attitude is everything," Karen said. "It's horrible what happened. I sit down and cry. But I'm lucky I have people around me all the time — having CSA, farmers market and weddings every week really helped me. Talking to people is my therapy. I think that's one of the reasons so many people came out, they get a good feeling from us - we try to be positive even when we're down. And they help us more than just picking things up."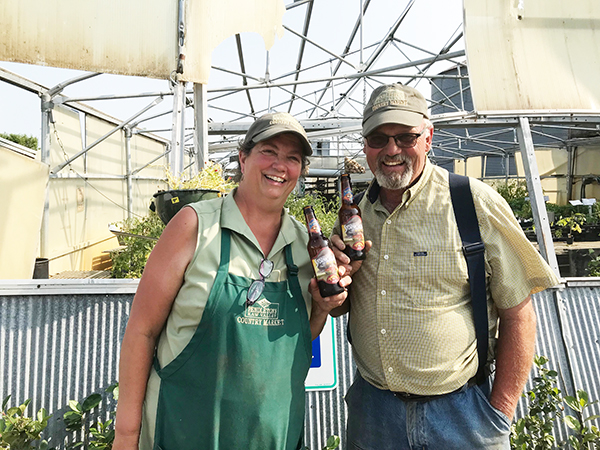 Looking forward
In the days after the disaster, the Pendletons thought about retiring from their existing farm and moving to a five-acre parcel where John's parents had lived. Both are in their early 60s, so they weren't planning on retiring quite this soon, but they thought it might be a good time to sell the farm.
"The fact is, the community would not let us quit," Karen said of all the donations and volunteer hours they received.
They decided to stay but to scale back. In their decades of farming, they added crops and enterprises continually. What started as a U-Pick asparagus farm grew and grew: vegetables, then flowers, then bedding plants, then value-added products, then wedding flowers; U-Pick plus farmers market plus farm store plus CSA etc... They do it all. As they started to think about retirement (none of their adult children wanted to farm), they realized that the size and scale of the farm was intimidating to potential buyers or partners.
"There will be benefits from this disaster," John said. "If the house is nice, the farm cleaned up, and the business streamlined, it will be easier for someone else to pick up and use this property."
Figuring out what to give up has required soul-searching as much as financial calculations. They loved having busloads of children come to the farm for the butterfly house, but that structure is gone and so is the covered deck they used for an outdoor classroom. "The deck was the heart and soul of the agritourism part of our farm," Karen said. So they will give that up.
Nor will they be functioning as a full-service garden center — no more perennials to keep watered all summer; instead of 110 varieties of tomato plants, they will offer 40. But they can't give up plants altogether, as they accounted for one-third of their revenue, with flowers and veggies equally dividing the other two-thirds of their sales. So they are building one new greenhouse and have re-glazed the two that survived.
The crops that were already in the field recovered, and the Pendletons continued to send employees to farmers market and they never missed a CSA delivery even while they worked on the cleanup and insurance paperwork (see sidebar). They felt they had no choice — they needed the cash to keep paying their employees for the rest of the season.
They set a goal of reopening Oct. 5 for the Kaw Valley Farm Tour, an annual event for which more than 30 family farms open to the public. Karen was the first coordinator ever of the event, so it had special significance. They made it with just hours to spare.
That's not to say the cleanup is done. Karen says it will take years to restore all that was lost. But with the help of their many friends, they are well on the way to farming again. Of that, there was never any doubt in either of their minds.
"Right after the tornado, people suggested I could get a job doing this or that, but I realized I didn't want a job off the farm. We work sunup to sundown, but it's what we enjoy doing," Karen said.
The moral of the story: check your insurance
If there's one lesson the Pendletons would like to impart to other farmers about preparing for a disaster, it's this: Understand farm insurance and get the right kind of coverage.
They found out they didn't have the right kinds of insurance, despite the fact they met with their insurance agent every year to update their policies. They learned too late that the agent was not adding new coverage appropriate to the changing face of the business. He never came to the farm, and he apparently did not understand the nature of their business.
For example, their house was well-insured for damage to the structure and probably overinsured for loss of possessions.
"We didn't have enough farm property insurance," Karen said. "We had a ton of personal property insurance but it was for the house, not the farm buildings. Our business inventory was not insured. We had loss of use coverage, but that's for the house. It's not the same as business interruption insurance."
"When you live where you farm and farm where you live, everything is your personal property. But the insurance company didn't agree -- we were shocked to find out things we thought of as personal property the insurance company thought of as farm property, which was not insured. Similarly, we knew we had loss of use insurance; because our policy was a farm business policy we thought it meant loss of use of the business, but it didn't -- it meant loss of use of our house."
For example, computers, garden tools, and family antiques used for display in the shop -- are they personal property or farm property? Depending on how the adjustor calls it, they may or may not be covered.
"I have a really hard time distinguishing between the farm stuff and personal stuff because I am the farm and the farm is me and the insurance company doesn't always see it the same way," Karen said.
Getting paid by the insurance company involves an astonishing amount of paperwork. Karen has created a list of 600 items in the house that were damaged. She is required to list each item, where and when it was purchased, and its original purchase price. Because the policy was for "replacement" coverage, they have to actually buy each item again in order to get reimbursed for the full value of it. That's a lot of shopping — but the adjustor recently told them they could spread it out over five years.
Karen recommends doing a photo inventory of all personal and business structures and possessions, then sitting down with a well-regarded insurance agent and conveying a clear picture of what you own personally and what the farm owns. Get the agent out to the farm, so he or she understands the business. Ask plenty of questions about the coverage to be sure you know what you're paying for. Run it by an attorney if in doubt. Then hope you'll never need it.
Lynn Byczynski is the founder of Growing for Market and the author of The Flower Farmer: An Organic Grower's Guide to Raising and Selling Cut Flowers.