This article was originally published in the May 2011 issue of Growing for Market Magazine.
In the April issue, I wrote about growing herbs to use as fillers in bouquets and floral designs. This month, I'll expand the list of plants I consider fillers. These annuals, perennials, and woody shrubs add fragrance, texture, size and an element of the unexpected to our flowers.

Alchemilla mollis: In my opinion, one of the best fillers. If only it were a rebloomer my life would be complete! With an amazing bright green color that makes anything near it pop, a fantastic smell, beautiful full fluffy heads, and it's a favorite with designers, what's not to love? We grow a 140-foot bed and still run out every spring.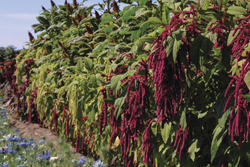 Amaranth: I have grown just about every variety and while all are awesome, only a handful get planted in mass every year. The hanging green viridis is a staple with event designers and looks smashing in large arrangements. Opopeo is my favorite upright dark variety. It ripens in half the time of others, just 60 days, and is an intense burgundy. Hot Biscuits is incredible brown/gold that is stunning in fall bouquets. Green Tower and Green Thumb are both super useful in mixed bouquets. Coral Fountain is a heartbreakingly beautiful hanging pink variety that looks like faded, crushed velvet. We grow all of our amaranths on 12" x 12" spacing, 4 rows to a bed. They get a pinch at 12" to encourage branching and a more useable stem size.

Ammi visagna: We grow both Green Mist and Casablanca in large quantity and use every single stem. While the smell is a bit offputting, Ammi is a truly wonderful filler. With the same lacy quality of Ammi majus but with much stronger stems, a great vase life and no shattering, we now grow only A. visagna for bouquets.

Ammi/Daucus Black Knight: This new burgundy/chocolate colored Queen Anne's Lace was an absolute hit for us last year! It looked great in bouquets, sold well with designers and bloomed almost all summer long from just one planting. The vase life was phenomenal (10+ days), the blooms didn't shatter like traditional Ammi and it is the coveted chocolate color that is so hard to find. We spaced plants 12" x 12" but will increase to 18 x 18 this year and add a low layer of netting to keep flower-laden plants from toppling.

Artemesia annua/Sweet Annie: For years we grew only the scented variety which is wildly productive and great in fall bouquets and wreaths but after developing a strong allergy I had to switch over to the scentless type. While not as vigorous, it is still beautiful and very useful in late arrangements. Our plants are grown 24" x 24" apart, pinched hard at 2' and staked low to prevent toppling.

Atriplex Green and Bronze: I discovered this fantastic plant in a friend's veggie patch some years back and have been a huge fan ever since. Early in the season, the leafy stems can be harvested in mass for bouquets. The more you cut, the more it produces. Stems hold best when given a 10-15 second stem dip in boiling water directly after harvest. If plants are left to grow on you will be rewarded with gorgeous seeded stems by midsummer that are a favorite with designers and are wonderful in bouquets. Seeded stems do not need any special post harvest treatment and often last 2 weeks. For a large flush of smaller, more useable stems be sure to pinch plants hard at 12-18". Succession plant every few weeks for an extended harvest.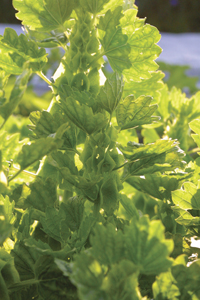 Bells of Ireland: One of the finest and easiest annual foliages you can grow! Every year we double our crop and every year we run out! This season I have scheduled six plantings and hope it carries us through the summer. I've found that designers are eager for farm-fresh Bells because the ones sold through commercial wholesalers lack leaves, are often smashed flat, and tend to be moldy. Ours are planted in heavily amended ground, 18 x 18" apart with 3 rows to a bed. Netting is essential since one big rain storm will flatten the patch.

Bupleurum: I can't ever have enough Bupleurum! Just a few stems in a bouquets and the whole thing sparkles. I stopped growing it as a wholesale bunched item last year because the price is often too low to bother with. I sow about 1,000 plugs every 2 weeks from early March through mid May. Plants are spaced 9 x 9". We used to net them but found picking to be tricky and have since quit. The trick to germinating Bupleurum is to keep it cool and dark. I broadcast seed into 72-cell flats, cover with a fine layer of potting soil, wrap the flat in black plastic and tuck it under the seed benches. Germination takes 10 -14 days and I consistently get a 90-100% success rate.

Cerinthe major: I just adore this unique plant! In full bloom one stem can be silver, blue, purple and green all at the same time. Designers love it, brides love it, it looks great in bouquets and is awesome in arrangements. While Cerinthe has a great vase life once hardened off (7-10 days) it can be a little tricky at first to get hydrated while keeping the stems straight. I wrap bunches snugly in a newspaper collar, give the bottom 2" a 10-15 second dip in boiling water and stick them in the cooler overnight to harden. By morning the stems are stiff, straight and ready to work with. For an extended harvest I stagger three planting about three weeks apart in the spring. One plant will produce 7-10 stems if harvested often. Cut deep into the plant to encourage long repeat-blooming stems. The round black seed is very expensive but easy to save. Fresh, home-grown seed has a much better germ. too !



Flax/Linum usitatissimum: This will be our first year growing this crop and I am so excited!! Last season I spotted its delicate seedy wands dancing in bouquets at a local grocery and fell in love. It can be cut green or left to dry for fall bouquets.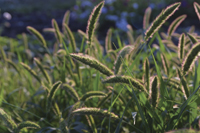 Grains: Often in the spring we'll leave a patch of cover crop in place to use as filler in spring bouquets. My favorites to mix into early bouquets are Wheat, Oats and Barley.

Grasses: We grow loads of grasses but if I had to pick my favorite I'd choose Panicum 'Fiber Optic' and Panicum millaceum 'Violaceum'. Both are wildly productive and super simple to grow. Our plants are spaced 9 x 9" with 5 rows to a bed. Violaceum resembles miniature, drooping broom corn and looks amazing in bouquets. Fiber Optic is a true workhorse, cranking out buckets of stems every few days. For a summer-long harvest we aim for three succession plantings.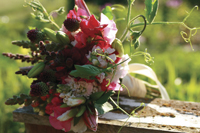 Lathyrus / Sweet Pea Vines: surprisingly wonderful filler, these wild-looking vines add whimsy and interest to arrangements. I have handful of hip designers who love incorporating them into their work. We typically get about a week's vase life from plant material.

Lonicera tartarica: One of the most useful shrubs we grow! It is the first foliage I can cut in the garden to pair with early hoophouse tulips and anemones. Extremely weather resistant, its vibrant green leaves are never damaged by frost, hail or wind. In late April to early May, the bushes explode into flower and have a vase life of about 10 days. I found my plants at Lawyer's Nursery.

Lunaria annua/Money Plant: If cut green, the seed pods are beautiful in early spring bouquets. They often darken with age, turning a deep rich purple that is stunning in arrangements.
Millets: I grow Red Jewel, Limelight, Purple Mist, macrostachya and Hylander in mass. They are all super-productive, sell well and work great in bouquets.

Nigella Pods: Designers and wholesalers LOVE the black pod variety while I adore the green in mixed bouquets and arrangements. Plants are easily direct seeded and seem to do better when not transplanted. I aim for three sowings about two weeks apart to stagger the harvest. If all pods are not used, they can be dried and look lovely in fall bouquets.

Physocarpus 'Diablo', 'Summer Wine', 'Nanus', 'Dart's Gold': One of the best shrubs to grow, with stems in chartreuse, chocolate, nearly black and green. We often get a two-week vase life from cut material and designers fight over it. The harder you cut, the more they produce.

Privet: I discovered this understated shrub last fall when we were scrambling to fill late bouquet orders. Extremely productive bushes with nice straight stems, great in bouquets and an amazing vase life of up to three weeks!
Rosehips:I have dozens of varieties in the garden and adore them all. Some with teeny tiny bead-sized fruit, some with enormous tear-shaped fruit, others with wild arching stems and some too thorny to even harvest. In amongst the unique and unusual types there are a handful of really easy to grow, highly productive varieties perfectly suited as a fall crop. Kordes has a collection called Frutilias, all of which we have grown and love. The sparkling fruit add magic to any fall bouquet. I've had great luck moving them through our wholesale outlets, consistently selling out. Fruiting stems persist for weeks and store well in the cooler.

Sedums: While normally sold in bloom, we typically have stripped our patch by September before they color up. If cut green they make an ideal filler for arrangements and mixed bouquets. Designers and wholesalers often request Sedums in the green stage, too. The vase life often exceeds two weeks.
Solidago Tara and Golden Submarine: useful filler which for the past five years has been impossible to locate. (I finally found them through Gloeckner last fall). Besides being easy to grow and fast to harvest, it can also be cut green, which extends the harvest window.

Erin Benzakein runs Floret, a small organic flower farm in Washington State: www.floretflowers.com