Spring has officially arrived and we are frantically dashing about preparing for the impending season. In order to have a steady stream of material for mixed bouquets and bulk orders, I have taken extra care to stock the garden with a huge supply of foliage and filler plants. These simple but beautiful plants, often overlooked, are the backbone of a good flower patch. Providing fragrance and texture, unexpected elements are important to good design. This month, I'll tell you about the herbs and other edibles I use for filler; next month, I'll write about grasses, berries, woodies, and other unusual florals.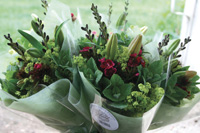 Artemesia annua, Sweet Annie: For years we grew only the scented variety, which is wildly productive and great in fall bouquets and wreaths. But after developing a strong allergy I had to switch over to the scentless type. While not as vigorous, it is still beautiful and very useful in late arrangements. Our plants are grown 24 x 24 inches apart, pinched hard at 2 feet and staked low to prevent toppling.

Basil: One of the most fragrant and abundant summer foliages in the garden! In my opinion 'Oriental Breeze' is the most stunning variety sporting deep purple flowers, glossy foliage and a fantastic scent. Cinnamon and Lemon are both wonderful workhorses. Last year we grew 'Cardinal' for the first time. The flower heads were pretty but a bit bulky. If pinched early on, it produced really nice useable stems.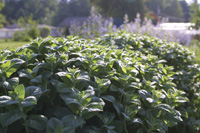 Cardoon leaves: The thick silver leaves of Cardoons are a wonderful addition to the cutting patch. They are one of the first greens in the spring and are actually a cut and come again plant so the more you harvest the more the plant produces. They last a surprisingly long time in the vase and are a real attention-getter.

Cress/ Lepidium sativum: I worked with this fantastic filler for the first time last summer after spotting it in a friend's cooler. Oh, just a few stems of these seedy treasures and every bouquet was transformed. While I don't have any personal growing experience, my friend direct sows it in the spring, staggering three plantings two weeks apart for an extended harvest. Fresh it persists well over 10 days and any excess can be dried for fall bouquets and holiday work.

Dill: We grow Bouquet Dill. Direct sown every two weeks, it provides a nice fragrant addition to bouquets.

Mint: I was advised to NEVER plant this vigorous spreader but am so glad I didn't listen. It's one of the first foliages in the garden and makes early bouquets possible. It sells great with designers, DIY brides and wholesalers. Awesome vase life, wonderful smell and planting stock increases rapidly! My favorite varieties are Apple, Peppermint, Pineapple (white variegated) and Spearmint.

Monarda 'Lambada': New to me last year, this pretty little pastel Monarda saved my bacon in mixed bouquets. It is very productive, easy to grow from seed, smells nice and holds well in arrangements. I spaced it 18 x 18 inches, three rows per bed with one layer of netting.

Oregano 'Hopley's Purple': A simple, beautiful and fragrant summer filler that makes everything next to it sparkle. The airy stems are a favorite here and add a lot to mixed bouquets. A vigorous spreader, this variety needs space and super-sturdy netting to stay contained!

Parsley Curled: While not an obvious choice, the crinkled rich leaves are hardy and invaluable in the fall garden. My patch was still going strong late in the season after everything else has faded out or been killed by frost. Last fall, I was able to harvest armloads for Thanksgiving centerpieces. Surprisingly, parsley also has a great vase life of more than a week.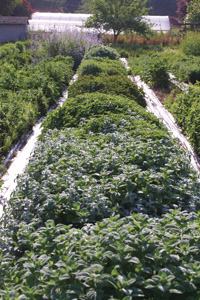 Peppers: In early fall, these vibrantly colored fruits come on like wildfire. We've grown the 'On-Top' and 'Candle' series. Both are wonderfully productive, often producing six to eight 2.5-foot stems per plant. In the hoophouse, plants are grown in landscape fabric, five rows per bed with 9 x 9 inch spacing.


Perilla frutescens/Shiso: A stunning dark foliage plant that is coveted by designers. Perilla is easy to grow and if given ample room (18 x 18), you'll be rewarded with 15-20 stems per plant. Be sure to let it get nice and ripe before picking or it will wilt; it's similar to basil in that regard. If picked too young, dip stem ends in boiling water for 15-20 seconds and it will perk back up. I've had stems last two weeks in the vase! 'Britton' is a beautiful variety with rich green leaves that have a deep red underside.

Raspberries: I started using Raspberries in bouquets years ago and they are still on my top favorite list of things we grow. The greens last over two weeks in the vase, are wildly productive, providing foliage all season long, and are adored by high-end designers and retail customers. The everbearing varieties 'Summit' and 'Golden' are best for an extended harvest of fruiting stems, can be cut to the ground in the winter for easy cleanup, spread rapidly for increased stock, grow in poorer soil than traditional summer fruiting types and fruit in yellow and red. We planted our original stock a foot apart down the row and mulched heavily with wood chips.

Salvia Pineapple: An unexpected success here in our garden, this fantastic smelling Salvia is a real winner. Plants arenot hardy so it must stay safe until all danger of frost has past. It gets quite large, requiring ample space. 24 x 24 inches would be ideal with a low layer of support netting for good measure. I grew mine in landscape fabric for added heat and didn't start harvesting until mid September when the stems were thick and ripe enough to not wilt. It is ideal for mixed bouquets!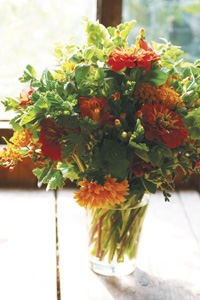 Scented Geraniums: Designers will stampede you for fresh bunches of these treasures so be warned! I adore Attar of Rose, Lemon Fizz, Chocolate, Ginger and Bitter Lemon. It's essential to wait until stems have hardened or they will wilt and not recover. If picked at the proper time, vase life is very good. I plant 3 rows per bed with 18 x 18 inch spacing into landscape fabric for added heat.

Next month: rose hips and much more!

Erin Benzakein runs Floret, a small organic flower farm in Washington State, www.floretflowers.com