Quantity and variety within a CSA season or market season, not to mention freshness and general quality, are key selling points for farmers. So how do we ensure the reality of all that beautiful produce is rewarding and enjoyable for CSA members and market shoppers and doesn't turn into a burden they feel guilty about wasting?
Ten years ago, I had this very conversation with long-time CSA Farmer Shari Raider of Sauvie Island Organics, who had been farming for 15 years at that point near Portland, Oregon. Shari shared her frustration with lagging renewal rates and pinned it in part on people loving the idea of CSA—local, delicious, community-building, environmentally friendly—but struggling with the reality of it. The jokes about calling your fridge's vegetable bin the "rotter" not the "crisper" and the handwringing over all the early season greens and alliums and what to do with them, and the fact that tomatoes often don't ripen here until mid-July or later, were getting old.
This led me to starting a service, the Seasonal Recipe Collection, that relieves farmers of the task of coming up with recipes and tips for their members every week. Farms subscribe to the Collection and then receive a farm-specific Access Key to share with their members during their season or year-round. The site offers 900+ recipes organized by vegetable, as well as storage and prep tips/videos, and pantry stocking guides. Subscribing farms receive end-of-season engagement data reports. You can find all the details at Cook With What You Have.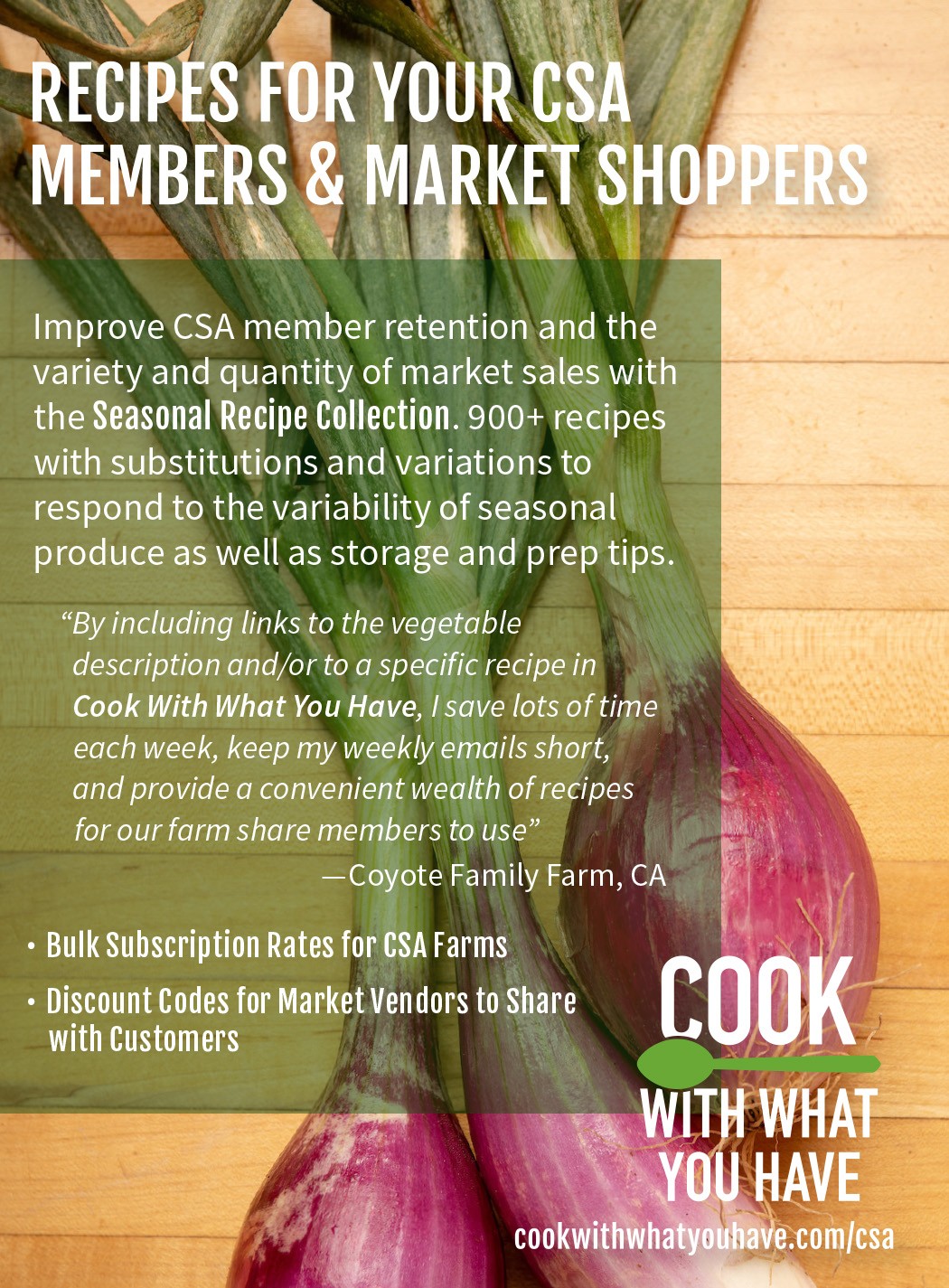 At the time of my conversation with Shari, I was catering and teaching cooking classes using produce from my CSA share and farmers market. Shari suggested I develop recipes and tips for CSA farmers to share with their members, so that's what I did. Eventually I was creating weekly customized recipe packets for half a dozen local farms, awaiting the weekly emails or texts from farmers with their share lists.
Farmers and their members loved it! Farmers didn't have to spend time hunting down recipes online or answer as many questions about the less familiar varieties. And members received a deeper collection of recipe ideas that had been tested using CSA produce. After years of this hyper-customized approach I realized I couldn't serve many farms and couldn't account for last-minute changes. If temperatures dropped unexpectedly and the cauliflower planned for the week's share froze and another vegetable was substituted, I couldn't manage new recipes in time.
So, I created a digital platform, Cook With What You Have's Seasonal Recipe Collection which is much deeper and richer than those early custom recipe packets. It's organized by vegetable and herb and has dozens of recipes per variety for a total of over 900. Recipes are still created using my CSA share (47th Ave Farm-profiled in the April 2019 GFM) and market produce, and are written with an eye towards flexibility and substitutions to accommodate anything you might get in your share or find at the market. A member of Flying Coyote Farm (Sandy, OR) recently noted that even as an avid cook with a well-stocked pantry, she loves finding a recipe that inspires a new use for an ingredient, especially if it transforms a vegetable from a mundane side dish into a meal.
· Simple recipes tested with CSA/Market produce
· Good photos of dishes and prep process
· Creative produce combinations
· How to integrate vegetables into main dishes
· Pantry stocking suggestions
CSA farms who subscribe to CWWYH often link to relevant recipes and tips in their newsletter each week based on their particular share. It helps keep newsletters short yet full of recipes that are one click away. The site includes tags such as template which features recipes that are suited to a wide variety and quantity of vegetables so that cooks can make quick use of most any combination of things they have. And some CSA farmers offer access to the Recipe Collection to members as soon as they join as a bonus for early sign-ups.
Many of my early farm clients in the customized recipe days offered winter or year-round CSA shares and I realized how much help members needed with some of the storage crops. Rutabaga, winter squash, beets, black Spanish radish, turnips, kohlrabi, leeks and chicories all have extra representation in the Recipe Collection from years of cooking with them for my own family and creating recipes that are accessible. If you sell at a year-round farmers market, chances are you're offering verbal or written recipe suggestions and cooking tips to move those rutabagas, beets, radishes and parsnips.
Here are few tips to support CSA members or market shoppers if you're sharing your own recipes and tips:
Share recipes via links and potentially include one short one in the body of a weekly e-newsletter with a good photo of the dish.

Include photos along with recipes you share. Customers are more likely to make something with a visual reference.

Give appropriate credit to the recipe's author. Don't cut and paste from online sources; instead link to the original site or secure permission to share the recipe.

People need recipes for new varieties like Komatsuna (Summerfest) or less familiar parts of the plant such as sweet potato greens, fava greens, garlic scapes, Brussels sprout greens and all sorts of flowering brassicas.

Highlight crops they may be getting several weeks in a row (summer squash?!) or ones they'll get in particular quantity.

Include recipes that use multiple items in your share/market offerings in one dish, especially when the quantities are smaller.

Share storage and prep tips to help prevent spoilage.

Even experienced cooks and long-time members need cooking/recipe inspiration as many recipes online include much smaller quantities/ratios of vegetables than is useful for cooking with the volume of fresh produce CSA and avid market shoppers have.
I have learned so much, working with CSA farmers all these years, about how to create cooking, storage, and general tips for their members to access 24/7 so that the weekly share feels like a gift every week. I've also zeroed in on key skills, tactics and methods to share with CSA Farms and their members for maximum member impact, such as:
Stock your pantry: If you have the basics plus your share then you'll eliminate many a last-minute trip to the store and save money.
Templates: If you get good at a handful of dishes like curries, fried rice, vegetable pancakes/latkes, stir-fries, slaws, frittatas, soups, you'll eat well and rarely waste anything.
Sound methods: If you have, for example, an understanding of which greens are good sautéed, braised, blanched, and raw, you'll have good results.
Tasting & Experimenting: Tasting along the way and being willing to season to your liking and learning from mistakes will pay off in confidence and speed. Less measuring and more tasting and adapting is fun and efficient!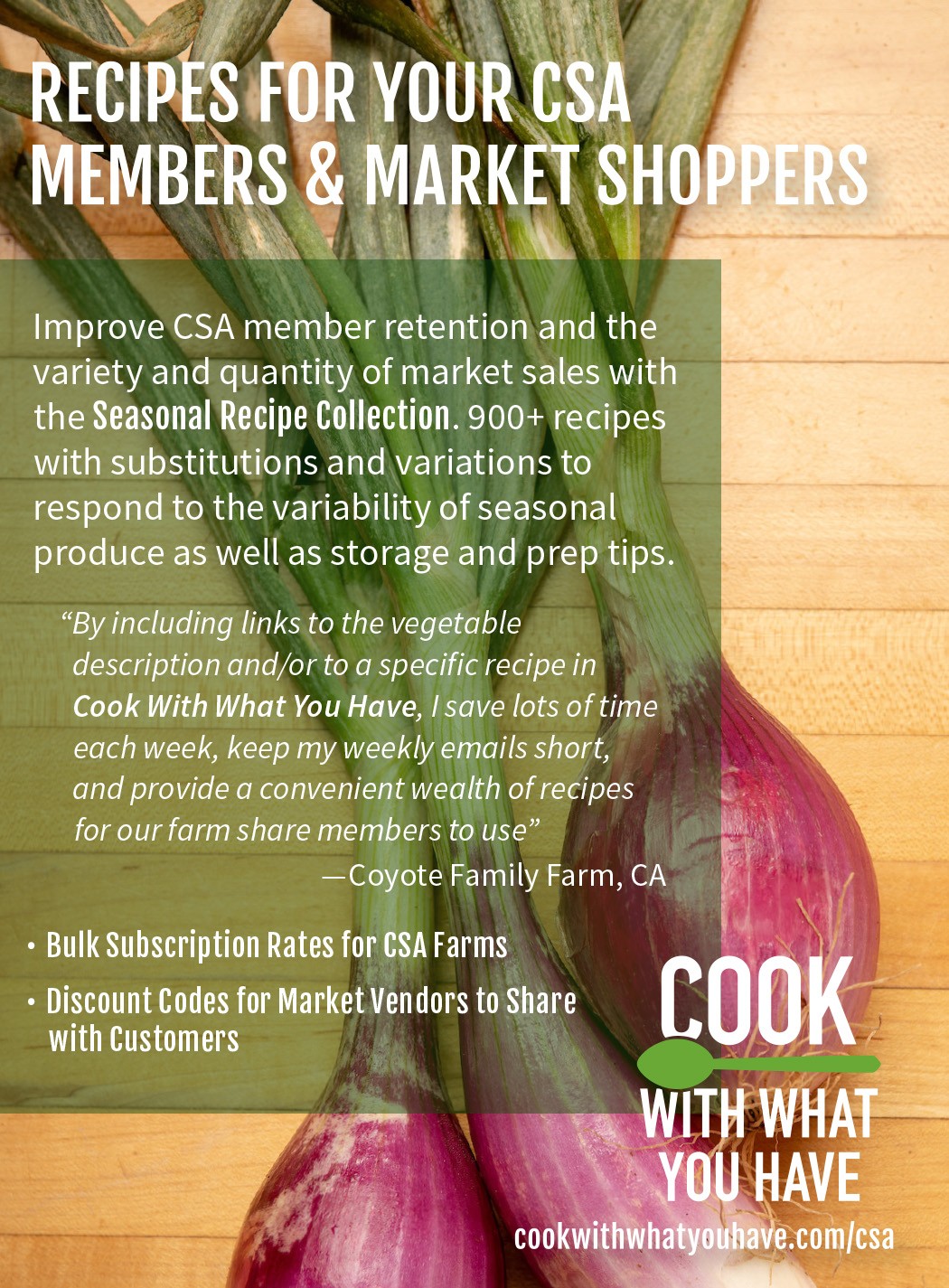 In the years I've been working with CSA farmers I've kept in mind the important link between the farm/farmer and their members. Farms can offer outside recipe resources without losing that connection and can share their own favorite recipes too. However, the time constraints and myriad pressures on farmers to offer the kind of deep culinary support week after week so consumers can make the most of their bounty is a tall order and many are relieved to have a comprehensive option at hand so they can focus on farming and selling.
There are a number of good recipe resources for CSA farmers and some farms have built up their own impressive archives. No matter who provides it, relevant tips and recipes improve the CSA experience and boosts the variety and quantity of market purchases. The consumer interest is there, the cooking skills and confidence to branch out and commit often are not!
Culinary handholding pays off, takes time and is a lot of work. Customers need guidance, tips, reminders and tempting photos to regularly enjoy the vegetables you're growing. And they need it in a convenient, centralized form with minimal clicks. Recipes and methods need to be quick, creative and most of all taste good. If dinner is a success produce doesn't go to waste and the CSA member/market shopper feels good and comes back for more.
How do you integrate less familiar vegetables into favorite dishes? What's the simplest way to break down a winter squash? How do I stay on top of all those early season greens? What to do with garlic scapes or tatsoi?
I created CWWYH to relieve farmers of having to offer comprehensive cooking support, and to empower CSA members and market shoppers so that the benefit—fresh, delicious, nutritious produce connected to people and place—is obvious and compelling. The lack of basic cooking skills, busy schedules, and picky eaters and often sheer volume and variety can be a challenge. And even experienced cooks need tips and regular inspiration.