Compiled by Jane Tanner
Farmers, activists, academics and chefs in the racial justice in agriculture movement educate others through books and films. Here is a sampling:
Farming While Black: Soul Fire Farm's Practical Guide to Liberation on the Land, by Leah Penniman (Chelsea Green Publishing, 2018). Penniman, co-founder of Soul Fire Farm is committed to ending racism and injustice in the food system. She layers modern activism and the practices and spirit of ancestors while offering an indispensable how-to on establishing and running a farm.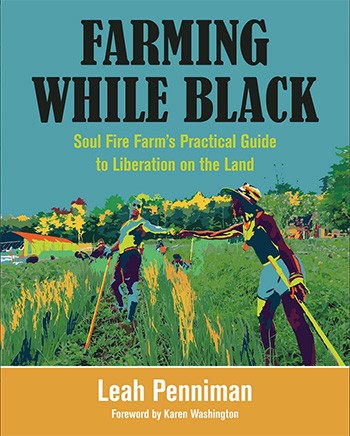 Freedom Farmers: Agricultural Resistance and the Black Freedom Movement, by Monica M. White (University of North Carolina Press, 2018). The University of Wisconsin-Madison assistant professor of environmental justice challenges the existing portrait of oppression and exploitation of black people to demonstrate how agriculture was the site of resistance. She connects today's urban farmer-activists to historic African-Americans who built sustainable communities through agriculture.

The Color of Food: Stories of Race, Resilience and Farming, by Natasha Blair (New Society Publishers, 2015). Blair, owner of Native Mountain Farm, compiles stories of farmers of color from First Nations to modern immigrants while tracing her own families roots in the soil. Her photographic portraits illustrate the stories.

Land Justice: Re-imagining Land, Food, and the Commons, by editors Justine M. Williams and Eric Holt-Gimenez (Food First Books, 2017) The book's chapters written by activists and scholars, "explores the history of land theft, dispossession, and consolidation in the United States … and alternative ways forward toward democratized land justice, based on redistributive policies and cooperative ownership models." -Good Reads.

Braiding Sweetgrass: Indigenous Wisdom, Scientific Knowledge and the Teachings of Plants, by Robin Wall Kimmerer (Milkweed Editions, 2014). Kimmerer, a member of the Citizen Potawatomi Nation, SUNY Distinguished Teaching Professor of Environmental Biology and founder/director of the Center for Native Peoples and the Environment, brings together modern science and ancient indigenous wisdom. She demonstrates the relationship and reverence between Native Americans and the natural world, shows gifts and lessons of plants and outlines the forces of degradation that threaten the environment.

The Sioux Chef's Indigenous Kitchen, by Sean Sherman with Beth Dooley (University of Minnesota Press, 2017) won the 2018 James Beard Foundation Book Award. "Sherman, the Oglala Lakota chef and founder of The Sioux Chef, dispels outdated notions of Native American fare; no fry bread, dairy products, or sugar here. The Sioux Chef's Indigenous Kitchen features healthful plates that embrace venison, duck, blueberries, sage, amaranth, and abundant wildflowers. This volume is a delectable introduction to the modern indigenous cuisine of the Dakota and Minnesota territories." -University of Minnesota Press.

Out Here, a full-length documentary film released in 2013 about the experiences of queer farmers across the country, created by the Queer Farmer Film Project and directed by Jonah Mossberg of Milkweed Farm in Brattleboro, Vermont. The film explores the dynamic relationships between gender, sexuality, and agriculture and in the process created a network and community of queer farmers.