By Jane Tanner
Dallas Robinson is establishing a 10-acre organic farm in Whitakers, NC, on former tobacco land near her childhood home. She requested $7,000 and free or barter training in electrical wiring, solar power, plumbing, and carpentry on the Black-Indigenous Farmers Reparations Map.
The online map, created by Soul Fire Farm, shows pinpointed requests across North America and is generating person-to-person reparations today without waiting for results from endless debates on reparations for descendants of slaves. Douglass DeCandia, an activist and farmer at Ryder Farm in Brewster, NY, provided the money which helped Robinson buy a truck and attend the Organic Growers School Farm Beginnings program in Asheville, NC.
Another online platform Native Land — an indigenous-led, Canadian not-for-profit — maps historic and current lands of Indigenous Nations. Wiki-like, it's shaped by ongoing additions and corrections, including a disclaimer to contact listed tribes for confirmation.
Victor Temprano, founder of Mapster Technology Inc., who was born in traditional Katzie territory and raised in the Okanagan, created the map in 2015. "I feel that Western maps of Indigenous nations are very often inherently colonial, in that they delegate power according to imposed borders that don't really exist in many nations throughout history," Temprano wrote on Native Lands.
Farmers and others input their addresses and reach out to tribes that once occupied the land. "Get down to your GPS location and build relationships with indigenous people in that area," DeCandia said. Native Land urges starting with Territorial Acknowledgements and build from there. DeCandia said some farmers open land to indigenous people for ceremonies, burials and growing food or natural medicine in cultural respect agreements.
In Salinas, CA, the Agriculture and Land-Based Training Association (ALBA), helps immigrants who labor on U.S. farms establish their own farms with an eight-month training program, land leases and aggregating produce for sales to Stanford University and other customers. With the motto "from farm workers to farmers," ALBA targets those who "historically have had difficulty prospering because of language and cultural barriers, lack of resources, institutional exclusion and a historical lack of government support and engagement."
The examples above and others to follow demonstrate that the movement for social and racial justice in agriculture is strong and gaining momentum and make clear that small farms have a role to play.
The need for more diversity among farmers goes beyond addressing historic and on-going abuses; it is critical for the survival of large- and small-scale farms. "Who is going to carry on and go forward?" asks Cheryl Rogowski, a fifth-generation farmer in the black soils of Pine Island, New York. Born in 1960, she considers herself among the older farmers. "What happens to the future of farming and the food sources?"
The average age of the 3.4 million U.S. farm producers (that is, people involved in farm decision-making) is 57.5 years old, according to a 2017 USDA Agricultural Census. Ownership is another matter since nearly 40 percent of U.S. farmland is rented or leased. The average age of farm landlords is 66.5 years old. When that land transitions to new owners, how much will remain farmland?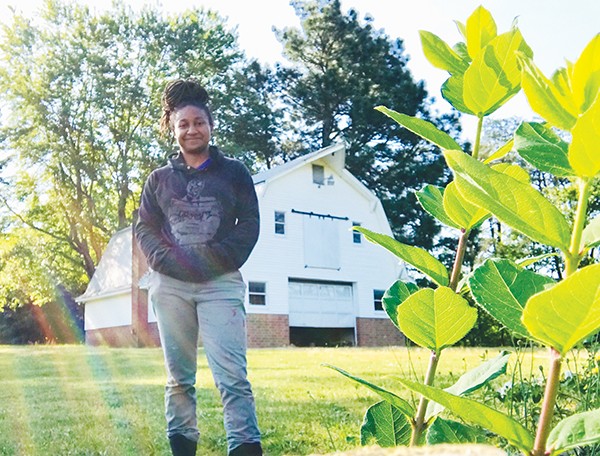 Not only is it necessary to usher in new farmers, the customer base for local food must expand dramatically. "We aren't going to make our way forward if sustainable farming as a movement isn't a part of everyday life in America," said Sarah Sohn, Director of the Beginning Farmer Training Program at Future Harvest Chesapeake Alliance for Sustainable Agriculture (Future Harvest CASA).
"It doesn't work to just market to high-end customers, vying for top restaurants and high-end farmers market spots. We are missing out on the vast majority of working-class families who have huge buying power. Potential buyers don't see themselves reflected or see themselves as end users of our product."
Of the 3.4 million farmers (again, people running farms, excluding workers) only 3 percent are Hispanic, 1.7 percent Native American, 1.3 percent Black and 0.6 percent Asian, according to the USDA survey.
"People of color and immigrants have vast knowledge of farming passed down from generations and this is a pool of people who we are not focusing on," said Claudia Navas, a food systems master's degree candidate at New York University and Compost Project Coordinator at the Brooklyn Botanic Garden.
While exclusion is true in general, farmer training programs such as Future Harvest, ALBA, and GrowNYC are training new farmers from underrepresented demographics. "We try to make this a welcoming space for farmers of color," Sohn said. "This movement belongs to them, too." The predominately white organic farming movement, she adds, hasn't fully come to terms with the larger history.
Gail Taylor, owner of Three Part Harmony Farm, northeast of Washington, D.C., trained with Future Harvest and now is a program mentor. On the farm's website Taylor describes herself as part of the Return Generation:
"My grandfather was part of the Great Migration, a time in which more than six million Blacks left the rural South in search of a better life and a more dignified source of employment in the industrial North. He left the cotton fields of Mississippi for the railroad yards of Illinois, and he discouraged his children from toiling in the fields for the benefit of others as he had. Young black farmers of my generation who don't grow up in farming families must make an intentional decision to come back to the land. We are the Return Generation, smaller in number but equally determined to find dignity in our search for nourishing food while at the same time being able to pay for the roof over our heads."

The path of return can be fraught with barriers in the white farming landscape, starting with the first step many aspiring farmers take: making contact with farmers to visit, volunteer or work just to see if farming is a good fit and to start building skills and knowledge. These initial contacts can be a high hurdle.
"A lot of these farms are very rural and not comfortable for people of color to walk into those spaces to look for jobs to find out what it means to be a small farmer," says Nikki Pressley, who recently began growing medicinal herbs and other crops north of Winston-Salem, North Carolina. She posted a request on the reparations map for $6,000 for a BCS walk-behind tractor and got funding from a farmer who wanted to share a recent inheritance. Pressley is still seeking $20,000 to buy two acres adjacent to her farm and wants carpentry help to convert part of her barn into farm worker housing.
In Michigan in the late 1990s, Sohn was ill at ease reaching out to farmers. "I'm Asian and queer and when I found myself thinking about going to farms to volunteer or to work, I felt intimidated," she said. "The notion of walking up to a farm in a rural, white area and introducing myself and proposing that I work there seemed preposterous."
For Navas, whose family is from Nicaragua, her more recent entry into farming was not comfortable either. She drove to a farm interview an hour outside of Redding, PA, as one of two people the farm planned to hire. "It was a lovely little farm with a farm store and beautiful housing, but I felt a little uncomfortable," she said. "I asked if there were other people of color in the area, I didn't see anyone. All the farmer could say was that there were more Puerto Ricans in Redding." Navas turned it down and then went on to work at three different farms where at each she was the only person of color.
Robinson was the only person of color and the only intern at a farm where the wife of the owner was hostile from the beginning. "She referred to me as a picker," Robinson said. "I've enjoyed farming with white people, but it is not ideal. I have not found them to be sensitive to the history of slavery and their responsibility." In fact, at another farm, a younger family member of the owners took a dandelion and whipped her with it and said, "Get back to work."
"Not spraying your vegetables is not the same as dismantling white supremacy," Robinson said. She urges farmers to be more honest with themselves about how they are benefiting from a racist system, such as acknowledging, "I'm on native land and getting to farm while people on reservations are malnourished," she said. At the spring 2019 Organic Growers School in Asheville, Robinson led sessions titled "Gaying the Garden."
Gabriela Pereyra, manager of GrowNYC's Beginning Farmer Program, echoed the point about discomfort with initial farmer contact. "The immigrant farmers rely on me for that very first email and phone call because of language and cultural barriers," she said. "We all have bias, it's part of being human, but we should be conscious of the bias."
Sohn points out it's easier today to suss out a sense of a farm's atmosphere with social media. So, farmers should consider how welcoming or unwelcoming their public presence is.
"If the way you advertise only gets you white candidates, rethink how you advertise," said Monica White, author of Freedom Farmers: Agricultural Resistance and the Black Freedom Movement. The University of Wisconsin professor spoke in Charlotte, NC, in March at a RAFI USA Come to the Table Conference- Called to Action: Uprooting Hunger and Cultivating Justice, which brought together farmers, faith community leaders and activists to address food justice issues.
Navas suggests looking for diverse hires at community colleges with agriculture training, tapping into groups such as Northeast Farmers of Color or similar groups in your region or linking with farms centered on racial and social justice issues. "Hire people of color in leadership positions, with decision making power," she says.
Nick Storrs, a Grow NYC graduate and farm mentor, urges farmers to think about being good allies. "Find out locally where you can hear those voices, sit down and listen, don't talk," he said. "Make an effort to reach out to communities of color. Go to a church that doesn't look like you. It doesn't need to be farm related. Plenty of people feel they can't get into farming and so they aren't in the young farmers groups."
Robinson and Pressley attended Soul Fire Farm's immersive training program, Black-Indigenous-People-of-Color Farming in Relationship with Earth (BIPOC FIRE). Soul Fire, northeast of Albany, NY, is wholly dedicated to ending racial injustice in farming and is a movement catalyst. Farming While Black: Soul Fire Farm's Practical Guide to Liberation on the Land, by Soul Fire co-founder and co-director Leah Penniman was published last year.
Immigrants from across the globe and people from other marginalized communities have become farmers through GrowNYC's programs. In its Shoulder-to-Shoulder mentorship program new farmers are paired with experienced farmers.
Kama Doucoure grew up in West Africa, both in Mali and Niger, and started working with livestock (mostly cows and a few goats and sheep) at age 6. He walked the animals miles each day. Fourteen years ago at age 24, he moved to the U.S. While farming was in his heart, he worked as an auto mechanic.
One day while shopping at GrowNYC's Greenmarket in Brooklyn, he told the employee on the other side of the produce table that he wanted to farm and immediately was handed contact information for the farmer training program.
Doucoure mentored at Gansvoort Farm in Germantown, NY, which humanely and sustainable raises sheep, lambs and beef. Owner Jennifer Phillips taught him about livestock farming in the US, which is very distinct from his West African experiences. "We don't put them in a cage and fences; we walked all day with them," Doucoure said. Phillips taught him how to treat parasites and techniques like separating males from females and mixing dry and fresh grass in the winter.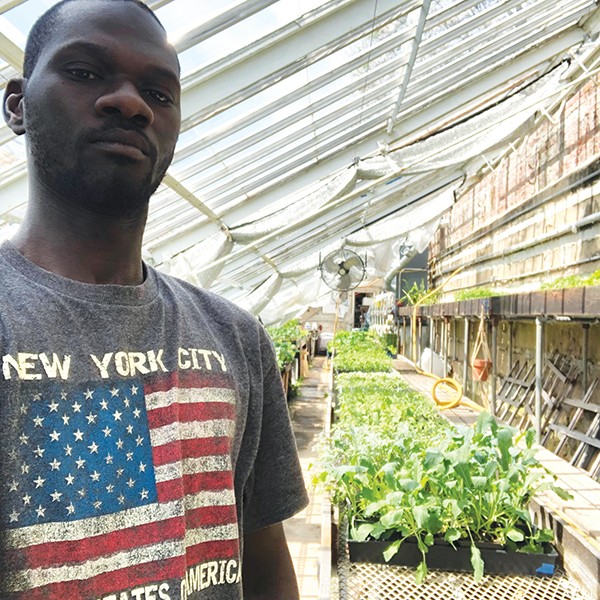 In the end, Doucoure decided instead to grow produce, including hibiscus, eggplant, tomatoes and melons that were common in West Africa. Storrs, owner of Home Grown Nurseries and Farm, is now his mentor, teaching Doucoure greenhouse production in an 1880s, 1500-square-foot heated glass greenhouse in Westchester County, where he grows heirloom vegetable, herb and cut flower starts to sell to urban farms and community gardens in New York City.
Diversity in farming is important to Storrs. "One way to prevent food from becoming merely a commodity is to have a connection to it, grown by people who have that connection," he said. "The food sector is better if food is a carrier of stories and meaning."
Connections and stories are the heart of Truelove Seeds, open-pollinated vegetable, herb, and flower seeds grown by small-scale urban and rural farmers to support food sovereignty and agroecological projects. The catalog includes seeds representing the African and Asian diasporas. Owen Taylor at Mill Hollow Farm in Edgemont, PA, launched Truelove Seeds in 2017.
The Indigenous Seedkeepers Network, part of the Native American Food Sovereignty Alliance, is supporting efforts across North America to collect seeds associated with original tribes, to teach seed stewardship and to bring these crops alive again. Some varieties were lost as native communities were forced from their lands, so the network and its partners are locating derivatives in public and private collections, universities, museums, seed companies and "some laying upon dusty pantry shelves of foresighted elders, seeds patiently sleeping and dreaming."
Rowen White, a farmer, educator and co-founder of the Sierra Seeds Cooperative from the Akwesasne Mohawk community, is board chair of Seed Savers Exchange. The Indigenous Seedkeepers Network and Seed Savers Exchange joined to identify potentially thousands of varieties with First Nations origins. They are also rematriating (women were the seed stewards) 25 native varieties of corn, beans and squash into tribal communities.
In South Carolina recently the Catawba Nation with help from University of South Carolina and N.C. Cooperative Extension tracked down the tribe's original Catawba corn seeds. A family in rural North Carolina has been growing the corn since the 1800s from seed originally given to the family by Native Americans. It matched corn from Catawba Nation archeological sites. "It's the first time in a generation that we are growing it out," said DeLesslin "Roo" George-Warren, Special Projects Coordinator for Catawba Cultural Preservation Projects. "It shows that sharing seeds helps assure their resilience."
Doucoure will bring his culture's hibiscus, eggplant, tomatoes and melons to Brooklyn stores and a store and restaurant in Pennsylvania that cater to West African customers. In April, he signed a lease for three acres and initially friends are helping him farm.
"My plan is to hire people from Africa," Doucoure said. "We will grow little by little and I will help them become farmers."
In some programs, farmer mentors receive compensation. At GrowNYC's Shoulder-to-Shoulder program, experienced farmers receive $2,000 to consult with mentees 200 hours over the growing season both onsite and over the phone. It was funded by a USDA grant that expired and now the sweetgreen restaurant chain is providing funding.
In the mid-Atlantic states, with the Future Harvest program (which grew from 25 farmer trainees in 2015 to 80 this year) students with one-season's experience visit weekly with farms that sync with their skills needs. Farmers receive $500 per trainee on the farm. New farmers who have owned or managed farms for five years are paired with more experienced farm consultants who make site visits and consult monthly for a $750 stipend.
"Programs like ours are duplicating what should happen naturally as far as mentors for people who wouldn't likely have access," said Sohn.
At the Rogowski Farm, known for growing crops for ethnic markets and offering on-farm English classes, some workers were offered small parcels to start growing and selling their own crops. Claudio Gonzalez was involved in production and driving Rogowski produce to famers markets.
In the early 2000s, her brother gave Gonzalez five acres to grow his own crops. Rogowksi remembers watching his oldest daughter hauling produce on a riding lawn mower. Similarly, the Rogowski's provided Rogelio Bautista land to get started. Both Bautista and Gonzalez trained in GrowNYC programs and received support to establish independent farms: R&R Produce and Gonzalez Farm.
Down the road at John D. Maduro Farms, Maduro has three immigrant farmers leasing land on his 300-acre vegetable farm. For at least a decade he has been leasing land to help immigrants get started. "They get on their feet and move on," Maduro said. He helps them prep their fields and other support.
Both Maduro and Rogowski are descendants of Polish immigrant farmers who began arriving in New York in the late 1880s. Rogowski doesn't have children and Maduro is not sure if any of his four children will farm. These established farmers are supporting the next wave of immigrant farmers.
Jane Tanner grew cut flowers and specialty crops at Windcrest Farm and Commonwealth Farms in North Carolina, and helped manage the biodynamic gardens at Spikenard Farm in Virginia.