This article originally appeared in the March 2021 issue of Growing for Market Magazine.
It's okay to say NO to your CSA members. If you are new to running a CSA, expanding to increase membership, or just trying to improve with every season, this advice is for you. You have my permission to be inflexible when it comes to members' special requests.
As a CSA manager, I spent years bending over backward to accommodate my 200-plus members. In hindsight, I can see that I was the cause of my own demise. In a 26-week season, if each member asked for just one special favor, that left me accommodating on average eight requests per week. The catch is, once a member realized that I could bend the rules for them, they would keep coming back for more.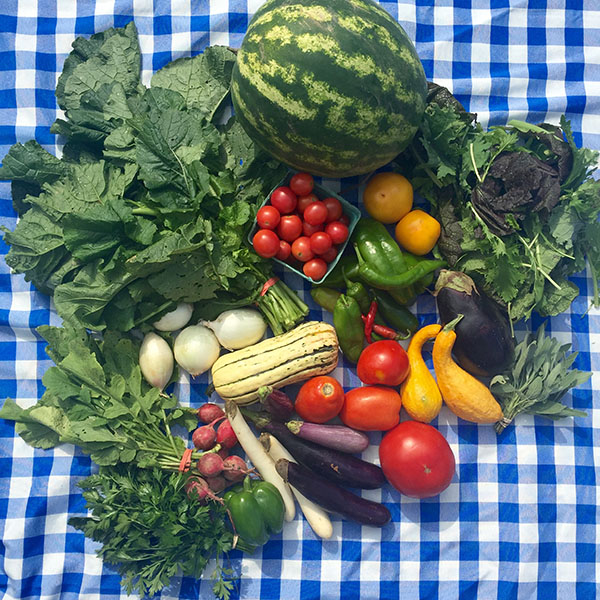 A late-summer CSA share.
Someone is going on vacation and they need me to reschedule their share. Someone forgot to pick up their box and need me to replace it. Someone doesn't like onions and needs me to give them extra carrots instead. Someone doesn't know how to cook eggplant and they need me to send them recipes. It was a constant scramble to update packing and delivery list, drop off home deliveries, shuffle items out of boxes, and search recipes online.

The truth is, I was desperate for sales. Member retention was low, and meeting CSA sales goals felt impossible. I misguidedly convinced myself that being overly accommodating was necessary to build member loyalty. On top of it, I am a native South Dakotan and am cursed with that 'Midwest Nice.' The truth is, it only made the season more difficult for myself and my entire team.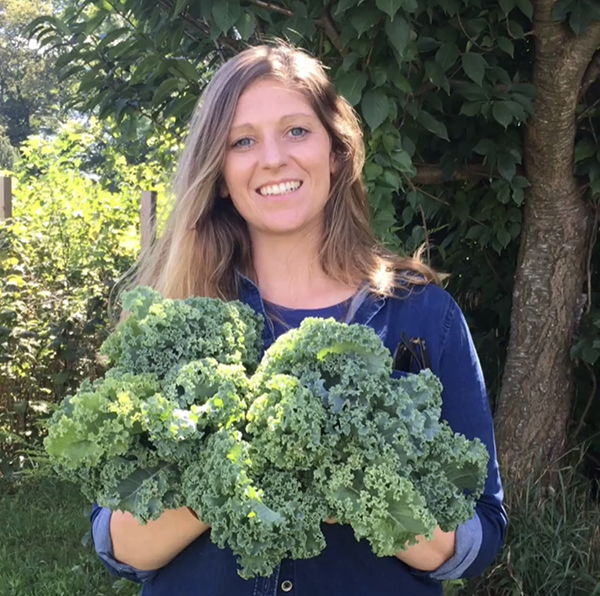 The author back in 2017 in her CSA manager days at Simpaug Farms in Connecticut.
Then one day, I started saying no. I just stopped juggling. And you'll never guess what happened. People stopped asking for special favors. When I started respecting my time, miraculously, so did my members. No one was mad at me. Instead of letting members depend on me, I empowered them to find their solutions on their own. Here are more strategies that helped me address member relations and improved the flow of my CSA.
1) Establish clear and consistent policies; include them in all of your communication.
For example, add a tagline to emails and print on pickup lists, "All shares must be picked up at the assigned time and location. Uncollected shares will be donated and will not be replaced or refunded. Donated shares are distributed to people in need and are greatly appreciated!" If members know it is a firm policy, they will find a way to pick up on time.
2) Have a plan in place to donate uncollected shares.
If you are using remote distribution sites, have a designated member or someone local who can reliably collect any abandoned shares and swap box extras at the end of the day and take them for donation. This relieves the burden on your host site if there are vegetables left behind, and it trains members to adhere to the schedule. Celebrate donated shares and express appreciation to your members for their generosity, even if it was their mistake. Establish a list of appropriate donation recipients. This may be individual families, food pantries, shelters, halfway houses, or other organizations in your community.
3) Collaborate with supporting businesses to cross-promote.
When choosing remote sites to host CSA pickup, look for businesses who will benefit from the arrangement. Be sure that host sites will welcome your customers as their own. My best partner was a neighborhood butcher shop. They eagerly promoted the CSA because they knew it would keep their customers coming back on schedule each week, and it was a perfect complement to their offerings.
4) Offer a sponsorship option.
CSA membership is not for everyone. Have an option ready for the folks who say they would love to support your farm, but they don't eat vegetables, or don't cook, or are traveling too often. Ask them to sponsor a share for another family, either for a full season or even just a week. Encourage local businesses to sponsor shares for community members in need.
5) Resist the urge to throw in extras.
This will seem counterintuitive, but receiving too much food is one of the top reasons why CSA members don't return. People will feel guilty if they are wasting food. Even if you gave them more than they paid for in a week's share, they will have the perception that they are throwing away money with every item that goes uneaten. If you have a bumper crop of kohlrabi and want to offer it up to members, put a box on the side at your pickup site and let them take what they can use.
6) Put out a swap box.
Put out an extra share labeled "swap box" and allow members to trade items out, or leave behind veggies that they know their family won't eat. This small effort can make a big difference for members who have certain foods that they despise. They can drop that eggplant in the box and forget it, rather than watching it rot on their kitchen counter. You may have your swap box go to donation at the end of the day.
7) Have permanent links for online resources.
Pinterest is a great place to send your CSA members for recipes and tips. I created boards for each vegetable and pinned links to thousands of relevant recipes from across the internet. Whenever someone asked for recipes, I would remind them to check the Pinterest page that was always linked in the newsletter and the website. Check out @farmvegetables on Pinterest for an example, or send your members there directly.
Megan is GFM's California-based traveling Field Correspondent and Business Development Consultant. She works as an Organic Inspector for CCOF and formerly as a Commercial Sales Rep for Johnny's Selected Seeds. Follow her on her journey at @megan.alluvial.