Erin Benzakein writes in the October issue of Growing for Market about her favorite bulb flowers for spring bouquets. Here is her complete list of species and varieties.

Allium atropurpureum
: very dark purple, almost black. 2.5' tall, wiry stems. Unique color!
Allium bulgaricum siculum
: Pinkish purple bells atop 3-4' stems. Extremely long-lasting blooms (2 weeks in a vase) and very decorative in large arrangements. One of my favorites!

Allium christophii
:. Large brilliant blooms composed of many starry silver/amethyst florets. 18" tall.
Allium cowanii
: 12" tall small white flowers with golden anthers and curvy stems. Ideal for fine floral work and does not wilt.
Allium elatum
: dense metallic blue heads. In drier climates than the N.W it can be spectacular!
Allium 'Firmament'
: Very dark purple blooms, almost black. 30" tall.
Above photo is
Allium christophii
available from
Brent And Becky's Bulbs
Allium 'Gladiator'
: 4' tall large blue heads.
Allium
'Globemaster'
: The very best large Allium. Massive 8-12" heads held a top sturdy 3-4' stems. Beautiful violet color. Stores very well.
Allium
'Hair'
: Contorted green balls covered in wild, out of control lime filaments resembling hair. Very unusual and popular with designers. Sells out fast!
Allium jesdianum
: rosy purple starburst type flower. 2.5-3.5' tall.
Allium 'Mars'
: Pink-purple flower atop a straight 4' stem.
Allium moly
: bright yellow bloom on short 12-14" stems. Very useful in early spring bouquets.
Allium
'Mount. Everest'
: The largest and best white variety. Large heads sit atop strong, straight 4-5' stems.
Allium multibulbosum
: Light creamy pink semi ball flowers. 2.5-4' tall.
Allium
'Purple Sensation'
: dark purple soft ball size flower heads. 2.5-3.5' tall. The best dark purple midsize Allium. Cold stores very well. +Note: currently it is nearly impossible to source disease free stock.
Allium roseum
: small, beautiful pale pink flowers. Wonderful in wedding work. 8" tall.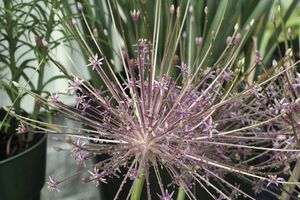 Allium schubertii
: very large blooms resembling some kind of sci-fi spacecraft. Flowers must be bagged individually to protect during transport. Very unusual, dries well and smells of honey. Purple/light lilac.

Anemone coronaria
: fantastic alone or incorporated into spring bouquets. If cut in brightly colored bud you can expect a solid 7-10 day vase life. Last year we got 18-22" stems out of the hoop house . Can be stored for a week in the cooler, upright in water.
All Brodiaea's listed store well in the cooler. They can be held for up to 4 weeks without impacting vase life or bloom quality. Must be held in water for long term storage.
Brodiaea californica
: the largest of all. Soft pale lavender blooms with a creamy center. 18-24" wiry stems. Fantastic in wedding work and mixed bouquets!
Brodiaea congesta
: dark lilac purple blooms. Tiny ball shaped heads sit atop 20" wiry stems. Very useful in wedding work and mixed bouquets.
Brodiaea coronaria
: Incredible dark blue flowers that make every bouquet pop! It's the florist's first choice. An excellent long lasting cut. 20"+ stems.
Brodiaea hyacinthina
: very delicate light blue blooms. Fantastic in wedding and event work. 18"+ tall.
Erythronium
'Pagoda'
: very unusual yellow flower resembling a small turkscap lily. They like heavy soil and part shade. 8-10" tall. Fantastic in bouquets. Vase life 5-7 days. Can be stored for up to 2 weeks.
All Eremerus store extremely well in the cooler. 6 weeks can be expected without adversely affecting vase life. Must be picked before lower flowers open. Store very cold, upright, in water.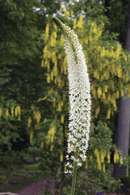 Eremurus himalaicus
: tall white candle with star shaped flowers. Extremely variable in stem length from 3-5'. The earliest to flower but blooms can be brittle so transport carefully.
Eremurus robustus
: Large bright pink blooms on very tall stems, up to 6.5'. Store very cold, upright in water.
Eremurus '
Ruiter hybrids'
: the best cutflower hybrids available. Stem length varies between 4-6.5'. Color range includes: salmon, white, cream, orange, pink, apricot and lemon yellow.
Eremurus
'
Shelford hybrids'
: this collection flowers later than the Ruiter's. Shorter stems 3-5' tall. Color range tends to be more on the copper and orange end of the spectrum.



Eremurus himalaicus


Frittelaria assyriaca
: the most unusual little brown flower with a golden edge. Blooms very early and will add a touch of whimsy to any spring arrangement! Long vase life, 10+ days. 10" tall. Store upright in water for up to 2 weeks.
Leucojum aestivum
'Gravetye Giant'
: beautiful dangling white bells decorated with delicate tiny green polka dots. These flowers are so pretty and unique! 18-24" arching stems. Long bloom period. Lovely in bouquets and bridal work. Can be held in the cooler for up to 2 weeks in water.
Convallaria majalis
'Lily of Valley'
: a nostalgic favorite. Extremely fragrant!!!Short bloom window and does not store long, 1 week max in a very cold cooler. When picking, pull stems rather than cut.
Scilla hispanica
: Spanish bluebells in pink, white and blue. Very long lasting, 18"+ tall stems. Lightly fragrant and fantastic in spring bouquets. They store very well in the cooler, up to 6 weeks. Hold upright in water.

Muscari latifolia
: 2 tone grape hyacinth. The bottom half is purple black and the top light blue. Stores well cold, upright in water. May be held for up to 4 weeks.
Muscari armeniacum
'Saffier
': similar in appearance to the regular grape hyacinth but this variety is sterile so it lasts much longer and can be picked with more color. 6-8" tall. Stores well cold, upright in water. May be held in the cooler for up to 4 weeks.
Narcissus
: Nearly all Daffodils hold well as cuts. I prefer to grow the more unique, double and scented cultivars which command a much higher price. Harvest before the flowers have fully opened and pull the stems rather than cut for added stem length and strength. If storing less than a week in the cooler water is fine but for longer term storage ( up to 2 weeks) lay bundles flat in a box and cover to prevent dehydration. Also Daffodils should not be mixed with other flowers in arrangements since their sap is toxic.
My favorite cultivars ( so far!) are: Accent, Cragford, Fortissimo, Ice Follies, Pink Charm, Sir Winston Churchill, Tahiti, White Lion, Actea, Bridal Crown, Cheerfulness, Yellow Cheerfulness, Dick Wilden and Erlicheer.
Ranunculus
'La Bella'
: These beauties typically bloom in our hoophouse for about 6 weeks shutting down shortly after Mother's Day. They have a great vase life 10-14 days! I don't hold them long in the cooler since they sell so fast but if necessary they should be kept in water and held no longer than a week. We normally get a 7-10 day vase life.
Tulips
: harvest when buds are 50% colored. For longer stem length pull bulb and all during harvest. For immediate sales wrap or sleeve bunches and place upright in water. They can also be dry stored for up to 3 weeks by wrapping fresh bunches in news paper and laying horizontally in boxes.
Erin Benzakein runs Floret, a small organic flower farm in Washington State www.floretflowers.com