By Jonathan Leiss
Flower farming has exploded in recent years. And no wonder: as the interest in local agriculture expands beyond local food, demand for local flowers has grown exponentially. In our area of central North Carolina, many new flower farms are sprouting up, mirroring the national trend. One illustration of this is that membership in the Association of Specialty Cut Flower Growers (ASCFG) has grown 143% in the last five years and 232% over the past ten.
Here in the Piedmont region of North Carolina, we have observed some new trends recently: many of the new farms that are meeting the increased demand for local flowers are 100% flower farms, and many of them are quite small. (In my unscientific poll on Facebook, 52 out of 112 flower farmers grew on ½ acre or less.) These trends are changes from the past, when most local flower growers operated larger mixed flower and vegetable farms.
Flowers are a very attractive crop for new farmers who desire to have a small farm. This is because they have a relatively high dollar-per-square-foot potential, meaning more bucks from a small space. According to GFM founder Lynn Byczynski in her influential book, The Flower Farmer, cut flowers were the highest-grossing crop per acre for small farms. Since 2008, advances in techniques for growing micro-greens and the legalization of hemp mean there are other options for high dollar-per-square-foot crops. Nevertheless, cut flowers still offer one of the best dollar-to-square-foot ratios a farm can realize, especially for field production.
Additionally, flowers offer a wide variety of marketing options for new farmers contemplating a crowded marketplace. However, as the number of flower farmers increases, many may find they are encountering challenges unique to the micro-farm.
While there is no agreed-upon definition of a micro-farm, we consider it to be about ½ acre or less, even as small as a few beds in an urban backyard. While farmers on any size farm must make choices when planning crops, on the micro-scale flower farm, these choices are particularly difficult and impactful. This is because of the long maturity dates for most flowers. A cutting lettuce mix may be ready to harvest in 28 days and a microgreen brassica mix in only 15 days. In contrast, most sunflowers take at least 55 days to flower with the bulk of flower crops taking 90-110 days before harvest, or longer. The choices that flower micro-farmers must make as a result can have unforeseen consequences.
We learned these lessons the hard way in the early years of Spring Forth Farm, which we started in 2014. Initially growing on only 1/8 acre we tried to have our hand in as many different flower enterprises as possible. We applied to farmers markets, did weddings, sold at a pop-up stand, and provided flowers for restaurants. When we didn't get into any of the farmers' markets we wanted, we pivoted to selling wholesale to florists (which is now our exclusive business). Over time, we abandoned the pop-up stand and restaurants and took on a bouquet subscription.
But even though our farm grew every year (we now have ½ acre of flowers, including a 30x96' hoop house), we kept running into the same problem: At our scale, we couldn't grow enough of the variety of flowers we needed across the whole season for these multiple sales channels.
Quantity was part of the issue: On our small farm, we had to hold flowers back from our repeat florist customers in order to supply our one-time wedding client. We had originally started out using short or curved stems (with gorgeous flowers but unsuitable for wholesale) in our bouquet subscription, but our subscription quickly outgrew our supply and we once again were robbing florist sales to supply our CSA.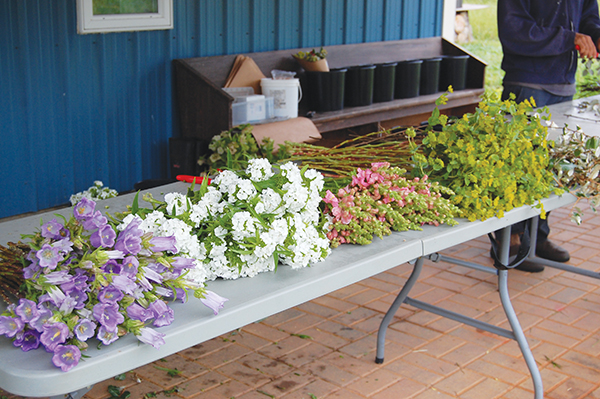 That is a straightforward problem and not unexpected on a micro-farm. What we weren't expecting was the challenge of flower type: In order to reliably supply our wholesale customers, we needed large quantities of the same flowers week after week. In order to profitably provide flowers for weddings and our CSA, we needed a large variety of flowers, especially cheap filler flowers that would make our products look full and valuable and make our expensive focal flowers go a long way. We could not sell those same filler flowers to our florists at a profit.
Our different sales channels had conflicting crop requirements and on our micro-farm scale, we could not supply them all. The simple truth is that a flower micro-farm isn't a good fit for such a diversified business.
Spring Forth Farm dropped all of its enterprises except one: we now only sell wholesale to local florists and designers. In fact, we've even taken it one step further. We only sell spring flowers (March through June in our climate). That lets us put all of our beds into spring flowers rather than holding any back, so they are all available for planting in the spring.
On the micro-farm, we've found that the better advice is Andrew Carnegie's: Put all your eggs in one basket and watch that basket!
Why is the flower micro-farm best suited to a laser focus on one or two enterprises versus a balance of several? It is because of the long maturity of flower crops and the specific and conflicting demands of different types of flower enterprises. For example, some of the most common ways for farms to sell their flowers are at a farmers market, wholesale, from a flower stand/truck, a CSA, and weddings/events. These outlets can be compared on their need for similar types and quantities of flowers.
For example, a flower stand/truck selling bouquets and a CSA are highly compatible. Both are essentially selling the same product (bouquets) and both need a similar mix of focal and filler flowers. Weddings are lucrative but can be inconsistent while a CSA requires consistent output week after week. A flower stand by contrast may have some degree of elasticity in how many flowers it can take, which could make it a better fit for some micro-farms that do weddings.
Selling wholesale requires having sufficient volume of the flowers that florists want, which can be a lot of the same flower/color for an event. If you don't have enough supply and one florist consistently buys all of your product, your other customers will quickly stop buying from you at all. On top of needing sufficient quantity each week, those sunflowers, celosia, and zinnias need to have successions coming in behind them so you can be a reliable supplier to your wholesale customers. With all your garden space thus taken up with successions of the same crops, it can be hard to find room for different fillers to bulk up your bouquets.
Flower micro-farms, especially the smallest ones, that are struggling to meet the needs of their sales channels, should consider not just the quantity of flowers they can produce but also how the available space and crop plan will affect the types of flowers that are available. Instead of trying to sell through all available sales channels, consider focusing on and excelling at just one, or choose two-to-three that are compatible and will complement rather than compete with each other.
For the rest of this article, I will discuss some of the common and uncommon sales outlets that flower micro-farms might choose and how they might work on the micro-farm.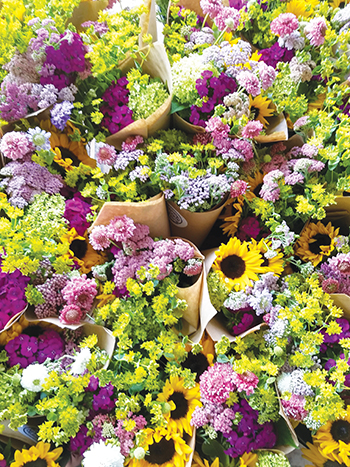 Farmers markets
The quintessential sales venue for the small farm movement. For the micro-farm, consider which markets you can get into and if they are truly worth the time. Also consider if you can supply enough flowers consistently enough for the larger markets. Selling bouquets at a farmers market requires a wide variety of product, excellent timing of successions, and often a season-long commitment. Market rules may also prohibit you from buying in product, even from other local farms. This can be an excellent outlet for farmers who love going to market and can meet the demand, but we think it is a challenging venue for many micro-farms.
Wholesale
Selling wholesale (to retail florists and designers, to wholesale distributors, or through grower-owned cooperatives) represents a growing segment of the local flower trade. Prices are lower than at a farmers market, but so is the labor involved in making a sale. This can make wholesale more profitable, even if it generates less revenue than retail.
Depending on your customers, you may be able to avoid growing less profitable filler flowers. For the popular flowers, it is important to have reliable and sufficient quantity. If you are always sold out, your wholesale customers will move on to other suppliers.
Wholesale florists pay less than retail florists, but also can absorb much higher quantities, so if you want to just focus on growing a few products really well on your micro-farm, selling to a wholesaler may be a good option. You will want to make sure you can have a reliable supply of all of your flowers for as long as possible.
For example, we found that florists didn't buy many of our sunflowers the first week we had them because they placed orders 1-3 weeks out, but by the third week each season they were hooked, and we sold them by the boatload for the rest of the year. Also, a wholesale business is built on trust and relationships. Find florists and designers that you want to work with and that want to work with you, but be OK if it takes time to build each relationship.
Weddings and events
The highest revenue and the most labor, selling flowers for weddings and events can be whatever business you make it: You can only sell DIY bulk flowers, or you can offer full-service weddings that cost thousands. You can custom grow for just a couple weddings each season (and hope that the weather and flowers cooperate to bloom at the right time), or you can plan for a steady stream of flowers and try to book events as many weekends as possible.
Especially for event work, remember it is good to have a backup plan, and it is OK to buy in flowers you can't grow, especially from other local or domestic flower farms. The Association of Specialty Cut Flower Growers (ascfg.org), Slow Flowers (slowflowers.com), and Facebook are good resources for finding other local flower farms.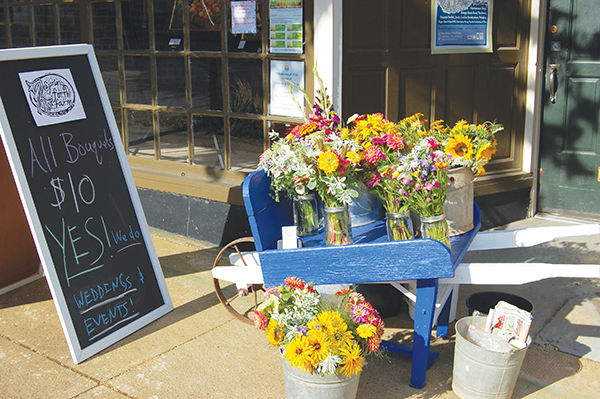 Flower stand or truck
This seems to be an increasingly popular way to sell flowers. If your stand is staffed, it isn't that different from running a farmers market stall. If it is unmanned and uses the honor system, it can address one of the perennial problems on micro-farms: labor. Another advantage of a roadside stand is that you might have some wiggle room for how many flowers you have each week. Obviously, you don't want anyone to drive away empty handed, but if your successions just don't work out one week, you'll be OK.
Subscription/CSA
A flower subscription doesn't require the same time commitment on Saturday morning as selling at a farmers' market, but it has a similar requirement for a variety of focal and filler flowers, and since you've presold them, you are committed to delivering. One way to manage the succession challenges is to not have too long of a CSA. (We know one farmer who does just one 12-week CSA per year.)
If you want to go for as long as possible, make sure you have room to plant all the successions you need and make a thorough crop plan. The key to making money with a subscription is to assemble bouquets quickly, especially if like many micro-farms yours is a one-person or part-time operation. You can assemble bouquets quickly if you have enough of the same flowers to make them using a recipe that you can repeat so you don't have to think about each individual bouquet.
On-farm events
Depending on where you live, this could be your entire business. Flower arranging seminars, farm-to-vase dinners, or wreath making workshops are all possibilities.
Grocery stores
Grocery stores don't pay much, but if you're working with a good buyer it can be efficient, high volume, and profitable. Consider asking about selling straight bunches. They'll fetch a lower price but will also be much faster to make. As with wholesale, a steady supply will be key. As with any bouquet business, you'll need a variety of focal and filler flowers to make it work.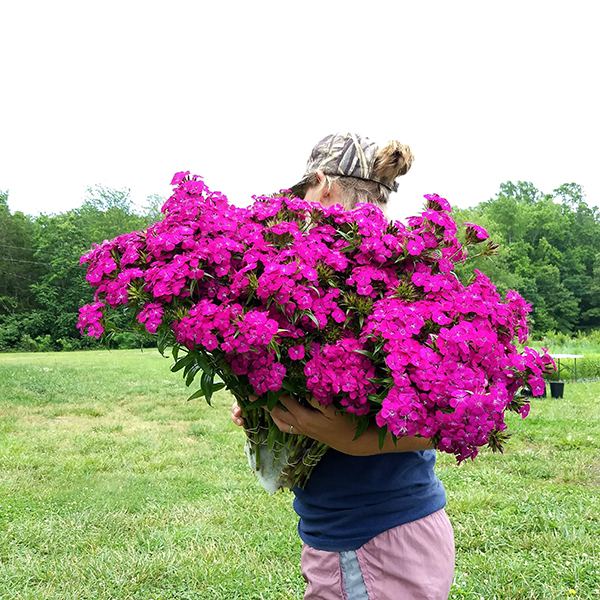 Dried flowers and wreaths
This would be a very intriguing business for a micro-farm, especially one in which all the farmers had off-farm jobs or family obligations. One of the keys to excelling at selling fresh flowers is picking them at exactly the right stage, which can often be a very narrow window. While flowers for drying also have a correct stage of harvest, the window is wider, meaning the farmer has more flexibility in managing their labor (see the article Dried Flowers are Back in the October 2019 GFM).
And the labor of making wreaths and selling them would be separated from the harvest season, meaning a more even labor demand throughout the year. That could make the difference between needing to hire extra labor and not. While proper drying facilities would be a must, expensive cold storage would be unnecessary.
And while you would want to dry both spring and summer flowers, you have the whole season to gather the variety and quantity you need, rather than just a week, so managing bed space and successions could be easier. This flexible option could be a good fit for many micro-flower farmers.
Growing and selling flowers on a micro-scale can be personally and financially rewarding, and it can be a sustainable size for farmers who aren't interested in managing a larger operation. Micro-scale flower farms face challenging constraints on their available bed space and crop plan, and so they must carefully consider whether their sales channels complement or compete with one another. One path to success is to think small, picking just one or two compatible sales channels and focusing all your energy there, rather than trying to build the diversified business more appropriate for a larger-scale flower farm.
Jonathan and Megan Leiss grow half an acre of no-till flowers on their homestead, Spring Forth Farm, in Hurdle Mills, NC. In order to meet the challenges of the micro-farm, Spring Forth Farm only sells spring flowers and sells exclusively wholesale to local florists and designers. Megan and Jonathan's course, The No-Till Micro-Scale Flower Farm is available from The Gardener's Workshop: thegardenersworkshop.com