Just the mention of doing flowers for a wedding will likely send most growers into a nervous sweat. When I said yes to my first wedding four years ago I had no idea how many details were involved. It was so overwhelming that I was unable to eat for days beforehand. I woke from sleep terrified that I was forgetting something important. The day of the event I ended up carrying around an old margarine bucket in case I got sick. No joke, it was terrible! The worst part was that we had to transport all of the flowers to the 18th floor in a service elevator. Gulp! But in the end the wedding turned out beautifully and we got great feedback. The best part, no one seemed to notice that I was a nervous wreck or that we were a misfit band of farmers pulling off a high-end wedding!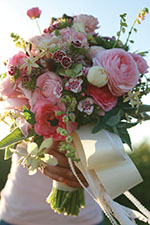 Since that first terrifying experience I have done flowers for many more weddings. But I now prefer to stay with slightly lower-key events. Occasionally I get a surge of courage and take on an extravagant affair but usually regret my motives later — especially when we are squeezing it in between a huge weekly delivery route, two small kids and an already overflowing life.

So while high-end events offer huge margins for profit, they also carry with them a mountain of stress. After much trial and error we've finally figured out what works for us and it truly is the best of both worlds: a nice inflow of cash perfectly timed with our growing season and a thrilling creative outlet. Currently we offer three options for brides to incorporate our flowers into their big day:

Bulk Blooms
The first is the easiest and the best suited to most growers. Bulk Blooms for Do It Yourselfers. We require a $250 minimum for brides to get our bulk pricing. We sell them blooms the same as we do to our florists and grocery customers. 10 stem bunches ranging from $6.50–9.50; Lilies, Callas and Roses are more, $15–17.50.
When a bride first contacts me, I walk her thorough our availability list for the month of her event. I explain that when working with nature nothing is guaranteed! Typically these women are more than willing to be flexible. The week before their big day we go over what's actually in bloom. They either give me their budget/color preferences and I put together a lovely mix of material or they hand-pick each item off a list. I do not have brides come out to the garden anymore! I've found that a visit usually leaves them overwhelmed and overly inspired by the many, many choices. We've had visits stretch on for more than two hours where the bride completely overhauled her color palette. I find email with photos is the best way to go for now. If I did farmers markets, I would promote the heck out of this service! It's easy, and super profitable.

A la Carte
The second option is bouquets and bouttonnieres a la carte. This year I am getting more and more request from brides on a budget for this service. They often pair it with Bulk Blooms and make the table arrangements themselves. This way they end up saving a bundle of money but don't take on the stress of the detail work. Brides choosing this option are usually pretty flexible on style, often opting for a lose wildflower bouquet. This is one of my favorite combinations!

Full Service
The third option isn't for the faint of heart. Taking on full-service weddings can be a huge money maker but is also full ofchallenges. Organization is the key to pulling them off profitably and with limited anxiety! I would recommend doing a few mellow events before venturing into this arena. A little experience will save you many sleepless nights in the future!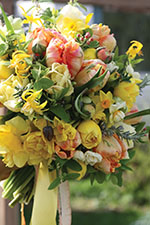 Pricing can be a bit tricky. If you're new to weddings, it is VERY easy to doubt yourself and undercharge! I was lucky enough to score price lists from two local florists when I first started. I just aligned myself with their average pricing, less 15% on everything but Bouts/Corsages. When estimating prices, florists normally take the cost of their flowers, mark them up 3 times and add 20% for labor. If you get out the calculator and apply this formula to one of your bouquets you'll see that you're probably undercharging!

Purely seasonal bouquets are normally less expensive. For example, a seasonal bride's bouquet ranges from $95-$125 whereas one with imported blooms would go for $125-175. The more flowers we have to buy in, the more the price goes up. I've tried to keep a constant stock of greens and filler available in the garden specifically for event work. This ensures ease and profitability. My favorite fillers are Mint, Lady's Mantle, Lamb's Ear, Poppy Pods, Cress, Parsley, Thalictrum leaves, Hosta, Scented Geraniums, Hypericum, Raspberry Leaves (with and without fruit) Amaranth (green upright and hanging) Bupleurum, Grasses, Basil, Bells of Ireland, Ninebark, Ammi, Hellebores, vines, and miscellaneous shrubs.

Romantic, nostalgic and fragrant blooms make designing beautiful bouquets easy! These beauties can be hard to come by in good condition at the wholesaler. So after a few years of stocking up I finally have an awesome selection to chose from nearly all season.

My favorite and most requested focal flowers are: Fragrant Narcissus, Lilacs, Ranunculus, Parrot Tulips, Anemones, Lily of the Valley, Peonies, Calla Lilies (colored), Garden Roses, Sweet Peas, Oriental Lilies, Hydrangeas, Tuberoses and Dahlias. These lush, generous blooms really set my work apart from other local florists.

About half of the brides I work with find me through the internet and the other half are from word of mouth or press. Event planners, caterers and venue owners are all fantastic sources of new business.Having a great online portfolio is priceless! Potential customers will see your work and either connect with it or not, instantly. This saves you so much time in the long run!

Before a wedding I try to get the name of the photographers so I can contact them later for photo copies. Usually this will give me access to beautiful images of our flowers during the event. We always bring the camera but are usually so busy setting up that the photos are forgotten.

Photo tips
If you can make time to record a sample of your work beforehand, here are a few tricks for home photography that we've found really helpful. If holding a hand-tied bouquet, wear a solid colored shirt, preferably a complimentary color to the bouquet. If you have a hoophouse, the diffused light in there is perfect for romantic looking photos. Morning and late afternoon are the best times for taking pictures. If you don't have a hoop, early sunset in an open field works great. With your back to the setting sun have the photographer (this is usually my husband) shoot towards you. This angle will backlight your work beautifully! For centerpieces, I scoot them up to a window with nice bright light. Steady your hands on the back of a chair and shoot. Natural light is always the best! We avoid flash photography since it seems to produce cheap-looking photos. Mess around with different angles and take lots of pictures. We often fill up two camera cards on just the bridal work! You'll be so happy you did later. A beautiful portfolio will get you the event every time!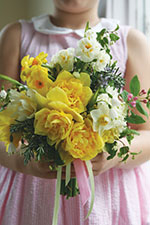 Scheduling
Estimating how much time to set aside for event work can be nerve-wracking in the beginning. It's always best if you can start early and give yourself plenty of time. We finally put in a cooler last summer and it has been hugely helpful. Now we can get started days earlier than before.

For a full-service Saturday wedding we usually begin on Wednesday. After deliveries in the city, I pick up any imported product from the wholesaler and dash home to prep it. Then if there is any light left, we head out to the garden to cut filler. Thursday morning is spent cutting and getting organized. Staff usually show up around 10 and we get started on making centerpieces. This normally takes a good part of the day to complete. If there is time leftover, we spend it on any arbor prep or garland. Friday, another quick trip into the garden for more material and we dive into the bridal work. One person is usually in charge of making bouts and corsages. The other stays a few steps ahead of me by stripping and cleaning all of the flowers for the bridal and maid bouquets. By late afternoon we are nearly done. All of the bouquets get ribbon wrapped and tucked in the cooler. We pull the centerpieces out and pack them for delivery. By this point we are all beat! Saturday morning we're up bright and early loading the van, packing our supply kits etc. Depending on the size of the event, I end up taking one to three helpers along for setup and delivery. Then when we return home we clean the garage out and call it a day. Sunday we're back out in the field harvesting for the following weeks orders. It's exhausting!

For an a la cart wedding, we would normally be able to complete all of the bridal party flowers in just one long day. Preferably I have someone helping with the wire work since it can be very time consuming. College girls who worked in a flower shop as teenagers are my dream helpers. They fly through the tedious task of wiring up hundreds of individual flowers! This is a much more manageable event size for most growers. When paired with an abundant bulk order these simple little weddings can be a dream!

With so many couples now on a tight budget and the local food movement spilling into the flower arena, many growers are seeing an increased level of demand for event work. I predict that the demand will only continue to grow over time. This new development offers great potential for added seasonal revenue. But finding what works for your personality, operation and life is key! While full service weddings may be out of the question for an already busy farmer, offering a bulk wedding flower program or simple mixed bouquets could be just the ticket. There are a number of growers who have successfully incorporated weddings into their businesses. For a glimpse at a few of the best visit cultusbaynursery.com, dragonflyhealdsburg.com; follsflowers.com and cuttinggarden.com

Useful books: Martha Stewart Weddings, Paula Pryke's Wedding Flowers, Paula Pryke's Table Flowers and Paula Pryke's Flower School.

NEXT ISSUE: Erin will write about pricing, contracts, and her client data sheet in the August issue of GFM.

Erin Benzakein runs Floret, a small organic flower farm in Washington State; www.floretflowers.com.
She writes regularly for Growing for Market.