By Carolina Lees
Weddings are a huge opportunity for local flower farmers, especially with the growing awareness of and demand for seasonal, sustainable flowers. And, if there is one time that people really want special flowers, it's at their weddings.
I live in a wedding destination area, the Oregon coast. Now that I have a few seasons of flower growing under my belt, I want to tap into that market. But wedding flowers are a lot of work on top of an already busy farming schedule. Full-service weddings involve a lot of communication in the months leading up to the event and a huge effort the week and day of the wedding to get everything done to the couple's expectations.
Due to both time commitment and inclination, offering full-service weddings isn't for me. I've decided that the best fit for my farm is do-it-yourself DIY weddings.
In DIY weddings, couples purchase bulk blooms from a local farm to arrange with friends and family. Whether they are on a budget or just prefer the personal touch of arranging their own flowers, a lot of couples are looking for this option. Flower farmers are filling that niche and finding it a profitable outlet.
The DIY mentality is generally a good fit for local farms, as we are often DIY-ers ourselves.
Michael Rodriguez from Luella Acres in Dexter, MI, shares his experience providing flowers for DIY weddings: "DIY brides have a reputation for operating on a shoestring budget. I have found them to be most generous and gracious customers, albeit tardy in their planning.
The vast majority of DIY brides I have worked with have been extremely appreciative and laid back. They usually do their homework and are choosing local flowers for a reason (or many reasons), so by the time they find me they have pretty much made up their mind."
There are a couple of different ways farms approach these orders. A common option is offering grower's choice buckets with a set number of stems. Couples reserve the date of their wedding and decide how many buckets they need. The farmer fills them with whatever is most beautiful and abundant on the farm.
For example, Sara Davies at Wild Child Flower Company in Veneta, OR, offers a fixed-price package of two buckets, each containing 60-90 stems of focal flowers mixed with foliage and filler. Couples can then add additional buckets to meet their needs.
All flowers are grower's choice, although she lets them specify a color palette (e.g., pastels, autumn hues). She wraps the most delicate flowers with a paper wrap and includes a tip sheet for getting the most out of their flowers. The flowers are picked up before the wedding or delivered for an additional fee.
Other farms provide an availability list that couples can order from, usually with a minimum order. Love 'n Fresh Flowers in Philadelphia, PA, books DIY couples well in advance. The week before the wedding, the farm sends the couple an availability and price list. They order whatever they like from the list for pickup at the farm. The minimum order is $400.
For those who have the skills and inclination, combining à la carte wedding flowers with DIY bulk blooms can be a good pairing. Growers create a menu of florals they offer, such as bridal bouquets, boutonnieres, or flower crowns.
Frequently, couples will purchase bulk blooms for centerpieces and decorations but pay the grower/designer to make some of the trickier pieces. This can save the couple a lot of work, and it's a good way to add value to your wedding offerings without committing to full-service floral design.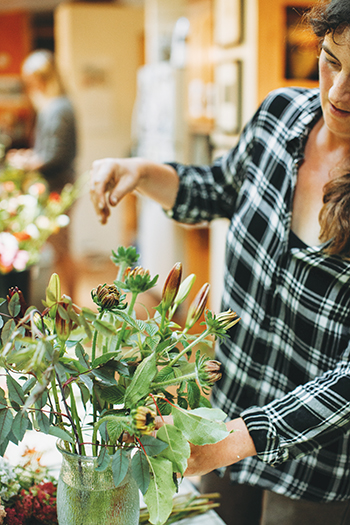 Communication and logistics
Most farms require pre-booking for DIY flowers, and many couples book months ahead, holding their reservation with a deposit. From the farmer's end, this helps with planning. It ensures that a given weekend isn't overbooked and that every couple gets a good selection. It also ensures that the farmer won't be left with a lot of unpaid for flowers due to last minute cancellations. Most wedding vendors require the balance of payment before the wedding, either when the order is picked up or a week or two ahead of time.
Before filling your first DIY order, consider how your flowers will be packaged. Will you wrap each flower bunch or leave them loose? What kind of bucket will you use, and how full will it look when packed with flowers? Put together a package and take a photo to show prospective clients.
Consider when and how the couples will actually get the flowers. Most will want them a day or two before the wedding, usually a Thursday or Friday. Many growers require that flowers be picked up at the farm. Delivery takes time and vehicle space, but can be a good moneymaker.
Some growers charge a percentage of the order for delivery, some charge per mile, others charge a flat fee. If you are delivering, make sure you know where the flowers are going once you get to a venue and who is responsible for receiving them.

Although the volume of communication for DIY flowers is less than for full service weddings, it's still important. Rodriguez says that he puts "a lot of thought and energy into providing a stellar customer service experience from the first email to the day of the wedding."
Clear, prompt communication from the get-go about what you do and don't provide is key to keeping everyone happy. Be clear with people about how much choice they have in their flowers: Do you let people order specific flowers? Can they pick a color palette? Can couples bring in other flowers, or do they have to use yours exclusively?
All the experienced wedding vendors I've learned from say that you have to be able to select your customers and say no to people who aren't a good fit. If you are offering DIY bulk blooms and someone is insisting on a particular color of peony in September, you might politely suggest a different florist in the area. Most growers have couples start by filling out a query form that can help them gauge if it is a good fit.
Once you've agreed to work with a couple, most growers recommend having a contract that clearly lays out what you are providing, when and how the flowers will be picked up or delivered, retainer and payment terms, and a cancellation policy. Curate, a floral business management software, offers a free wedding contract template. A web search turns up several other examples. These offer a helpful checklist to consider and communicate with potential customers about in setting up a DIY wedding flower business.
A lot of couples are attracted to DIY for budget reasons and because it sounds fun, but DIY can be more work than expected. Doing your own wedding flowers requires a cool space to store flowers and make arrangements, tools and vases, time to arrange shortly before the wedding, people to do it, transportation, and dealing with clean up at the end. A lot of growers include caveats and suggestions about all these steps. Some offer design workshops or even rent out studio space to DIY couples. Many supply a care sheet with the flowers.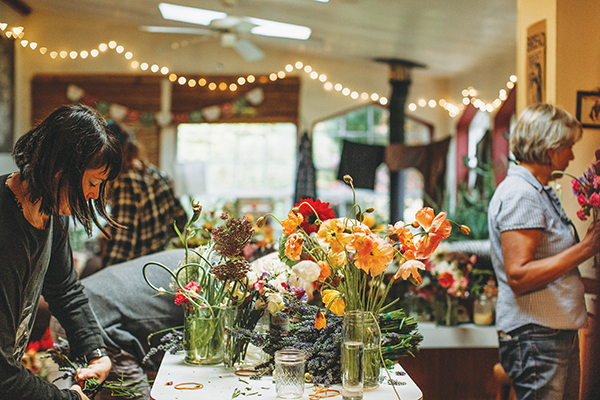 Grower's choice
Grower's choice buckets can be a great choice for both grower and couple. Like a CSA, they give you a secure outlet for your flowers and a lot of flexibility to use what you have at a given time. For the couple, they are an economical option and a fun activity to share with family and friends in the build up to a wedding.
How much selection you offer your clients is up to you. Rodriguez says that he sends out a general list of what he may have available ahead of time and asks couples to send him examples of bouquets and arrangements they like to get an idea of their style. "I use these images along with their desired color palette to inform my 'designer bucket' selection," he says. He saves his best blooms for his wedding customers, wanting them to have a really special experience.
If you offer bulk buckets, consider how many blooms and what types are needed for different kinds of arrangements. Make sure you have a sense of how flowers work together so you can provide a successful collection. Make sure the colors you provide work together, and think about providing a mix of sizes, shapes, and textures.
Rodriguez offers this advice on selecting the right flowers: "Since most brides are used to seeing run of the mill supermarket flowers, I know they are going to go wild for fresh, seasonal blooms. Because of this I like to focus on a great selection of foliage and filler to highlight our focal flowers. I am always sure to add unique and interesting bits of personality in vines, seed pods, and foraged offerings to make their DIY experience memorable."
Giving people an idea of what can be made from your bulk buckets will help them order the right amount of flowers. Davies says her basic two-bucket package fills eight to ten mason jar centerpieces, depending on floral design style and the season. I used 30 to 60 stems when making bridal bouquets last summer. Many couples have never worked with flowers before, and giving them numbers to start with will help them plan.
To really get a sense of how the flowers work together, make a DIY package for yourself. Use the flowers to make arrangements or bouquets to see what works and what doesn't. If you're not so inclined, recruit a friend or make it an after-work project for your crew. Make a list of how many stems you used in different floral pieces and use the experience to guide couples in ordering their flowers. Take pictures of everyone having fun working together.
Customer's choice
If you'd prefer to put more of the design process into the hands of the couple, offering an availability list is a good way to go. This will be easy if you are already making availability lists for florists or wholesalers. If you do sell to florists already, it is wise to mark up the flowers for direct wedding sales to not undercut your own customers.
Many growers who use this option provide photos of the different blooms on the list, as well as prices and stem count. Unlike florists, most couples will not be familiar with different types of flowers. Pictures and extra information will help guide them in making a successful selection.
Letting couples pick their own blooms appeals to a lot of potential clients. While some people may be just as happy to let you do the work of selecting flowers, others have stronger preferences about what colors and types of flowers are used in their wedding. It also takes the burden off you to put together a selection that works for unknown tastes. And, people may be more likely to spend more if they see a list of all the options available.
Some growers offer a hybrid option. Maybe the basic package is two buckets and people can order bunches of specific stems to add. Jalisca Thomason from Rustic Roots Floral Design in California offers an availability list, but charges a consultation fee if people want her to select the flowers for them based on a list of what they want to create.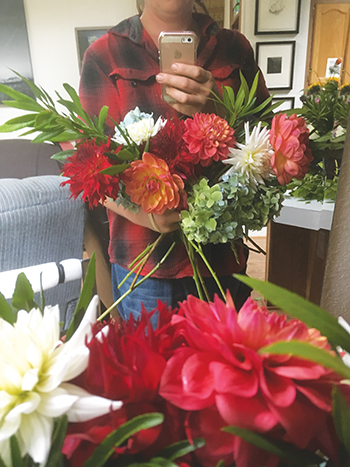 Marketing
So how to go about finding couples who are eager to arrange with your flowers? Since I am just starting out, this has been a big focus of mine this spring. Once you start to provide flowers for weddings, word of mouth becomes a powerful tool. People planning their own wedding see your flowers at a friend's and then contact you. But how to get started?
Supplying flowers for a friend's wedding is a good way to get your feet wet and what I did last year. It's a good chance to put together buckets in a low pressure situation, see how they work out, and build up your portfolio. Decide if and how you want to charge friends and stick to it.
To build up my portfolio, I recently updated my website to reflect the DIY flower options I'll be offering this year. I put a lot of time into search engine optimization (SEO) so that my page comes up first in several potential web searches. Unlike CSA or farmers market customers, wedding flowers are most likely a one-time purchase, so it is especially important for new customers to be able to find us on the web. Most flower farm websites feature white or neutral-colored backgrounds, some details of what they offer, lots of pictures, and a contact form.
There are several online directories that might be worth exploring. Floret Flowers has a searchable directory of flower farms and farmer florists with free listings. Slow Flowers lists their members online. The Association of Specialty Cut Flower Growers (ASCFG) also has a directory for their members.
There are national websites like The Knot or WeddingWire, as well as local and regional directories and printed regional wedding guides. Some offer free listings, though most charge. These may be worth the cost, especially to get your name out there.
Consider who your likely clients are and where they might be looking. Most DIY couples aren't going to be looking at the high-end, elegant listings. Set a budget and decide where the money is best spent.
I made a brochure to take to local wedding venues and other vendors, such as wedding planners and photographers, who might refer me. I'm planning to create a banner to hang at my farmers market booth to publicize our wedding offerings. In my marketing, I like to use the gender neutral "couple" rather than "bride" to be inclusive of all weddings and people.
Good photos are essential when marketing yourself. People are envisioning their weddings and poor quality photos won't spark their imaginations. I invested in a professional photo session last year and recruited a couple of friends to model wedding flowers. I also made sure to get photos from the weddings I helped with, resulting in a few different styles of images to work with.
DIY wedding flowers can be a great way to sell your flowers, see them appreciated, and bring magic into people's lives. Rodriguez left me with some words of wisdom: "Remember to share your enthusiasm for your flowers and build anticipation for the bride. They will be so excited when delivery day comes they will hardly be able to hold back the tears!"
Carolina Lees started Corvus Landing Farm in 2010 at the Oregon coast. She and her crew farm two acres of vegetables, providing for the small communities surrounding the farm through farmers markets and a 60-member CSA.