We're very excited to tell you about a new feature in GFM. As farmers you are out there jury-rigging, farm-hacking, adapting and making new tools. We want to ask you to post or send photos of your tool and equipment ideas that would be useful to fellow farmers.
We've got to give credit for the idea to Josh Volk, who you may know from his many articles about tools over the last decade in GFM, and his book Compact Farms.
Josh's idea was to ask GFM readers to share their favorite tools with all of us by posting photos, especially tool hacks and custom tools you've designed yourself. By sharing these with the hashtag #toolsforgrowingformarket on Instagram or Facebook, everyone on those platforms will be able to follow along.
Each issue, Josh will pick one submission to highlight, interview the farmer about it and write it up. To get things started, Josh wrote a review of an existing tool (see below for the article or here for the full magazine), the double disk opener for the Jang seeder. Next month he'll write about something else from his own farm while the submissions come in.
Prizes
To sweeten the pot, each person whose submission is chosen will get a gift certificate from a tool company and a Full Access subscription to GFM as a thank-you for taking the time to share your improvement with other growers.
How to enter
We created a hashtag #toolsforgrowingformarket that can be used on Instagram or Facebook. We'll consider anything posted with this hashtag as a submission, and get in touch for an interview about it if we're interested in running your tool in the magazine.
It's easy! All it takes is posting a photo of your innovative tool. If it's not completely obvious what it is, a short explanation of why you love the tool and how it has improved your life on the farm would be handy.
By email, send pictures of your inventions to [email protected] and put in the subject line "#toolsforgrowingformarket."
By paper mail, send a photo or diagram of your design to GFM PO Box 75, Skowhegan, ME 04976.
We can't wait to see what you've come up with!
#Toolsforgrowingformarket
Jang Seeder double disk opener
By Josh Volk
I had a pretty good year on the farm in 2018 and that meant a bit of extra cash at the end of last season. Even though we direct seed very few crops on our half acre at Cully Neighborhood Farm I bought a Jang JP1 and decided to try out the double disk opener which you can purchase as an add-on. We already had an Earthway and a Johnny's Six-Row seeder so we weren't exactly in desperate need but I thought it would be nice to test it out and then let other folks know what I thought so I spent some of the farm's money.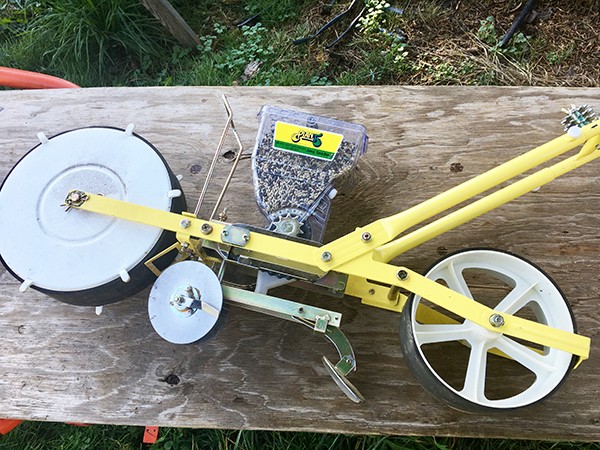 I had used both the JP1 and the AP1 on other farms and what I was looking for in buying the new seeder (not a cheap purchase) was a seeder that would deal with more trash in the beds and would give me more control over seeding density. I recently realized that the JP1 and AP1 are actually different seeders and I've used both – I used to think one was just an updated version of the other. They both have the same seeding mechanism, but the JP1 has a hopper that is easier to remove and a more adjustable handle. The AP1 is less expensive than the JP1 but has many interchangeable parts, including the seed rollers and the opener shoes.
Having used the JP1 for a few seasons about six or seven years ago I already knew how well the seeding density control worked and which rollers I wanted (the starter pack from Johnny's is actually almost identical to my selection, but I don't use the F24 and I do use the M12 and C12). We're primarily seeding turnips, radishes, mustards, carrots, beets, spinach, peas and a few beans in small quantities. The double disk opener worked for everything. The only field roughage that slowed it down were year old collard stems that I can't even cut through with a knife and that we should have removed from the field before seeding anyway.

Like the standard opener the disks don't love going super deep, but they go deep enough. For shallow planting it's super smooth, and even worked in pretty wet spring conditions for us. The opener has little disk cleaners (scrapers) on the sides of the disks that arrived bent out of shape and continue to need re-bending to work at all, but unless things are really wet they're not actually doing a whole lot in our sandy loam that also has more than its fair share of rocks and gravel.
I ended up seeding everything with the JP1 this year, except for some of the larger beans which went through the Earthway. I maybe stopped a couple of times the entire year to unclog the openers. They made seeding really fast and easy – unlike the Six-Row seeder which is super persnickety for me, and the Earthway which isn't too bad, but does need to have the opener cleared of buildup most days, at least every 25-50 row feet.
All in all, I'm happy with my purchase even though it probably made very little sense financially. Going back through my records I did about 45 unique seedings with it in 2019. My guess is that at most I saved less than 5 minutes per seeding (I didn't actually keep track), so at that rate I estimate it will take roughly 14 years to pay back the $700 it cost.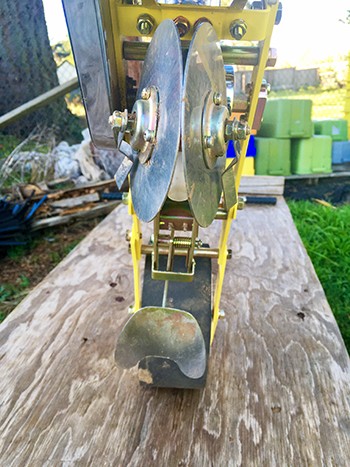 Possibly a poor investment, but there are two other factors. First is improved yield and quality from better crop spacing. I do see an improvement there, but not enough yet to put good numbers on. I suspect better yields and faster harvesting due to reduced thinning and hunting through plantings for sized up roots will help pay back the cost a little faster. The second factor was increasing my happiness while seeding – and that is priceless.
This article kicks off an ongoing series in Growing for Market, and the birth of a hashtag on Instagram and Facebook. My idea here is to get folks to share photos of the little tools they love on their own farms and to tell us how they use them and why. I'm starting off with a purchased tool that I use, but I'd also love to see tools that are farm made, modified, found or repurposed. I'll pick one tool per issue to highlight in the magazine and the person who submits the photo of the tool that gets used will get a gift certificate from a tool company a year of Full Access to Growing for Market as a thank you!

Josh Volk farms in Portland, Oregon, and does consulting and education under the name Slow Hand Farm. He is the author of the book Compact Farms: 15 Proven Plans for Market Farms on 5 Acres or Less, available from Growing for Market. He can be found at SlowHandFarm.com.