Post your favorite farm tool using #toolsforgrowingformarket. If author Josh Volk picks your tool, you win a $50 tool gift certificate and a Full Access sub to GFM.
This article originally appeared in the April 2020 issue of Growing for Market Magazine.

Rosie Sweetman, the Queen of Little Wings Farm near Eugene, Oregon, submitted this month's selection and her caption was so good I'm just going to copy it here (minus the excellent use of emoticons that you'll have to go to Instagram to see):
"Meet Googly Eyed Gilham: winner of the tool of the year award! Over many years of farming for others I always felt like communication on farms could be better. So many mistakes, misunderstandings, wasted time wandering around looking for someone or something could have been fixed with the simple walkie talkie, worth its weight in gold. This past year we bought one for each of our crew and extra backups."
"There were no questions that went unanswered, no searching for a tool that someone moved, no relying on cellphones that are impossible to answer with wet muddy paws and no feeling alone in the back-40 because you are always connected with your crew! Not only did this tool save us time, labor, frustration, and miscommunication...it is also fun! Trying out many types we landed on these from REI (not Amazon). $40 for a 2pack w/ 3 year warranty. They are small, light weight, waterproof, bright orange, & good battery w/charging stations. If you don't have em, get em! If you got em, holler!"

(Note: Midland categorizes these radios as water resistant, not waterproof. Rosie says they've sprayed them off when they've gotten super muddy and used them in the rain without problems.)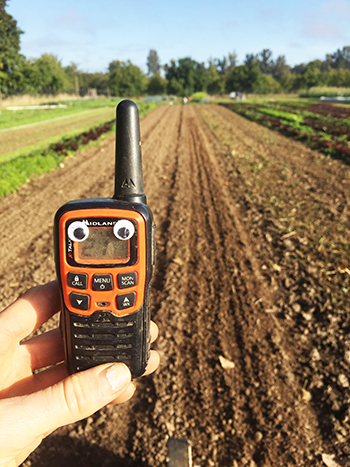 To get a little more context on why radios work so well for their farm I talked to Rosie and here's some of what she told me. Little Wings Farm is mostly flat, and maybe a mile from corner to corner with trees and buildings scattered throughout. Their radios, with a little spottiness, will reach each other from the far corners, but almost always they're using them at a shorter than maximum range. The farm crew is just four to five employees plus the two owners during peak season so often folks are sent off solo and one of her biggest points was that, especially for newer workers, it's huge for both her as a manager, and them as workers, when they can go do jobs away from the rest of the crew but still be able to check in with questions.
On top of that they basically all use the same channel all of the time which means that everyone gets to hear what everyone else's questions are, and what the answers are. That keeps everyone learning and informed, but also feeling like they're always connected with the rest of the crew even when they're not physically in the same part of the farm. Last minute changes to priorities are easy to transmit to everyone on the crew at any point during the day regardless of where they are.
Rosie says her ideal radio to farm worker ratio is a little more than 1 radio per worker. Everyone carries one, and it's nice to have a backup in case one goes missing or someone forgets to put one on the charger overnight. She and her partner keep one charger at home for their own radios. The rest of the chargers sit in the farm common area near the time sheets that everyone fills out when they first get to the farm and right before they leave at the end of the day.
Fun is an important component of Little Wings Farm and to increase the fun factor everyone has a radio "handle" on the farm and some of the radios have been named as well. Googly Eyes Gilham is the one with Googly Eyes, Silent Bob is the one with the quiet ringer.
Thanks to everyone who continues to share their favorite tools by using the hashtag #toolsforgrowingformarket and by sending in photos. There are always more good ones posted than I have space for here so I encourage you to remember to tag your photos when you post to social media, and to follow the hashtag to see what other folks are posting. Just as one example, in addition to my own germination chamber, there are three other designs that look great posted on Instagram with the hashtag. Keep 'em coming!
Josh Volk farms in Portland, Oregon, and does consulting and education under the name Slow Hand Farm. He is the author of the book Compact Farms: 15 Proven Plans for Market Farms on 5 Acres or Less, available from Growing for Market. He can be found at SlowHandFarm.com.