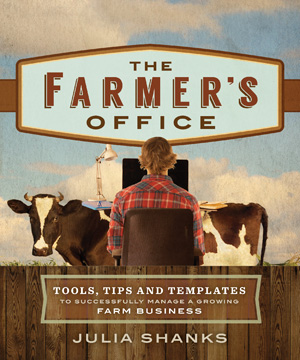 Reviewed by Andrew Mefferd

I don't know anyone who farms because they wanted to do accounting or bookkeeping. But to stay in business, we have to become competent businesspeople.

Whether you use Quickbooks, spreadsheets or pencil and paper, The Farmer's Office, a new book by Julia Shanks, can help you improve your recordkeeping, and comprehend financial reports and why they are important. Even if you use an accountant or bookkeeper, it's important to keep good records, and understand the numbers you are giving them and what you are getting back. Though there is plenty of writing on accounting, it can be very dense and little of it is tailored to agricultural businesses.

With a background as a chef and an MBA, the author has helped many growers with planning and record keeping through her business, Julia Shanks Food Consulting. Shanks tailors her writing to the needs of farmers, and backs it up with real world examples from her clients. This makes the book remarkably easy to read, especially for a subject that can be so impenetrable.

In addition to the basics, Shanks has sections to deal with specific situations that many of us will face at some point in the life of our farm businesses: planning a new venture, financing, growing a business, and stabilizing the business when you are in a cash flow crunch. She also includes a number of templates and sample charts customized for farms, which can be used as the basis for your own charts.

The foreword of the book is written by another great farm business writer, Richard Wiswall. His book, The Organic Farmer's Business Handbook, (available from growingformarket.com), set the standard for business texts for small farms. This book is still essential for managing your farm for profit. The value of Shanks' book is that she delves into the bookkeeping aspect of farming, to make sure you know what records to keep, and how to analyze them to get the information you need.

As Wiswall says in his foreword, "ultimately, the reason to track numbers is to better manage your business, to shine a light on the inner workings of your farm so you can make better decisions to work more efficiently and make more money…The Farmer's Office is the light that illuminates these concepts of business for farmers…Julia covers all the bases in a step by step manner that will help beginning and seasoned farmers alike. This book is for you, for every farmer."

I read the book myself this summer, and learned a lot. It's fascinating what your records have to tell you once you know how to understand them. There's so much in this book, I know I didn't pick it all up the first time. I'm going to read it again this winter. Curl up with The Farmer's Office in your office this winter.

The Farmers Office is available from growingformarket.com for $24.95 plus $5 shipping. Subscribers get a 20% discount automatically when they are signed in. Or phone 800-307-8949. Buy now in our store.