Arriving at Bumble Bee Farm in County Cork, in the southwest of Ireland, my daughter and I felt completely at home despite the dramatic scenery so different from our own Kansas farm. Perhaps it was the familiarity of the farmscape — high tunnels, chickens, raised beds of flowers, herbs, and vegetables. Or the shared passion made instantly obvious by the profusion of flowers spilling over the gates and climbing along the house. Or, most likely, the warm smiles and hugs from the farmers, Mags Riordan and Stephen Davies.
Below: Rocky hills surround the rolling farmland of County Cork near Bumble Bee Farm. At right, the farmhouse entry is fragrant with a flourishing pink clematis.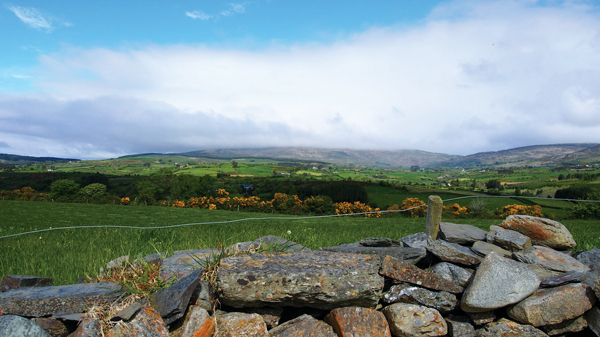 Laurel and I spent 10 days in May traveling the Wild Atlantic Way, a 1,500-mile route along the west coast of Ireland, where the green hills plunge down to a roiling ocean. It was vacation, but I couldn't resist scheduling one farm visit during our trip. And so we found ourselves driving the twisting, narrow roads of West Cork in search of a small flower farm I had found on the internet.

As it turned out, Mags and Stephen were familiar with me and Growing for Market, having purchased my book, The Flower Farmer, when they decided to start their flower farm five years ago.

Mags had owned a flower shop called Ruby Harte Floral Design, and she purchased all her flowers on the wholesale market. She started suffering rashes on her hands from the pesticide-treated product and decided to give up the business. Around the same time, Stephen suffered an injury that made it difficult to continue his work as an electrician.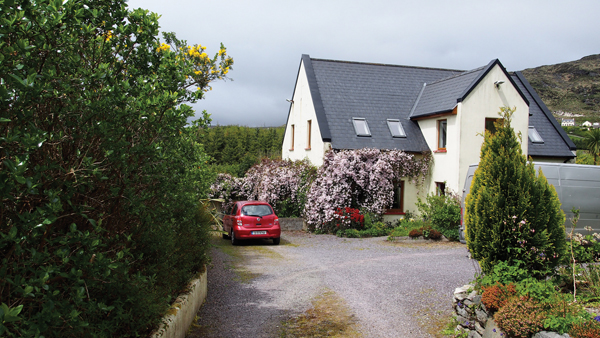 Below: Mags and Steve are passionate about preserving natural ecosystems. Their farm is a mixture of production beds and richly diverse "garden rooms" full of flowers for cutting or simply for pollinators.
Below, Lynn, Mags and Steve look over one of the four high tunnels on the farm. Rather than planting large swaths of each variety, they grow smaller numbers of many flowers in each high tunnel, to provide more diversity for pollinators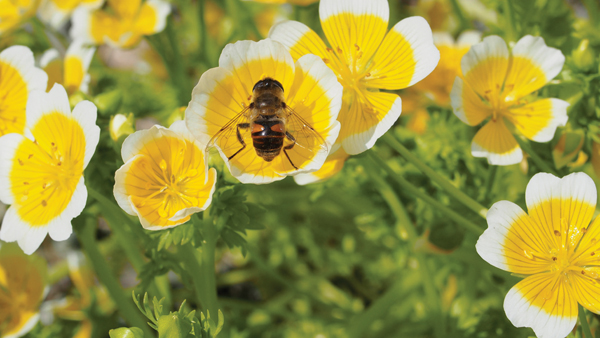 Mags said, "We were at a crossroadsandSteve said 'Why don't we grow flowers?'"
"Not one of my best ideas," Stephen cuts in drolly.
The flower business has been a tough go in their extremely rural community, they explained. The local flowers movement that is sweeping the United States has not yet reached Ireland. Florists are not interested in local flowers, and farmers market prices are too low to be profitable. So Mags and Steve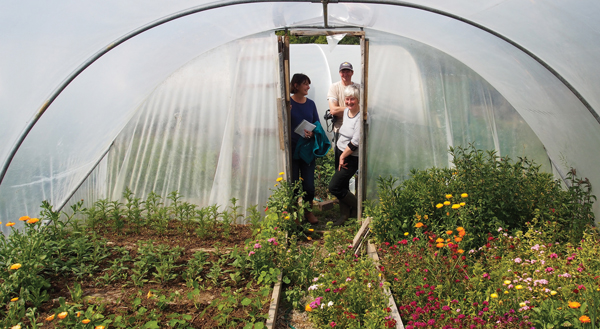 have slowly built their business around weddings, events, and selling hand-tied bouquets at several select shops. "Most of our wedding customers come from the States, London, Dublin, and a few from Cork," Mags said.

They have been selling plants "to put food on the table," Mags says, but they are giving that up after this year. Their newest project is edible flowers, which they have not seen for sale anywhere in their travels around Ireland. They hope to be able to ship the lightweight product to chefs in the cities.
And they continue to develop new "garden rooms," as they call the plantings that wind through the farm, each one a tapestry of dozens of types of flowers that bloom together. From almost any square meter of the farm, Mags can pick a mixed bouquet. The cool climate produces flowers of intense color and freshness.
Below: Rose 'Lucky' produces clusters of 4-6 blossoms. Each flower lasts about four days, but they keep opening in a bouquet. "They have a divine smell," Mags exclaims.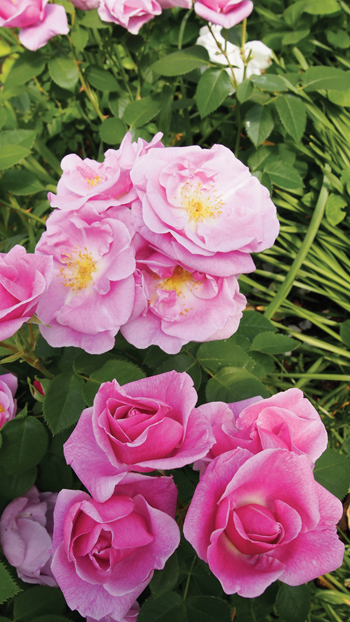 After just a few hours at Bumble Bee Farm, I felt certain that Mags and Steve, with their skill, energy, and exuberant love of everything floral, will succeed in raising the profile of local flowers in Ireland.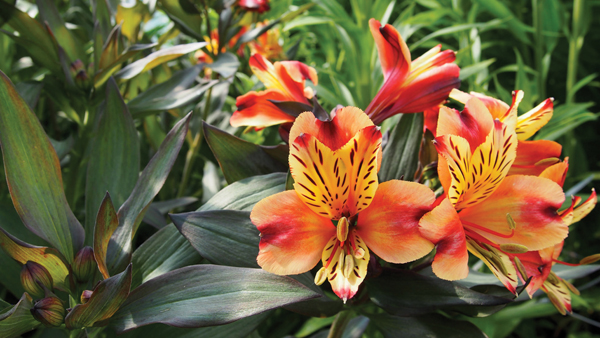 Above, alstroemeria 'Indian Summer' is perennial in Ireland's mild winter climate.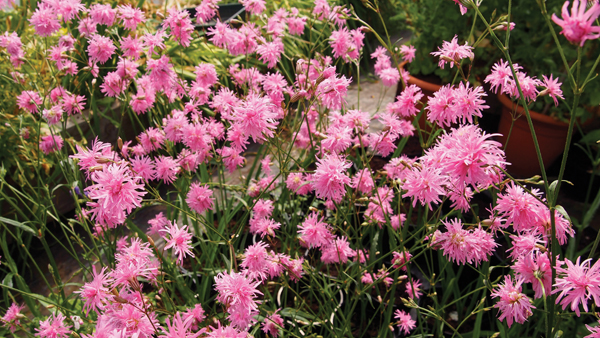 Above: Lychnis flos-cuculi 'Jenny' is not well-known in the U.S. but Mags says it is a fantastic addition to a spring bouquet.
You can follow Mags and Steve at www.rubyharte.com and on Facebook.At left, alstroemeria 'Indian Summer' is perennial in Ireland's mild winter climate.