Last year when we did multiple sets of trials, it was fun to see all the new varieties, but also hard to keep track of all of it. Taking photos through the season helps me to remember along with a Crop Planning note in our Evernote (an app for note-taking and organizing) that I share with our employee Emily who helps me with planning. We also started a shared album on our phones for easier submitting of photos and data collection.
Let's just work through the season in order. In spring, we had exciting new additions. We used to grow freesia and brought it back last year, which was a nice plant to add back for spring holiday sales. We dedicated even more bed space to them. It's really one of my favorite smells on the farm.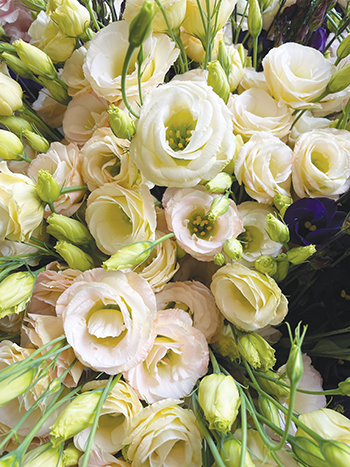 Lisianthus, 'Rosita 3 Champagne'
Among other plants that were fun was buying in a lot of hellebore Ice N' Roses series already in bloom from a wholesale nursery. We cut off of them right away, and then planted the plants for future blooms. If you haven't seen them, maybe that's because Martha Stewart talked about that variety and they are going to be hard to find. They are a nice upright facing flower head rather than other varieties we have that hang their heads down.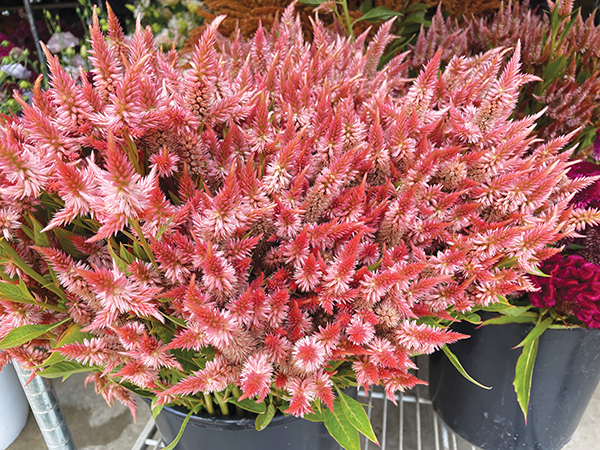 Celosia, 'Celway Terracotta'
A couple of ranunculus varieties we tried that we really liked were 'Success Fragolino' (from Biancheri Creations through Onings Holland), and 'Romance Hydra' (from Green Works through Ben or Ko at Zabo Plant). Both are the more expensive varieties as far as corms go, but the colors can't be beat. A lot of the specialty ranunculus sold out last year and is selling out fast for this year. So be sure to get your orders in ASAP for these spring flowers.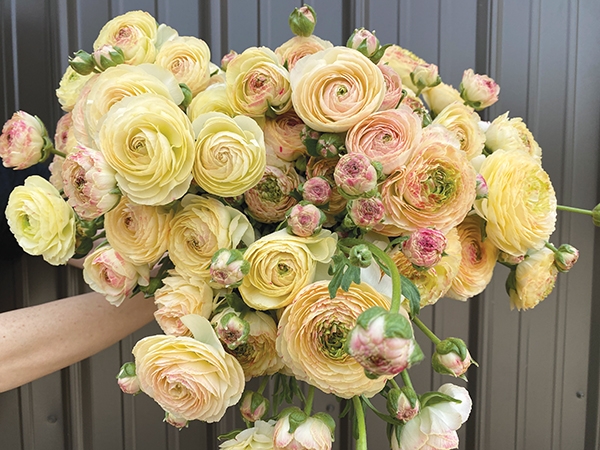 Ranunculus, 'Romance Hydra'
Last year we did an Association of Specialty Cut Flower Growers [ASCFG] trial of different celosias, and there were some real beauties in there. Instead of talking about all the varieties, since there will be a review in the ASCFG Cut Flower Quarterly, I will review the ones we liked best.
The Sunday series 'Bright Pink' Improved was one of our new favorites, a much brighter color than the Sunday series 'Dark Pink' we have grown in the past. Sunday 'Purple' was a nice purple flower head with a green stem with more substantial of a bloom head than the feather types.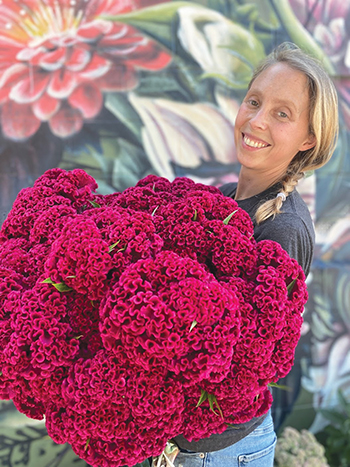 Author with an armload of celosia 'Red Toreador'.
Other trial favorites were 'Reprise Velvet' and 'Act Diva' that were nice new red colors that dried into very dark rusty tones. This was a nice addition because we grow a lot of 'Chief Persimmon,' but it doesn't dry well for us or produce seeds. So, we like the celosias that are more multi-purpose.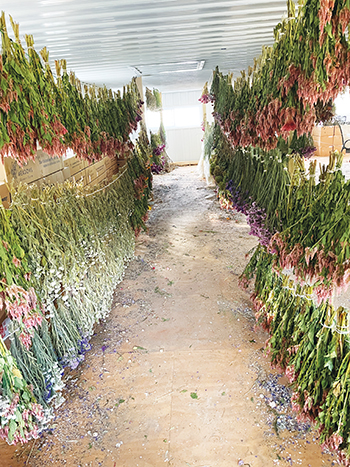 Celosia 'Celway Terracotta' drying. All images courtesy of the author.
All the yellow spike celosia varieties always seem to bloom earlier than other colors, so they get too dirty looking by the time we are in that patch harvesting. Although yellow was finally the color of the year, we won't be adding any of those to the repertoire.

Not a part of the celosia trials, but new to us that we fell in love with were 'Bombay Pink' and 'Celway Terracotta.' They were perfect for those peachy-blushy tone weddings, and the 'Celway Terracotta' dries nicely, too, which has become an added bonus during wreath time. Another big hit with our florists and for dried was Ball's celosia 'Red Toreador,' which we got because in the past we liked 'Tornado Red' from Harris Seeds, but it was unavailable last year. See me in the photo with a large armload of these guys, which are great fresh or dried.
We typically grow some sunflowers for seed companies for the Cultivate show in Columbus each summer (the biggest horticultural show in the U.S. they claim). It's fun to have vendors come through the farm, only six miles from downtown, so they can see their seeds or plugs in action. See the photo for a layout of the Sakata varieties. We really enjoyed the Vincent's 'Fresh DMR' and Vincent's 'Choice Summer DMR' (DMR is Downy Mildew Resistant).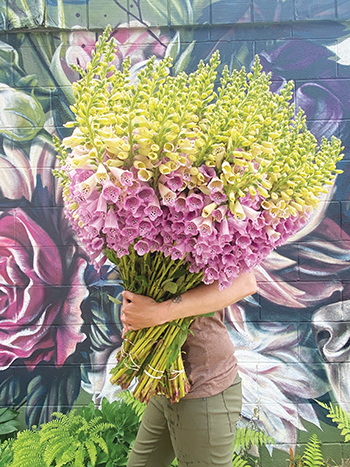 Digitalis 'Camelot' showing why it was one of the favorites in 2021.
If you haven't experienced downy mildew in your sunflowers, consider yourself lucky and know that it will probably happen if you have a cool or wet period within your sunflower production. Breeders are working on varieties that are downy mildew resistant to help growers with this issue, but some of the colors are a bit different from the parent varieties.
Popular with our bouquet makers were the sunflowers from Takii Seed called 'Ziggy' (a nice bicolor one) and 'Double Sun King' (a nice teddy bear one that didn't get too huge and had a nice stem strength). We were looking to simplify our sunflower selection to make it easier when we are direct seeding, but with these new options, we will be planning on some of these for the 2022 season to keep it interesting.
Cultivate, the horticultural show, also is how we get lucky enough to trial lisianthus for both Takii and Sakata, companies working really hard at breeding lots more lisianthus colors and series. 'Rosita 3 Champagne,' one of our favorites from the trial, is an actual champagne color like a beautiful ivory, not pink and yellow like some champagnes in the lisianthus world. Sakata says this seed will become available to the general public this year.
Other nice lisianthus that we added last year from Grow'n Sell are 'Little Summer Orange' and 'Espirit Light Pink,' both early bloomers that were great in our earliest heated beds for production. The Madonna series looked like the Voyage series, so the Celeb series we grew was too similar to Voyage 'Pink' to add it.
But really all pink, peach, and blush ones are our best sellers — Voyage 'Champagne' and Mariachi series 'Light Pink' were good to add with the Corelli series 'Light Pink' and 'Arena Apricot.' The plug producers are branching out with their offerings, so it's nice to have more varieties available as plugs since we are still working out our methods of growing our own lisianthus plugs. Check out Petals Farm RI and Farmer Bailey for growers that are offering more options. I also hear Raker-Roberta's is planning to expand availability.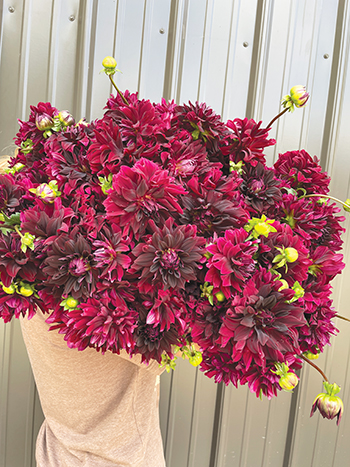 Dahlia 'Black Magic'
Some other summer and fall items that were nice additions were dahlias: 'Black Magic,' 'Labyrinth,' 'Robann Regal,' 'Jowey Veronique,' and 'Lilac Time,' which were available from Dutch suppliers. And from specialty growers like us at Sunny Meadows, Summer Dreams, Five Forks, and Arrowhead (among many others), we have added over the past couple of years: 'Valley Tawny,' 'Creamy,' 'Buttercream,' 'Bracken Sarah,' 'Bracken Palomino,' and 'Miss Amara.'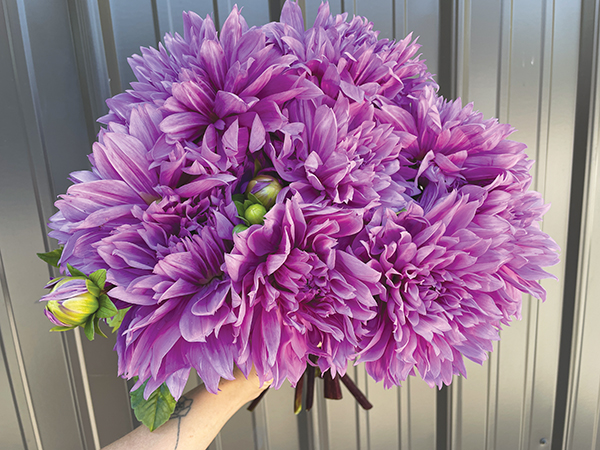 Dahlia 'Lilac Time'
There are other varieties that are great ones if you are selling to designers: 'Peaches N' Cream' (not to be confused with 'Peaches & Cream'), 'Rock Run Ashley,' 'Rose Toscano,' 'Jowey Winnie,' and 'Crichton Honey.'
Last year our focus was to add more purples and pinks because we had a ton of varieties that were shades of oranges and red-burgundy. Each year our dahlia list is growing and changing as our goal as tuber producers at Sunny Meadows Flower Farm is to provide the tubers that are best for cut flowers and most highly sought after by our designers.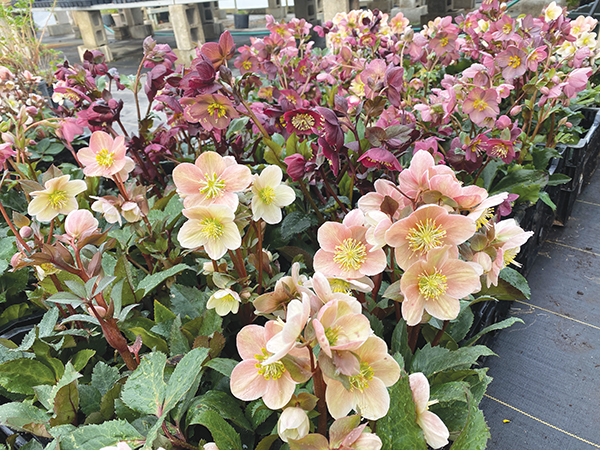 Hellebore, 'Ice N' Roses'
Fall flowers were different last year because we did not get frost here until November 3 (the latest it has ever been for us as farmers). This meant even our Hail Mary successions we do at the end of the season just in case were already done blooming before the frost hit. Even our dahlias had produced all they could and completely given up before frost came. So, we were grateful that we pushed some trial flowers into our heated and unheated space to expand Thanksgiving flowers.
We really expanded our marigold production last year as we were trying to hit Día de Los Muertos at the beginning of November for our Mexican community. We typically can't have them from outside for that holiday because of frost, so we had a lot of marigolds planted in our covered space. Coco, Babuda, and Jedi are our favorite series, but last year 'White Swan' was a great addition to have a nice cream marigold.
Other late flowers that worked post-frost: celosia, gomphrena and fall snaps. So, if you have space and you are thinking about it, you might as well try. In the fall, we finally hit fall stock for Thanksgiving, made possible by the Iron series of stock from Johnny's Selected Seeds. Also, the 'Vintage Brown' was another good one from Johnny's, a nice color for holiday arrangements.
Plants that were a bust for us last year: asters, callas, oriental lilies. The flowers produced well but our market wasn't really buying them. So, please know that what I say bloomed great for us all depends on what your market wants. Every year what we are growing changes, that's what keeps it interesting. It's always fun to find a new variety that your customers love.
Gretel & Steve Adams own Sunny Meadows Flower Farm in Columbus, Ohio. Follow on Instagram for more color and variety details: @sunnymeadowsflowerfarm, @flowerfarmette, and @flowerfarmer.