As couples discover that a wedding with all the traditional frills can run into the tens of thousands of dollars, many are looking for DIY wedding ideas. Brides, grooms, and their families are taking on tasks that previously were hired out, everything from designing the wedding invitations to baking the wedding cake. For experienced gardeners, the DIY wedding can include growing your own wedding flowers.
I'm in the midst of that process myself right now, for my son and his fiancee, who are getting married in four months. I've been a commercial flower grower for more than 20 years, so I know just what to do to ensure I have a good selection of gorgeous blooms on the big day. In this article, I'll break it down for people who don't have a lot of experience with growing flowers for events. Let me repeat, though, this should only be attempted by the accomplished gardener; wedding flowers are not for the inexperienced.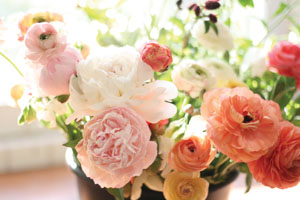 Pick your wedding flowers
Color and seasonality are the two most important considerations in choosing what to grow. The easiest choice of colors is whatever is blooming; you might call it the "wildflower" look — though you'll actually be using carefully cultivated garden flowers. It's an immensely popular look right now, and it certainly takes the pressure off the flower grower when the bride is going to be happy with any and every color of flower.
But it's not that much more difficult to grow a specific color theme such as peach and coral or blue and yellow. Many good cut flower varieties are available as individual colors, so you can tailor your planting to your bride's preferences.
Seasonality is little more tricky. As an experienced gardener, you will have a general idea of when certain flowers bloom in your garden — which bloom in spring, summer, or fall. Choose varieties from those broad seasonal categories and don't try to force them out of season; for example, don't count on zinnias for an early June wedding because they may not bloom till mid-June. Peonies are an exception to the rule because they can be held in cold storage for up to two months after they bloom. You can read more about holding peonies here.
Schedule your seed starting
Here I'm going to send you to Johnny's Selected Seeds for two crucial ingredients. First, Johnny's is one of very few seed companies that publishes the average days to bloom for flower varieties. These are ballpark numbers at best because bloom times can be affected dramatically by weather. Still, they give you some guidance.
Second, Johnny's has on its website a "Target Harvest Date Calculator" that I created several years ago when they hired me to produce useful resources for growers. I love this calculator for weddings because you can type in the date of your event, the flowers you want to grow, including the catalog's estimated days to bloom, and a few other factors and -- voila! -- you have your seedstarting date.
Start seeds and plant out
As an experienced gardener, you don't need the details here. But I will caution you to do it right. Don't take chances with sloppiness or shortcuts. Buy fresh seed and new potting mix, clean your seedstarting flats, use a heat mat and grow lights. Transplant promptly and fertilize appropriately. Harden off before you plant outside. Be prepared with row cover and hoops if there's any chance of a late frost. Observe all the best practices — then stand back and watch your flowers grow!
Have a backup plan
Things can go terribly awry in the garden, as you undoubtedly know. So be prepared to buy flowers in case you don't have enough of your own. Find a local flower farmer at your farmers market or on www.slowflowers.com or localharvest.org. As a last resort, ask a florist or supermarket floral two weeks ahead of the wedding to special order for you. (Ask for American-grown flowers — and be part of the movement to bring back our domestic cut flower industry!)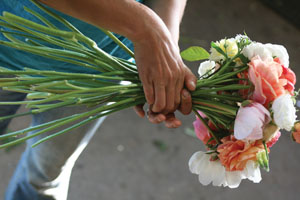 Lynn Byczynski is the editor and publisher of Growing for Market, a magazine for market gardeners, and the author of The Flower Farmer: An Organic Grower's Guide to Raising and Selling Cut Flowers and Market Farming Success.

Photos by Erin and Chris Benzakein, Floret Flowers, Mount Vernon, Washington.