There are many reasons why plants might benefit from physical protection in the summer: cold weather, hot weather, insect pests, small mammals and wind damage. Mechanical and Physical Controls are one part of Biointensive Integrated Pest Management. We have tried various shade cloths, row covers and insect meshes, and methods of fastening them, some more successfully than others.

It's natural to think of growing cool-weather vegetables under shade cloth once the season heats up, but some warm weather crops do better with shade, too. From 2009-2011, University of Georgia researcher Juan Carlos Diaz-Perez compared five levels of shade, from zero to 80% on peppers. He found that 30% shade doubled the marketable yield. In the open in Georgia, as much as half the crop can be culled due to sunburn and other fruit disorders. The shade cloth improved the cull rate, and also extended the season by a month, through the end of July. Proteknet insect mesh has become a valuable summer alternative to row cover for keeping pests off field crops. It is durable, easy to use and effective. Andrew Mefferd wrote about using 80gm ProtekNet to keep cucumber beetles out of his hoophouses in GFM May 2014. He used wigglewire track to fasten the mesh to the hipboards behind the sidewalls. He also covered the vents and the end walls when the doors were open, and experienced problems with overheating due to reduced airflow. Alabama Co-op Extension System (ACES) has been leading the way to the use of "Net houses" (high tunnel frames covered entirely in insect net rather than poly.) In some areas these measures are needed to protect crops from new invasive insects and the diseases they bring. Similar houses are also useful for seed crops to prevent cross-pollination.

Woven (not knitted) 30-50% shade cloth for insect exclusion is the newest idea to come from ACES. More on this later. Shade cloth covered hoophouses are also used in Hawaii to mitigate high temperatures.

Row cover
White polypropylene or polyester row cover is well known for extending the season, by providing protection against cold weather. Row cover is also available in lightweight forms for insect protection in summer. If you have a serious insect problem and don't mind single-use plastics, lightweight row cover might suit you fine. We have found it very fragile and easily torn (especially by inexperienced workers), and so we switched to thicker row cover, even in summer. It does not heat up as much as people fear it will. Since then, we switched to ProtekNet (see Insect mesh section below).

We think polypropylene row cover lasts longer and is tougher than polyester (Reemay). Our favorite is Dupont's very sturdy Typar Xavan T5131, which lasts us many years (6 or more). It weighs in at 1.25 oz/sq yd and is made of spun-bonded polypropylene. It transmits 75% of the light. It's sold by Johnnys Seeds and many local suppliers. We have also liked Agribon 19 spun- bonded polypropylene, which weighs 0.55 oz/sq yd, transmits 85% of sunlight, and offers 4° of frost protection for winter use. Usually available in 83" width, Agribon is available from Johnny's, Peaceful Valley and many other suppliers. I've never tried the (pricey but reputed to be very durable) PVA Dio-Betalon (replacement for Tufbell) sold by Peaceful Valley. This is more of a mesh, so is unsuitable for excluding small insects.

Before we discovered ProtekNet, we used row cover against cucumber beetles when we transplanted early summer squash, cucumbers and melons, and on most direct sown cucurbits throughout the season. We kept the covers on until the crop flowered, then packed it away, so that the flowers would be pollinated. Bigger plants are better able to resist pests. We don't cover winter squash, as it would be so much work, and many varieties are resistant to cucumber beetles. (We don't suffer badly from Squash Vine Borers or Squash Bugs.) It does mean we forgo Hubbard Squash, the favorite of the beetles. Hubbard squash is suggested as a trap crop for cucumber beetles, in a row beside a plot of summer squash. Here the Hubbard seedlings barely make it out of the ground before they are devastated by the beetles, and there is then nothing left to trap anything!
Below: Shade cloth prolongs the lettuce season at Twin Oaks. Photo by Nina Gentle.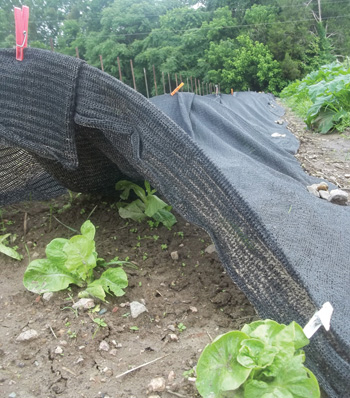 Shade cloth
Shade cloth is available in many widths and different densities of shade. It is available woven or knitted, polypropylene or polyethylene. It's usually black, sometimes silver, green or other colors. Polypropylene is longer lasting than polyethylene, but is only available woven, not knitted. We used to buy woven polypropylene 50% shade cloth for the outdoor beds, and hemmed the ends on a domestic sewing machine using industrial nylon thread. But knitted shade cloth is about 25% lighter in weight and much more flexible or drapeable than woven and will not ravel when cut. Polyethylene is the usual material for knitted shade cloth.

For summer lettuce, we use 45-60% shade cloth with spring hoops about 8' apart, and a clothespin to hold it at each hoop, without any weight to hold it down. Because shade cloth lets air through better than row cover, it's less likely to blow away. We keep the shade cloth on our lettuce for two or three weeks after transplanting, then pull up the hoops with the shade cloth still attached, and two or three people move it (like a Chinese dragon procession) on to the next planting.

The grade of the shade cloth is the percentage of light that it excludes. As well as rolls of 45-60% shade, we have a short roll of very dense (80 or 90%) shade cloth which we use to cover harvested produce as we gather a load to move to the walk-in cooler. We have a single large piece of black knitted, 50% shade, UV stabilized polyethylene to go over our hoophouse from mid-May to early-September.

Shade cloth is almost always suspended above the crops, not "floated" on top of the plants. We hold the shade cloth above the plants on hoops, to improve airflow and let the plants grow unimpeded. See the hoops section below. Some people clip the shade cloth horizontally above the crop and leave the sides open for the best airflow. Another possibility is to make a vertical shade cloth fence to the south of the row of plants.

For small areas, such as a lettuce nursery seedbed, we use scraps of window screen, old tent mesh windows, etc. Once when desperate, we covered a row of lettuce transplants with a collection of onion and cabbage nets for a few days. They were certainly better than nothing!

A YouTube video shows a shade cloth support system for peppers which consists of tall posts holding taut ropes with the shade cloth held horizontally above head height by clips on the ropes. This uses reflective shade cloth, which maximizes heat retained at night and heat reflected away in the daytime.
Below: A hoophouse is covered with shade cloth for the summer. Photo by Kathryn Simmons.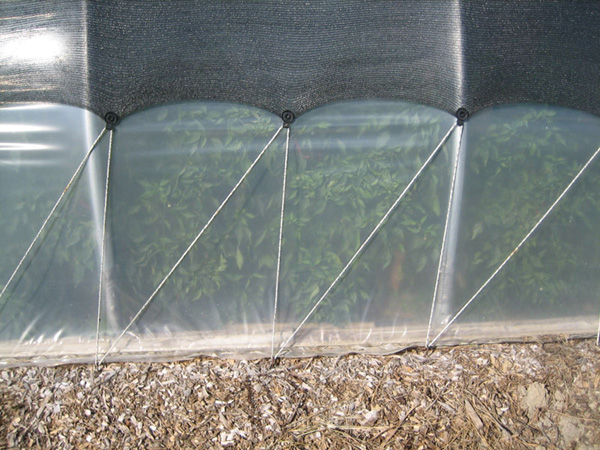 I have yet to try reflective shade cloth. Aluminet comes in 30, 40, 50, 60 and 70% shade. It is made from metallized polyethylene, and looks silvery. Unlike black shade cloth, it does not absorb heat. Svensson Solaro FLS Reflective Shade is made from co-extruded black/white polypropylene (polyolefin), which is installed black side down, white side up.

Farmtek Growers' Supply has a Shade Materials Buyer's Guide on their website. The general field guidelines are to use:
30% shade cloth in areas with very hot summers for vegetables such as tomatoes and peppers, for snapdragons, chrysanthemums and geraniums, or in cool areas for lettuce, spinach and brassicas;
40% shade for many vegetables, lilies, caladiums and bedding plants;
47% shade in hot areas for cool weather crops such as lettuce, spinach and brassica crops;
50% shade for vegetables, azaleas, begonias, camellias, gloxinias, African violets, poinsettias, orchids;
60% for ferns, anthurium, dracaena, philodendron, pachysandra, ivies and for livestock;
63% for all shade-loving plants, livestock, and for windbreaks;
70% for ferns, palms, evergreens, anthurium, dracaena, philodendron and for livestock.
80% for patios and skylights to cool people as well as plants such as ferns, palms and evergreens;
90% for patios, greenhouses, and anywhere you need almost complete light exclusion.

The ACES research into using shade cloth to keep insects out of hoophouses found that large moths, with a wingspan greater than 1.2", such as cabbage loopers, can be excluded with a 30% woven shade cloth. Leaf-footed bugs need 40% shade cloth. Cucumber beetles and squash bugs are excluded with 50% shade, but 30-40% shade has not yet been tested with them. Some less adventurous moths such as loopers simply remain outside, without testing the spaces.


Some beneficial insects can be kept inside the hoophouses with shade cloth. Convergent ladybugs are not stopped by 30-40% shade, although 40% shade does slow down their adventures. Green lacewings can be kept at home with 40% shade cloth. The woven shade cloth must be stretched out tight to extend the holes, and can be stapled through old drip tape onto boards or battens. It is important to seal the corners carefully. There are training videos on YouTube and ACES.
Below: Insect mesh is held above crops on hoops to prevent insects from laying eggs through the mesh. Photos by Bridget Aleshire.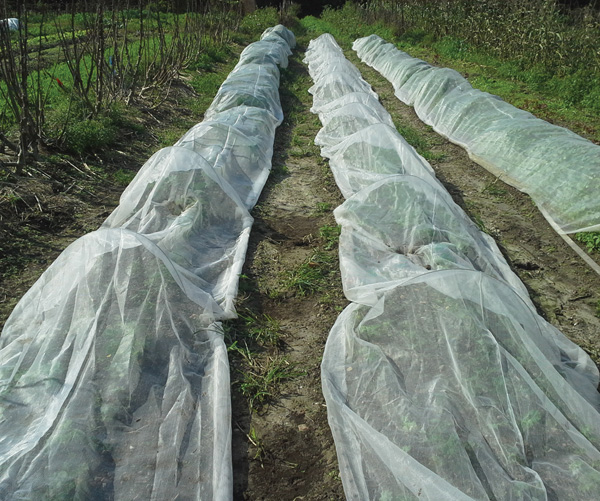 Insect mesh
In 2008 we trialed Enviromesh Insect Netting which is a white, woven polyethylene small mesh. It was stiff and hard to use over hoops, more suited to making screen doors or windows. Farmtek has an insect screen fabric for doors, vents and hoophouses to exclude aphids, whitefly, leaf miners and 80% of Western Flower Thrips.

I was happy when ProtekNet came on the scene. We use ProtekNet for nursery seedbeds, cucurbit sowings, and also in late July/early August on our broccoli and cabbage transplants to protect against Harlequin bugs, and to help the plants recover from the transplant shock. ProtekNet shields plants from the full force of the sun and wind, helping them recover from being transplanted. It doesn't reduce the sunlight or wind as much as row cover does, but its advantage of better airflow trumps those disadvantages, and the higher level of light transmission soon becomes an advantage also.

We keep it on the brassicas for about 3 weeks, then pack away the cover and cultivate, undersowing with clover. We also use it on eggplant to protect against flea beetles, until the plants are larger. We keep the seedlings covered in the cold frame, and then do our best to get the transplants covered promptly after setting them out. Sometimes we have someone hose the plants with a jet of water to dislodge any flea beetles already there, and have the mesh-spreading people follow immediately behind.

ProtekNet, made by Dubois Agrinovation in Canada, is translucent white polyamide (nylon) for the lighter weight versions and polyethylene for the heavier ones. It is very easy to use over crops, it lets in light, air and water. You can see through it, so no bad surprises, like the time I was using row cover over fall brassica seedlings and watered religiously only to find I was caring for galinsoga, not brassicas! It comes with 5 different mesh shapes and sizes, so be sure to consult the information about which size you need. Or measure your bugs, if they aren't listed! Don't assume the lightest has the smallest holes, or the biggest holes! For flea beetles you need the 25 gram type.
The sizes are:
17 gm/sq m, mesh 0.85 x 0.85 mm, against armyworm, brown marmorated stink bug, cabbage root fly, chrysomelid, corn borer, leafhopper, onion maggot, sawfly, seedcorn maggot, spotted wing drosophila, squash bug, tarnished plant bug.
25 gm/sq m, mesh 0.35 x 0.35 mm, against aphids, armyworm, brown marmorated stink bug, cabbage root fly, carrot rust fly, chrysomelid, corn borer, eriophyid mite (not 100%), flea beatles, leafhopper, leek moth nymph, onion maggot, sawfly, seedcorn maggot, spotted wing drosophila, squash bug, swede midge (not 100%), tarnished plant bug, thrips (not 100%, two-spotted spider mite (not 100%), white fly (not 100%)
60 gm/sq m, mesh 1.9 x 0.95 mm, against armyworm, brown marmorated stink bug, cabbage root fly, chrysomelid, corn borer, onion maggot, sawfly, seedcorn maggot, spotted wing drosophila (not 100%), squash bug, tarnished plant bug
70 gm/sq m, mesh 0.85 x 1.4 mm, against armyworm, brown marmorated stink bug, cabbage root fly, chrysomelid, corn borer, onion maggot, sawfly, seedcorn maggot, spotted wing drosophila (not 100%), squash bug, tarnished plant bug
80 gm/sq m, mesh 1.0 x 0.6 mm, against armyworm, brown marmorated stink bug, cabbage root fly, chrysomelid, corn borer, leafhopper, leek moth, onion maggot, sawfly, seedcorn maggot, spotted wing drosophila, squash bug, tarnished plant bug.
Dubois offers free shipping on online orders over $200. ProtekNet is also available from Purple Mountain Organics in Maryland, and Johnny's Seeds in Maine.

Note that it is important to use hoops to keep the mesh from touching the plants, otherwise bugs can lay eggs through the mesh. Dubois recommends PVC hoops to avoid damage to the mesh. We use steel wire hoops.

Ayanava Majumdar has led the ACES work in Alabama with net houses, building on worldwide research and trials. 50-mesh insect netting keeps out hornworms, fruitworms, armyworms, leaf-footed bugs, stink bugs and even whiteflies. Mosquito net (25-mesh) keeps out diamondback moth, cutworms and loopers. Top Greenhouses Limited of Israel is a major marketer of net houses in the US, see www.top.pro, search for Top Nethouses. Use of fine mesh for a complete hoophouse is expensive, and so Majumdar and colleagues moved on to test shade cloth as an insect exclusion material. As well as a better price, shade cloth cools the plants (fine mesh tends to obstruct airflow and can cause overheating).
Below: a closeup of insect mesh over kale. Photo by Bridget Aleshire.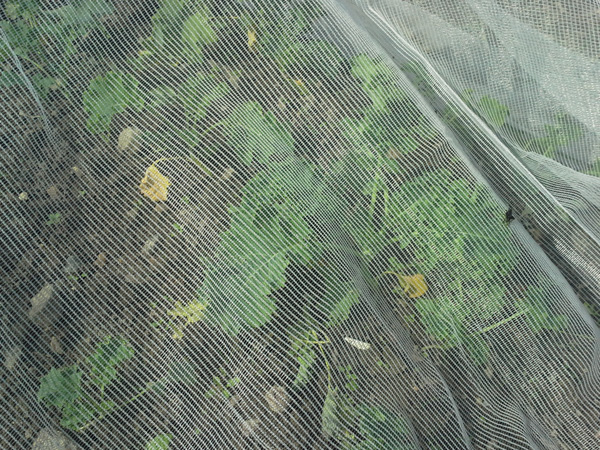 Hoops
In winter we use double hoops to keep row cover above the foliage and reduce frost damage and abrasion. In warmer weather we use the simple spring steel hoops sold for setting out by machine. They are easy to use and easy to store as they spring back, more or less, to straight lengths and don't get tangled. Their disadvantage is that they seem to come in just one length – 64" – which is fine for a single row of plants, but less good for our 48" beds with multiple rows. We buy ours from Nolt's. It's possible that spring hoops could be cut from high-tensile fence wire, but I haven't tried that yet. If making your own hoops, use 10 gauge wire or thicker.

Johnny's sells Loop Hoops, squarish hoops with special loops at the top to hold twine to support row cover. You could make your own, using a jig to make the eyes at the top corners of the hoops. One nice feature of these is that the twine is simply pulled into the loops, not tied. People who use plastic pipe hoops can cut short lengths of the same piping and split it lengthwise to make clips to push over the fabric on the hoops.

Instead of hoops across the rows, for our long rows of fall broccoli and cabbage we use ropes. The covers are only in place for a short time, until the transplants get established, and stakes and ropes are quicker to set out than hoops. We hammer stakes into the ground about every 50-80' in each row, then tie ropes tightly from stake to stake using clove hitches. Any further and the rope sags too much. We put the ropes in place before transplanting and use them to keep us planting in straight lines. Our rows are 36" apart and 83" width fabrics cover two rows.

Anchors and clips
We hold the edges of our mesh and row cover down with 5' oak sticks which are reject hammock spreader bars from our hammock business (we sometimes jokingly wonder how people who don't have a hammock business manage without scrap rope and reject spreader bars!). With row cover and mesh we roll the edge of the row cover under (not over), around the stick and set the stick up on the edge of the bed. This leaves the path free for us to walk in, and drag hoses, and the rolling under makes the system "self-locking", in that if the stick starts to roll, it tightens the cover rather than loosening it.

Some growers use pins to hold fabrics to the ground. We don't do this because we hate to make holes in our fabrics and we had a bad experience of stabbed feet using landscape pins when we constructed our pond. Here I'm talking about clips to hold fabrics onto hoops.

We tried regular clothes pins to hold shade cloth on hoops, and to join short lengths of fabric at a hoop but the metal springs of the clothespins get tangled in the fabrics, and the pins fall apart. We've found some very good recycled plastic clothes pins from the UK, but sadly not yet in the US, called Ecoforce Hurricane Grip Clothes Pegs. They are made of a single piece of plastic (no metal), with an integral spring and a lock. In the US there are some strong plastic clothespins such as the Zicome windproof ones, and Pixnor with a circular metal spring. They tend to cost $0.50-$1 each. Another approach is to avoid plastic and go for ones made of a single piece of thick wire bent into a double butterfly shape, like the Yueton plastic-coated wire ones for about $0.26 each. While checking supplies for this article I came across the impressive-looking French Pincinox lifetime warranty clothes pins from www.stainlesssteelpegs.com. They are sold by the hundred at about a dollar each, but I didn't investigate shipping costs. They have a wholesale department. We have also used medium-sized binder clips. At around $0.12 each, they are more affordable in quantity.

Pam Dawling manages 3.5 acres of vegetable gardens at Twin Oaks Community in central Virginia. Her book, Sustainable Market Farming, is widely available, including at www.sustainablemarketfarming.com, or by mail from Sustainable Market Farming, 138 Twin Oaks Road, Louisa, Virginia 23093. Enclose a check (payable to Twin Oaks) for $40.45 including shipping. Pam's blog is on her website and also on facebook.com/SustainableMarketFarming. Pam also makes presentations on vegetable growing topics at conferences and fairs from September to May each year.