By Joanna Letz
I own and operate Bluma Flower Farm, currently located on a rooftop in downtown Berkeley, California. When I moved my operations from ground level in Sunol to a ¼ acre six stories up, I was not convinced the crops would grow. Yet, they did and some are doing better on the roof than they did in the ground. I employ two to three people seasonally and grow between 40 and 50 different varieties of cut flowers and culinary herbs.
Founding a farm has meant hard work in the fields (and on the roof) and has also required me to learn what it means to run a business, which I knew little about when I started. Running a business means constant changes to the plan. As hard as it is, sometimes I think I've kept at it because I enjoy learning new things and discovering new best practices.
I am not afraid to reach out to other farmers and business owners to ask about their experiences with specific challenges relating to crops, relationship building, sales or whatever the pressing question of the day may be. So much of what I have learned has been from listening to other farmers.
Going into this year my plan was to try to replicate what I did the year before, one of Bluma's best years yet. This would have been the first year I didn't make any big changes. But then the pandemic hit and, of course, like many other businesses, I had to pivot and find ways to survive.
Last year, I relied on designing flowers for weddings and events, and selling to wedding florists. This year, we've managed to sell directly to customers through an online shop, a weekly and bi-monthly flower subscription, and curbside popups at the farm.
We've also been selling to grocery stores and a couple local restaurants that have started online farmers markets. I was able to pivot quickly because I've maintained a diverse set of revenue streams. I enjoy finding new ways to generate income, and I prioritize maintaining good relationships with my customers, which goes a long way.
I've gone through many different iterations of my business over the last five and a half years. By far, the biggest change was moving my farm from two acres in Sunol to a ¼ acre in Berkeley and from the ground to the roof. Each iteration has come about because I realized something needed to change and I was willing to take risks.
When I got clear on my priorities, I knew I could no longer commute to my farm in Sunol. Getting clear on the kind of life I want to live helped me tune into the kind of business I want to run and what steps I need to take to get there.
In 2018 I made a big decision to stop selling at my farmers' markets. My markets at the time made up almost half of all my sales. I knew I wanted to try to take weekends off, and to not be worried about shrinkage after each market, loss from what I couldn't sell. I also wanted to try to harvest only what was already sold.
I spent a long time processing this decision. I brainstormed with my advisors and with fellow flower farmers. In the end, I took a leap and decided to drop farmers' markets from my revenue stream. Fast-forward to a year later, and I ended up making more money without my markets than the previous season. I had projected my sales would drop, but I took that risk knowing the potential lifestyle changes were worth it. I was happily surprised to find that I exceeded my sales expectations.
When I moved to the rooftop I similarly assumed there would be a drop in sales but took the risk because I wanted a big lifestyle change. Last year, the roof gross sales exceeded the previous year. It turns out I don't love making big decisions, but I've learned to make calculated risks in order to work towards my goals.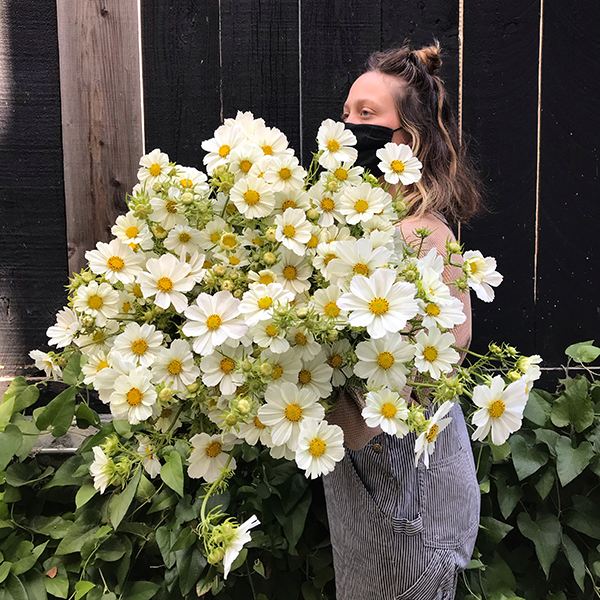 When I started my business back in 2015 I wanted to prove to myself that I could do it: have a farm business that makes money. And at some point, I realized the business needed to work for me and not the other way around. One of the most important things I've learned is to prioritize my own time. If I could go back in time and do anything differently, it would be to invest in infrastructure and employees earlier on. I would have saved myself a lot of struggle. There were many weeks where I was working 80 hours a week or more.
I've realized when I prioritize my own time I am more efficient, joyful and excited at work, more likely to delegate tasks, think about work flow, and to stop and strategize on projects that need thinking through. Prioritizing my time and having goals and a clear vision help me focus especially amidst the chaos of mid-summer when the crops are in full swing.
Sometimes the long list of to-dos can feel overwhelming, so I've had to constantly remind myself to look at the big picture. I have also relied on friends, mentors and advisors to support me. I think I've been successful as a farmer because I can accomplish tasks to the finish. But every time I chose to put my head to the ground and finish a task without thinking about the big picture, I was potentially risking something else.
I've learned to be, as a fellow farmer put it, more ruthless. For example, I often find myself wanting to harvest every last stem at the expense of everything else. Although I don't always succeed in stopping myself, I am better about acknowledging my decision.
A few weeks ago, I was harvesting on a Sunday afternoon and was really itching to take a lunch break. I was in our cosmos patch and cringing about how many flowers we still had to harvest, and I wasn't sure who would buy them. I took a moment and thought to myself, "Okay, I have too many flowers. What are the options?"
All summer we had been doing popup stands on Thursdays afternoons. I had to find an outlet for these flowers or stop harvesting. I realized I could double our popup offerings to two days per week instead of one. I posted a photo of the cosmos on Instagram and introduced Tuesday popups.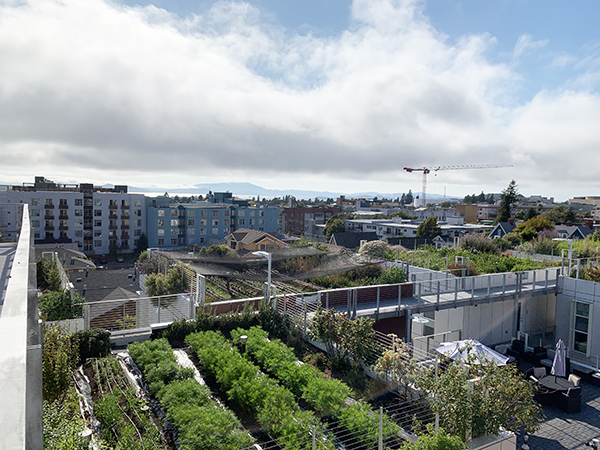 By noticing my frustration of harvesting something that was not sold, I acknowledged that my time is important. I was able to act quickly to address the issue so I could eat lunch and not worry about where the flowers would be sold.
I take time at the end of each season to write my ideas and goals for the upcoming year. As an example, I wrote in the spring of 2018, "This past year I did better about working less. But I still had some super-long days — like 6 a.m. until midnight. On my long days I was only getting four hours of sleep. I think I can plan ahead to prevent this from happening again this upcoming year. As long as I keep clear expectations about what we are able to get done and harvest."
Additionally, personal goals I listed for 2018 were:
• Keep more regular hours: 6:30 a.m. - 5 p.m.
• Be less stressed out!
• Enjoy my time on the farm
• Enjoy my time with my crew and learn to manage effectively
• Get seven to eight hours of sleep a night
• Start work a little later, around 7 a.m.
• Take off one and a half to two days a week (managed almost this much in 2017)
• Cook dinners and healthy lunches and breakfast
• Energy to go to dance classes at least once a week
I've managed to achieve a lot of these goals. I have become better about setting realistic expectations. A lot of my time now is spent planning and thinking about time-management and adjusting where needed.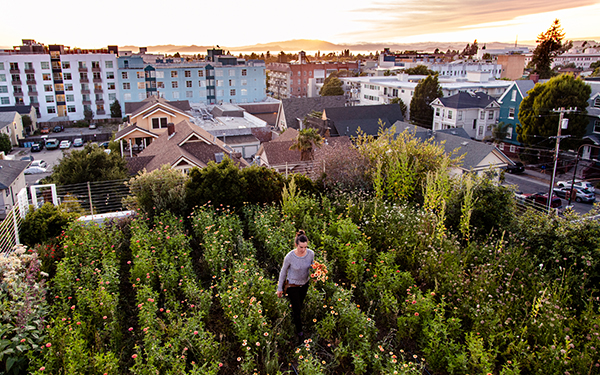 My main jobs right now are sales and logistics. Sales to retail, grocery and florists. Logistics include delivery and pickup schedules, delegating tasks, and coordinating with my farm manager to make sure we are on target to finish harvests and projects. In the past I had to take on all of these roles, so it's nice now to have fewer responsibilities and to rely more on my crew. It means I can often leave work at 5 p.m., one of my goals.
Also, I am making sure to get at least seven hours of sleep. We start at 7:30 a.m. instead of 6:30 a.m. and this helps. It has always been important to me to be able to drink my coffee in the morning and have a moment to read or sit quietly before heading off to work. It's a small change, but makes a world of difference. I'm glad I have a record of my goals so I can acknowledge my successes.
Here are some other long-term goals I wrote down in the spring of 2018. While I didn't achieve them all that year, or even all of them last year, I know I am getting closer:
• Move farm closer to Berkeley
• Have a business partner
• Healthy work/life balance!
I will never forget when a mentor suggested to "work it backwards." Working backwards from my goals, I can decide how to fit all the pieces in place. I am still figuring it out as I go along, but it's a lot easier when I know what I want, what I am working toward and when I prioritize my own well-being.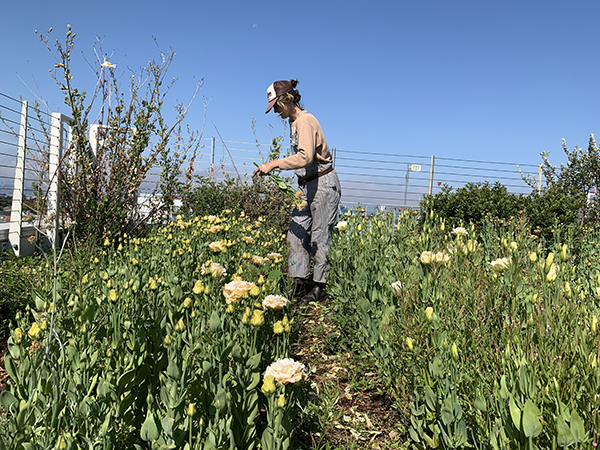 Some of my current goals include making sure to find joy in my work, working with a committed team who is also passionate about the farm, paying myself and my employees a living wage, realigning my business to reflect my commitment toward social justice, maintaining set work hours, and offering a product and crop I am proud of and that I have time to enjoy.
I also hope to be able to take a week or two off in our busy summer season to go backpacking. Even though it sounds crazy now, if I decide it is important, then I know I can take the steps to make it happen. I also have to remind myself that my goals won't be achieved all at once. But I am glad I have them written down so I can remind myself what I am working toward when I wake up and enjoy my morning cup of coffee.
Joanna Letz runs Bluma Farm in Berkeley, California. You can follow Joanna on instagram at Bluma Farm, or reach her at blumaflow[email protected]. She also offers one-on-one farm consultations.