By Ellen Polishuk
It's completely clear and cool, not a hint of a cloud in the sky, on this gorgeous October day in Pescadero, California. I wind my way through a forest, past a creek, over some hills on a tiny beautiful road just off California's famed Route 1, the breathtaking two-lane highway that hugs the Pacific Coast.

Fifth Crow Farm lies nestled below some ragged hills – the native grass fully brown, the oaks wide and green. The farm grows 50 acres of certified organic crops on 150 acres of leased land, including vegetables, cut flowers, dry beans and eggs. The farm land is completely flat, tucked in a tiny valley in zone 9B. Believe it or not, just across the street, a mere two miles from the ocean, there are acres and acres of open land with cows grazing. How can land so close to such beauty, and with such a wonderful growing season be devoid of development? The answer is complicated, but mostly it's because the parcels of land have always been quite large, and much of it is being purchased for conservation purposes.

Teresa Kurtak volunteered to be my guide for the interview and tour. She, her husband Mike Irving, and their friend John Vars are all co-owners of Fifth Crow Farm. It's a long involved story to understand how these three 30-somethings came to be here, now enjoying their 10th year in business. Each of the partners have college degrees (none in agriculture per se), but all of them found their way to the University of California, Santa Cruz Center for Agroecology and Sustainable Food Systems shortly after university. Each then pursued various management positions on other farms. It all came together in 2008 when the three formed Fifth Crow.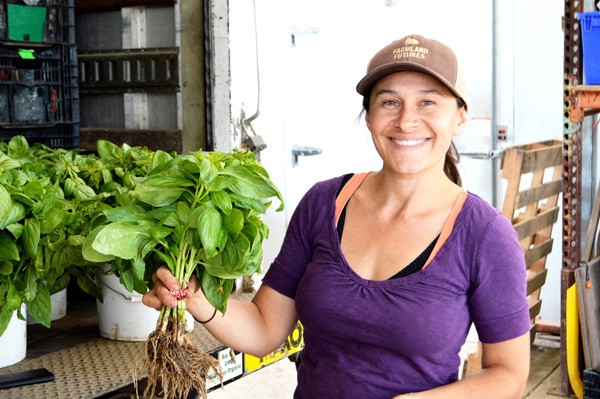 They had thought then that finding land in California would be too difficult, and mostly, too expensive. When the idea of family land in Washington State fell apart, they visited a friend's farm in Pescadero, where they were encouraged to hear that land nearby was available for lease. The land had previously been leased out to grow conventionally produced Brussels sprouts and artichokes for many years. The owners ended that lease, put the land to rest for 5 years, and were now looking for someone to farm it organically! They couldn't quite believe their good fortune and jumped on the lease. Each partner put in about $10,000 to get the business up and running, and then some more later to keep it going. Thus began Fifth Crow Farm – growing on 10 acres that first season.

Fifth Crow now grows 50 acres of crops, including about three acres of cut flowers. The climate here is indeed mild, but the temperature does get down to 24 degrees in deepest winter, and they have lots of frosty mornings. The frost-free planting date is Mother's Day. That's where the high tunnels come into play – to grow tomatoes, peppers and a few tender flower crops, as well as less cold-tolerant winter crops.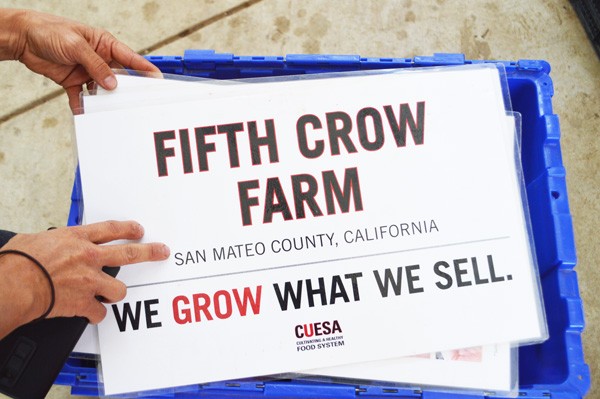 Access to land
How long can they continue to lease this land? Teresa explains that the three partners crave more security – knowledge that they will benefit from all their investments in infrastructure and soil fertility. They've been pursuing the possible purchase of this farm from the private owners. It's complicated and slow-moving, with LOTS of hurdles along the way. There's no way to say right now if it will ever happen. The conundrum they find themselves in looks like this: between the county, the California Coastal Commission, and restrictions for being along a scenic corridor, there is tremendous regulation and red tape regarding what can happen on the land. For instance, they cannot erect any permanent structures, nor can they dig a well. All water comes from a nearby stream.

So the things that make this land, and this little valley, so beautiful and open and special are the same things that are making it so difficult to become permanent landowners, and resource secure farmers. There are many forces at work. Because of this uncertainty, the Fifth Crow partners have snapped up leases on other nearby land, so that they have more chances to find a place where they can permanently settle. They most recently started leasing a large parcel from the Peninsula Open Space Trust that more than doubles their tillable acreage. The Trust's "Farmland Futures" Initiative is trying to put good farmland back in the hands of farmers. They will keep all these irons in the fire, hoping that it will work out eventually.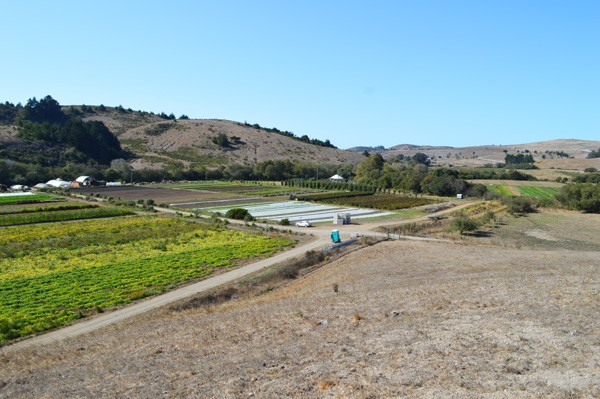 Markets
Fifth Crow attends seven farmers markets per week, year-round. These markets comprise about 70% of their gross income. Teresa, especially, is passionate about farmers markets – it was part of her master's thesis. So, they take a lot of care in how they present themselves to customers – and it's paying off. Their sales continue to rise over time. Teresa thinks that they are especially good at connecting with their "Fifth Crow demographic."

A knowledgeable on-farm employee is present at every market – able to answer any question about what a crop is and how it's grown. Their displays are beautiful, the produce high quality, with a consistent "look" so that customers can find their stand no matter what market they attend. Teresa is confident that the markets will continue to improve over time. The main limiting factor right now is good staff at market – they've got the product, and the customers – they just can't move any more food with the number of hands on deck right now.

Teresa has developed some great systems to keep their market appearance consistent and gorgeous. With seven markets per week, four at the same time on Sundays, organization is key. Teresa collects and manages used bedsheets to use as tablecloths, grouping them by color, so that each market's gear has color coordination. Sign making and display is super organized and consistent for each market as well, employing various methods of holding signs in or near each product.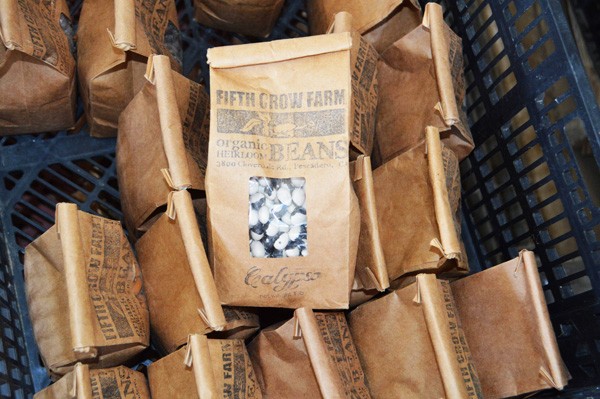 Fifth Crow did lots of market research as they were starting up. They polled the area's best markets and found that they all needed more eggs. So began the 700 hen laying flock. Having eggs got them into markets where competition was stiff. They consider the eggs a loss leader, and thus haven't increased the size of the flock over the years. But they are grateful to have gotten access to some of the country's best markets.

The other 30% of sales are split between CSA and wholesale. Once Teresa became a mother of two small children, she needed to simplify and lessen her workload. That meant streamlining sales to restaurants. She took a hard line with those customers, implementing a new higher minimum order, cutting delivery to once per week, and only working with those who could make their orders through the Small Farm Central ordering platform. Those changes winnowed the restaurants down to a few good consistent customers. They also have a few good grocery store/food hub customers to round out the wholesale roster.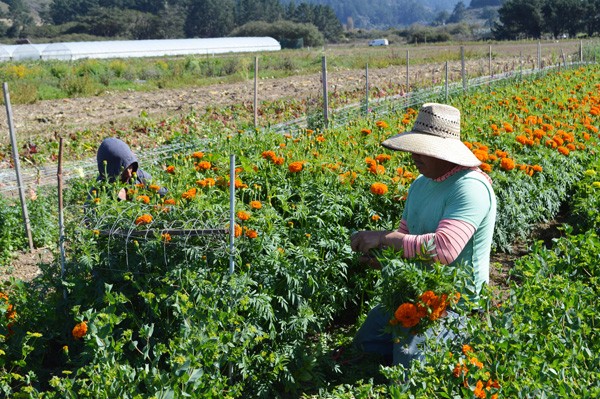 The Fifth Crow CSA has about 200 members. They offer main season and winter shares. The pickup sites are either at shareholders' homes or at the farmers markets they attend each week. Fifth Crow puts much emphasis on CSA retention, and has a better track record than many other farm CSAs. Teresa stresses that CSA gets priority on products. Their goal is "for our CSA members to get a taste of what it might be like to be living here at the farm- without actually farming."

When the Fifth Crow owners wanted to start families, they had to decide whether to scale up or scale down. They chose to scale up. Fifth Crow is not afraid of hiring folks and putting them into middle management positions. Currently they employ a few first-time interns, a number of return interns, and a solid staff of professional farm workers. From this roster there are managers for each of these aspects of the farm: flower growing, vegetable harvest, irrigation, CSA, crew boss, chickens, and two full-time tractor drivers. Teresa looks to Full Belly Farm up in the Capay Valley as the inspiration for their farm structure – multiple farm owners, plenty of permanent staff, a diverse crop mix, and a family-friendly enterprise that the farm children can one day find a place to prosper in. All told, there are 30 full-time equivalent workers at Fifth Crow.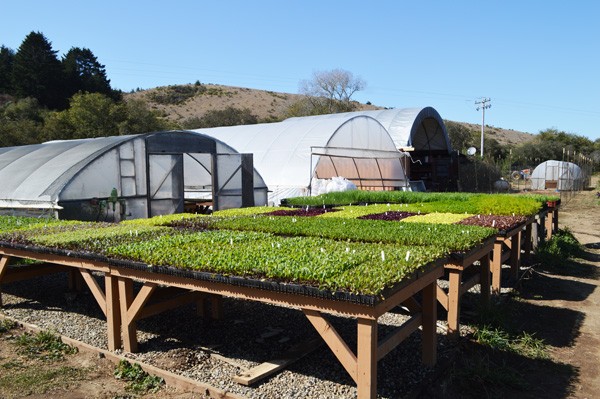 The owners of Fifth Crow have had some amazing "small world" coincidences – Mike and Teresa met at the long respected California EcoFarm Conference, leading to their eventual marriage. Mike and Teresa AND John and his wife's first child were born ON THE SAME DAY in 2015! If a farm can survive that kind of pressure on management resources, then an awful lot of things must be going right.

Teresa is both thoughtful and passionate in telling the farm story. She is proud of what they've accomplished so far, optimistic about the future she sees for the business – all in spite of the foundation of uncertainty that comes from leased versus owned land. She is excited about putting into action the ideals of social justice and equality. "We will serve the community by being financially stable" she says. They have already contributed to a college scholarship fund at the local high school. And they will continue to raise wages to make Fifth Crow a provider of reliable permanent jobs for its staff. The sky is the limit for these energetic and committed farmers and community builders.
For more photos go to:
ellenpolishuk.com/new-gallery/
Ellen Polishuk just retired from growing 25 acres of ecoganic vegetables and other crops at Potomac Vegetable Farms in northern Virginia. She is now a full-time farm consultant, writer and teacher. Ellen is passionate about helping growers around the country improve their soils, labor management practices and their businesses so that they can increase farm profits and achieve a joyful balanced life. For more information go to ellenpolishuk.com.