This article originally appeared in the October 2020 issue of Growing for Market Magazine.
Wildfires blazing across the West have engulfed our news feed with harrowing tales of destruction and loss. The 22 named tropical storms threatening the Southeast so far in 2020 are the most at this point in a given year in recorded history (going back nearly 170 years). That's double the average number of named storms in a typical year already, and on pace to break the all-time record.
Our greatest sympathies go out to those who have experienced loss due to these events, and to those who will suffer the losses that are yet to come, as the annual fire and hurricane seasons likely still have surprises in store. With the reality of climate change sinking in, we are buckling up for a bumpy ride into the unknown.
For the past two years, I have roamed northern California and southern Oregon, and have closely followed the activities of small farms in the region. It has been a great adventure for this South Dakota native, transplanted from New England. California is an absolute Eden about 97 percent of the time; the other three percent is utter catastrophe. In my time here, there have been a hearty handful of farms I have known to have been swept up in the actual flames and left in a pile of char and ash. Although, there need not be flames on site for the fires to figuratively burn a business to the ground.

Structures and equipment can be rebuilt, but lost revenues and lost customers are irreplaceable. Even farms and businesses who are located safely out of the burn zones are crippled by evacuations, closures, power outages, and poor air quality. Air quality seems to be the real kicker this year, with markets closed and farms sending workers home to escape the dangerous breathing conditions.
Last year it was power outages. The power company had been negligent in maintaining infrastructure that led to deadly fires, so their solution was to shut down power across extensive areas of California. Restaurants and grocery stores closed, farmers and customers did not have refrigeration to keep produce fresh, nor pumps to keep irrigation on during the hottest weeks.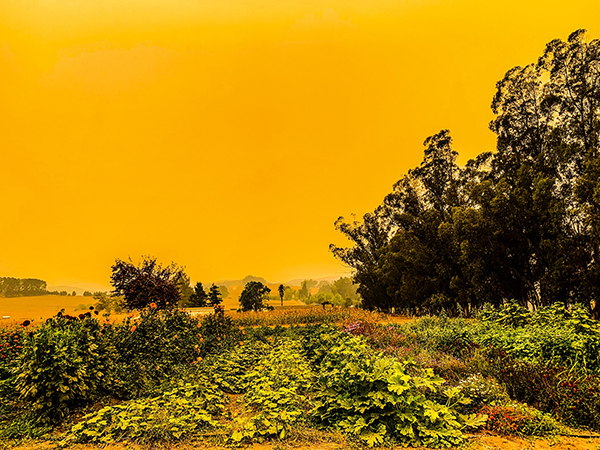 Sonoma Hills Farm, Petaluma, CA. September 9, 2020, at 4:00 pm. Photo by Megan Robertson.
We often speak of resilience and recovery in our farm communities here. As years pass, disasters seem to come faster and more frequently. Unprecedented has become the new ordinary. In these times, the importance of knowing your neighbors, knowing your farm community, and knowing what resources are available is critically important.
I encourage you to heed this message and take a moment to explore resources in your area. Examine an aerial photo of your property and be aware of all possible evacuation routes and threats from flood, fire, wind or other climate-related events. Mitigate by clearing brush, cleaning up trash, cutting dead trees and limbs and adding ponds or levees.
Introduce yourself to your neighbors and discuss disaster plans and resources. Talk to other farmers and to customers about how you will support each other during times when distribution and sales are disrupted. Have a social media group or other forum to communicate with these allies in times of emergency. Know the organizations in your area who have programs to aid farmers.
The Community Alliance with Family Farmers (CAFF) is a California-based organization that has done incredible work in organizing resources for farmers. Visit their website, caff.org, for an extensive library of stories and links for relief and support for farmers with wildfires, climate change, COVID, policy, food safety, marketing and more. California Certified Organic Farmers (CCOF) also has resources and grant opportunities for organic farms at ccof.org.
Disasters aside, all farmers should familiarize themselves with any programs you may qualify for from USDA's Farm Service Agency (FSA) or Natural Resource Conservative Service (NRCS), and from your local cooperative extension office. There are representatives in your county who are there to serve you. And of course, your Growing for Market family is always here for you. Wishing you a safe, healthy, and abundant harvest season!
Megan is GFM's California-based traveling Field Correspondent and Business Development Consultant. She works as an Organic Inspector for CCOF and formerly as a Commercial Sales Rep for Johnny's Selected Seeds. Follow her on her journey at @megan.alluvial.